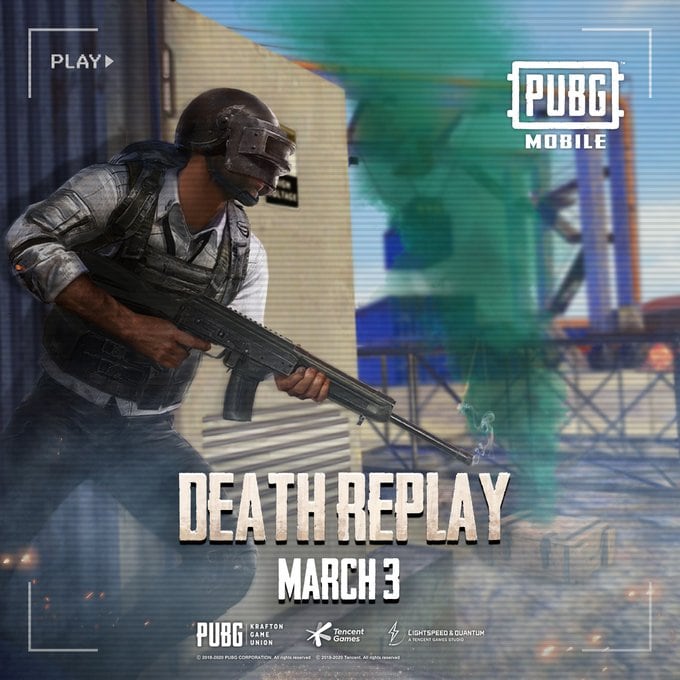 PUBG Mobile officially confirmed that its next update, PUBG Mobile 0.17.0, will be arriving on March 3. PUBG Mobile has also confirmed that this new version will bring along the much anticipated Death Replay.
To recall, we have already anticipated the release date much before the official announcement from PUBG. We are also expecting that some of the first anniversary items would make a come back into the game.
As the name suggests, Death Replay will show the players how the enemy killed them. It is a highly requested feature by the players of PUBG Mobile, and it is also expected that this would help players to up their game by knowing where their weakness lies.
COMING IN 0.17.0! Death Replays will be available for you to peruse the last few seconds before your untimely downfall! ☠️ pic.twitter.com/818Rr144Fv

— PUBG MOBILE (@PUBGMOBILE) February 28, 2020
Death Replay is already available on PC and Gaming Consoles. With PUBG Mobile 0.17.0 version, the feature will find its way to the Mobile too. It is a vital feature considering its potential to modify the way people play the game. It also helps in analyzing the strategies and mistakes that led to the death of a player.
Last week, we had also brought to you some of the expected features of the 0.17.0 version in that we have also mentioned about the Death Replay.
It is not the only feature coming to the game with this version, but also you can see Extreme Cold mode where players have to survive in extremely cool conditions. Players will also get the notification to get ready and find a shelter when a cold wave hits them in the game.
Back in 2019, during the PMCO Fall Split Global Finals, PUBG announced that a color-blind mode would also be added into the game in 2020. It is probably going to appear with this update as it was spotted in the PUBG Mobile 0.17.0 beta update. This will be great news for players who are having color vision deficiency.
This new update is also anticipated to start a new season on PUBG Mobile. The Season 12 is already available on PUBG Mobile beta. Moreover, in the next month, PUBG Mobile will be celebrating its second anniversary. PUBG Mobile Season 12 will be called "2GETHER WE PLAY" with a colorful array of outfits. There will also be a new QBZ skin and a matching outfit that users can get as a Royale Pass purchase bonus.