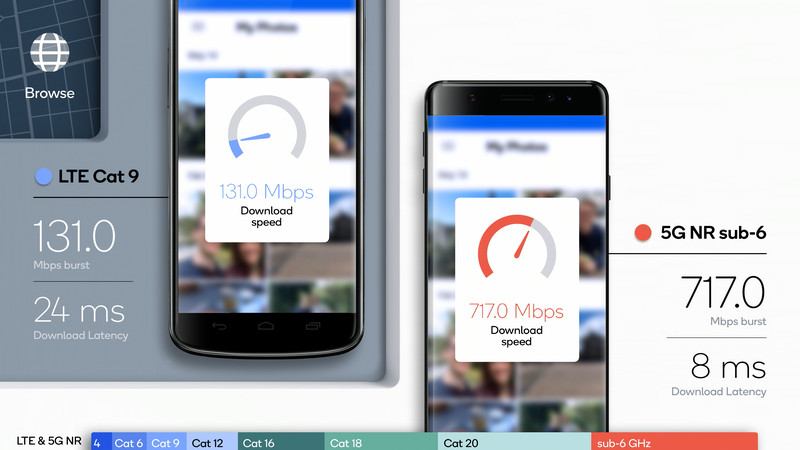 The global internet service provider industry is touching new heights. The market experts believe that this thriving industry will witness a significant growth in the coming few years. The invention of a gamut of powerful personal and business internet applications will change the face of this industry soon. The constantly evolving internet industry is riding the new wave of digitization. After the era of 3G and 4G now people are eagerly waiting for the 5G connection which is likely to redefine the entire mobile and internet-based industry of the world. In a recent test conducted by Qualcomm revealed the actual speed that 5G is going to offer at its peak.
The test was conducted at the Mobile World Congress and experts who witnessed the miracle said that if the real world holds up anything close to the company's simulations, then the entire experience of high-speed internet is going to change very soon. You can check this site for Internet speed test on your device. It is the most accurate speed test. Users can even share their internet speed result with friends worldwide.
Qualcomm created a real-world condition in Frankfurt and San Francisco based on spectrum allocations of two cities and existing cell sites. In Frankfurt, the browsing speed jumped from 56 MBPS for the median 4G user to more than 490 MBPS for the median 5G user. The response rates for browsing galloped roughly more than seven times. Users also witnessed a whopping 100 MBPS download speed on 5G in comparison to 8 MBPS on LTE.
San Francisco also recorded some promising numbers during the simulation. The browsing speed went to 1.4 Gbps for the median 5G user (in mmWave coverage) from 71 Mbps for the median 4G user. The response time spiked 23 times. On 5G the download speed for most of the users soared to 186 Mbps from 10 Mbps. Video quality also improved significantly during both the tests. Though experts think that this just the beginning. As mobile manufacturers also have to come up with advanced cell phones which can accommodate this kind of high-speed data transfers in the coming days. But this leap could change the entire digital ecosystem of the world.