Some viruses created by hackers and geeks have serious consequences for your smartphone, but some are absolutely funny and laughable. The ransomware that was discovered by the MalwareHunterTeam locks all your files in your device until you start paying PUBG or PlayerUnknown's Battlegrounds. The fun part is, it does not ask for any money, instead, it seems you to play the game and enjoy.
BleepingComputer reported first about the ransomware and quoted that the ransomware "encrypt a user's files and folders on the user's desktop and append them.PUBG extension to them." It further stated, "When it has finished encrypting the files, it will display a screen giving you two methods that you can use to decrypt the encrypted files."
The note released by PUBG Ransomware reads "Your files is encrypted [sic] by PUBG Ransomware! But don't worry! It is not that hard to unlock it. I don't want money! Just play PUBG 1 Hours [sic]!"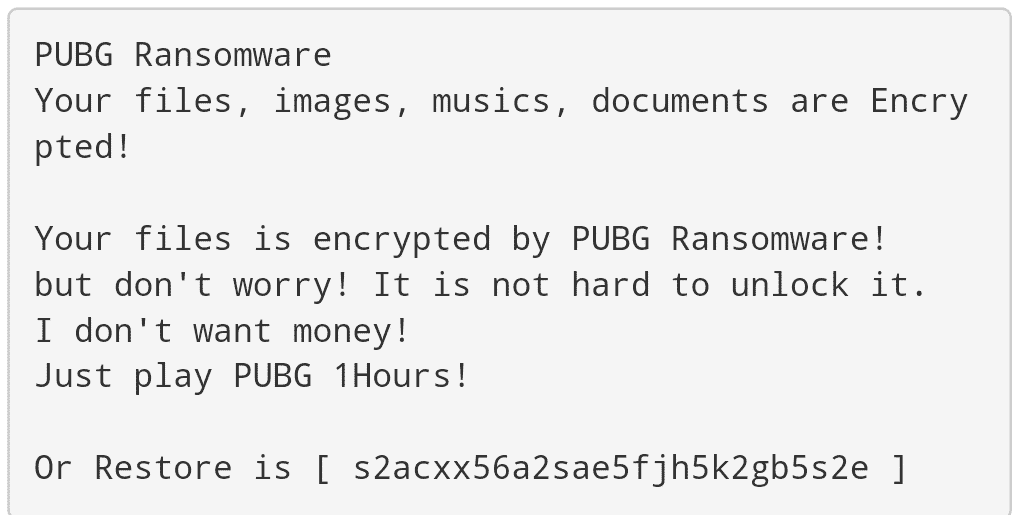 As suggested by the ransomware, the first of two methods ask you to apply the code "s2acxx56a2sae5fjh5k2gb5s2e into the program and press the restore button to be able to use the files.
Another method is to install and play PUBG. While ransomware suggests playing the game at least for an hour, you can decrypt files by playing the game for 3 to 5 seconds.
As per the experts' views, the ransomware isn't of a dangerous nature as it only seems to check only process name but stays away from any other information stored on your phone. That means all you need is to run TslGame.exe to decrypt the files.
Well, it not for the first time that such funny ransomware was created. However, this sets a very dangerous precedent, which may raise concerns for mobile security and data stored by various apps. Therefore, being cautious is much important.