These days it's getting easier to root any android device even without pc, with the help of these apps mentioned below you can easily root your android device and it's fairly easy to process the apps with just a few clicks your android device gets rooted with the help of root we can install the custom bootloader and kernels, harnessing the power of full root installing Custom ROMs and customizing your device through root.
What is Root?
Rooting is a way of attaining full access and privileges by brute-forcing to unlock the bootloader and getting administrative access and permissions of the various android sub-system. Rooting is often performed with the goal of overcoming limitations that carriers and hardware manufacturers put on some devices, rooting gives abilities to run various applications and alter the permissions which are set on the app limits and exploiting them and modifying them.
Advantages of Root
Advantages of rooting include the possibility for complete control over the look and feel of the device
Ability to change from themes from battery circle to changing the whole settings and the way how android feels.
Taking full control over the kernel and for which you can overclock or underclock the CPU.
Full application control, which includes the ability to backup or restore your data and which also enables you to remove the bloatware which is on your device.
Allows your device to install custom ROMs and software such as Xposed, busy box, etc.
Disadvantages of Root
The chances are high that if you do any mistake while rooting, you may have a chance of bricking your device or making it unusable.
In some countries, rooting is an infringement of DRM (Digital Rights Management)
You cannot access some apps due to safety net tripping down due to it, Apps such as Android pay, Streaming apps such as Netflix and Amazon Prime Video doesn't work if the safety net fails on the devices. List of Android rooting apps without using PC.
List of Android Rooting Apps without using PC
Frama Root
Vroot
Z4root
CF Auto Root
King Root
Towel Root
IRoot
Frama Root:
Frama Root which enables any android device to be rooted without the help of any PC the application which you need to install via APK and this is a one-click root method just with the hit of a button the root is exploited in the device.
This is the list of supported devices. Well for starters this application isn't available in the play store due to restriction or for instance any other rooting app also.
The Framaroot has its own complex exploits which vary from device to device according to its chipset model and android version. In newer versions of Framaroot, you can unroot your android phone in one click too.
Download: Frama Root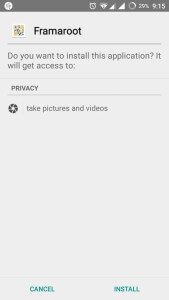 Vroot
Vroot is developed mainly for the Chinese devices and its best work on the Chinese devices, this was developed by the Mgyun team in china to enable one-click root for the Chinese smartphone.
And according to Vroot, this application supports more than 8500 devices and has been tested on the latest devices.
Download: Vroot
Z4root
This application is being developed and being maintained by XDA member RyanZA
The app works on almost all the devices, from gingerbread and so on,
Here is the list of supported devices,
The app can be used to root or unroot the device with a few simple clicks.
Download: Z4root
CF Auto Root
CF-Auto-Root is the root for them who want to keep stock as possible. CF-Root is meant to be used in combination with stock Samsung firmware and the easiest way for your first root. In an instance and installs and enables SuperSU on your system, so apps can gain root access.
Here are the requirements and supported devices
Download: CF Auto Root
King Root
This is portrayed as one of the best One-click rooting apps and the benefit of this app is that it will not trip the safety net features and also the Samsung Knox or Sony RIC safety features and this root will also help you optimize the battery and overclock the CPU and this is one of the biggest one-click. application for rooting your android device till now King Root has more than 104136 devices in their database.
Download: King Root
Towel Root
This is one of the smallest tools in this list and it just one click root method and this method supports a wide variety of devices and a whole host of newer android devices who wants just one click root this app is for them.
Download: Towel Root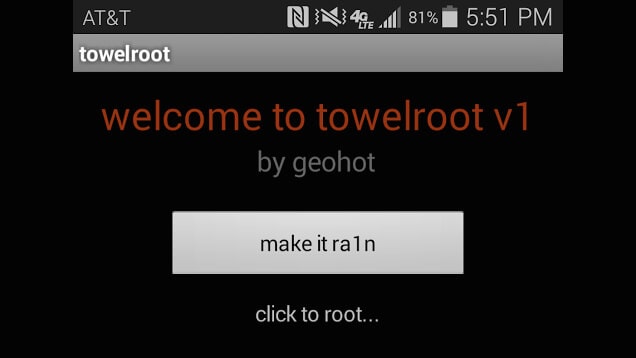 IRoot
This app is also been developed by the team mgyun and this app specializes in rooting and this app specialty is that it can root and unroot also this is why the team made this app thus IRoot
Download: IRoot
How to check whether you are rooted or not?
When you root any android the device uses so-called administrator such as Super SU which enables root scripts for the Android device and by those scripts we can check whether you are rooted or not, This app which is available in the play store namely Root checker by Joeykrim with that app we can check for the root.
How to UnRoot Android Device
If you don't wish to continue using root anymore you can reverse this process anytime just head into SuperSU and with a few taps you can undo this process,
Download SuperSU
Open the SuperSU app
Then go to the settings tab
Look for "Full Unroot"
Tap on it SuperSU will delete all the files and remove the root from the device.
Done now you removed the root from the device successfully
And always remember to take a proper backup of your device before you head over and root your device the OEMs these days are making harder and harder to root the devices and also that sometimes you may brick your devices in these process if you do have a proper backup of your device then no worries because even the manufacturers void the warranty if your device is Rooted.
A Guide on How To Root Android Device Without PC.