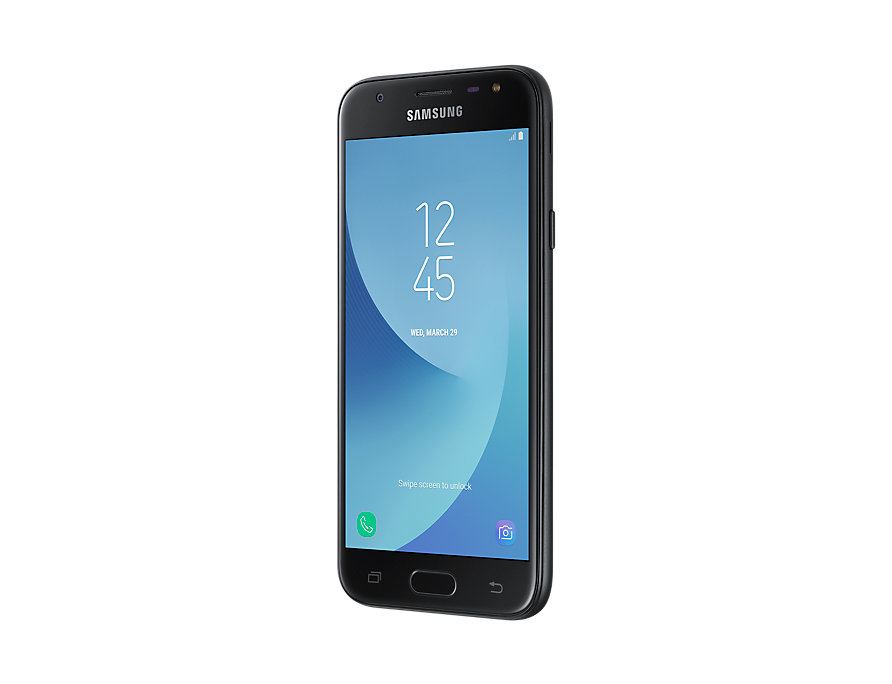 Since its launch, Samsung Galaxy J series has claimed to be a major success next to Galaxy S phones. It is globally popular and due to the continued liking for J series Samsung wants to expand the options available now. Samsung might be in the manufacturing of Galaxy J4 (2018). We can arrive at this conclusion for sure after the appearance of a phone with the model name Samsung SM – J400 in the Geekbench benchmark database.
It has been just a few days earlier in this month,  we first saw a glance of the unannounced Samsung Galaxy J4. J4 might be a sweet handphone between the Galaxy J3 and Galaxy J5. But since its first rumor, we were unaware of any details rather than its name and possible software. But in succession to the rumor earlier this month, we have got some more details about the Galaxy J4 which will point towards its actual existence.
Samsung Galaxy J4 specifications and features
The Samsung Galaxy J4 might come up with model number SM J400F. As the name indicates, it would be a little more upgraded version to Galaxy J3 2017 and a little weaker handset to Galaxy J5, 2017. Samsung Galaxy J5 carries and shared a lot with the Galaxy J7. The first appearance of Galaxy J4 online was a part of the leaked firmware of Galaxy Note 8 Oreo update and it was enough to tell us the fact that whenever the device gets materialized, it will be powered by Android Oreo out of the box.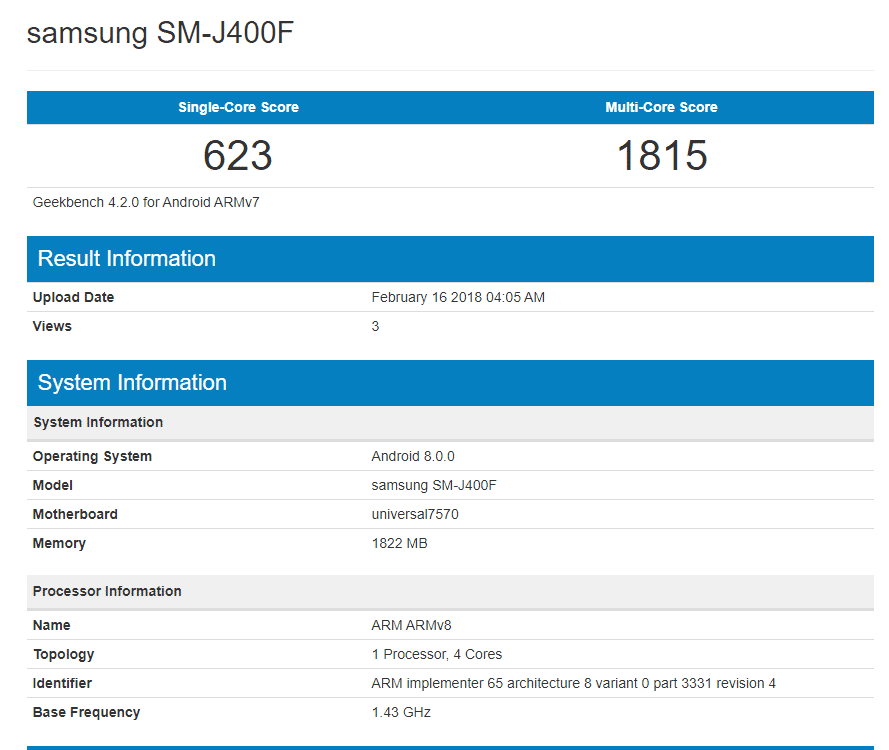 As this is the rumour, the accused Samsung Galaxy J4 with model number SM-J400F has been popped up in Geekbench benchmark for Samsung Database via GalaxyClub. When talking about the phone's core specifications, the Samsung Galaxy J4 confirms the Android 8.0 Oreo software as the out – of – the – box Os.
An updated Experience 9.0 skin on top has been seen in the new Samsung Oreo Update. As an update to the Galaxy J4  for a budget phone, it will be coming up with an Exynos 7570. The same chipset is used in the Galaxy J3 2017. The report should meet more similarities to Galaxy J3.  Just like the similarities between J5 and J7, J4 will be sharing a similarity of J3 including storage capacity and or probably the camera.
Samsung Galaxy J4 is rumoured to be launched at MWC 2018 at Barcelona along with Galaxy S9 and S9+. It's only a speculation and it cannot be guaranteed to be true.
The price of Galaxy J4
The price of Galaxy J4 will be flanked by the prices of J3 and J5. By calculating an average of the price tag of J3 and J5 we can predict a possible price for J4. The J3 2017 was priced at €219 and J5 was priced at  €279 at their launch. So on an average, Galaxy J4 should get a price tag of about €249.
As the model number of the leaked phone is SM – J400F,  Samsung Galaxy J4, we can predict easily about the market where it is going to be sold. It will have its market in Asia, and also in Europe and Africa as the model number (F), is common in Sammy phones which are sold out in Europe and Africa.
As these all are just predictions, none of these has been officially confirmed by Samsung.