On February 25, Sony announced its new member of the E-mount lens lineup, the Sony FE 20mm f/1.8 G. Moreover, it is the 56th lens of Sony. It provides the widest prime angle, which the E-mount family gained for the native full-frame.

When Sony already has zoom lenses, which can go even wider, the company says that this 20mm will offer a brighter f/1.8 aperture along with a design that is ideal for astrophotography, environmental portraiture, street photography, and video.
From its first look, the first notable item was, it is relatively lighter in weight for a high-end full-frame prime. As this lens tips the scale at just 373 grams (13.2 ounces), it is suitable for not only the still photography but also the run and gun videographers too.
This latest lens is designed with the three extra-low dispersion elements and two advanced aspherical elements, which are developed to squelch distortions such as chromatic aberrations, also ensuring the sharpness.
The lens offers "corner-to-corner image quality," even while shooting on wide open, says Sony. The bright wide-angle lens is typically good for astrophotography. So, the company has used many design elements that help to capture the stars without sagittal flare, which is a type of distortion affecting pinpoints of light.
The autofocus system of the lens allows you to capture sharp objects that are of 7.5 inches or more from the front of the lens. It translates into roughly a .2x magnification ratio for close-ups. Apart from the wide-angle, f/1.8 also helps to blur out the background.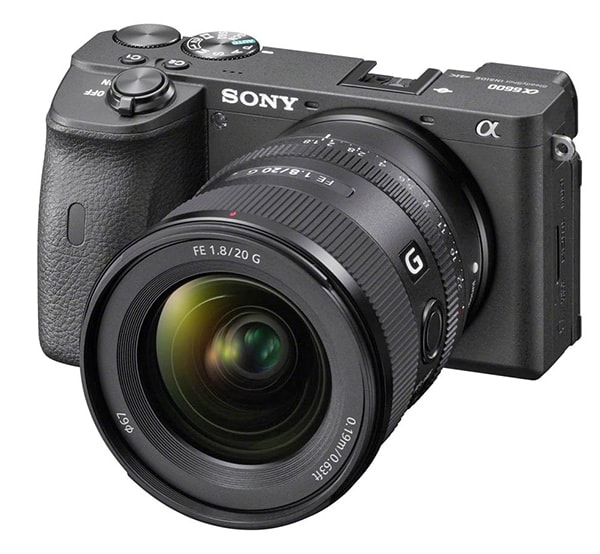 While most of the wide-angle lenses have a rounded front, which prevents them from accepting filters, the Sony FE 20mm f/1.8 G is threaded at 67mm that is also compatible with the standard 67mm filters too.
The list price of $899 US is not a cheaper one for a prime lens. But, users have the reassurance of weather sealing even at the relatively small size, assuring longer-lasting durability over time. In addition, the FE 20mm f/1.8 is guarded by a fluorine front element coating to protect against dirt and smudges in the field.
The Sony FE 20mm f/1.8 G will be available to buy in March 2020 at a suggested price of $899 US / $1199 CA.