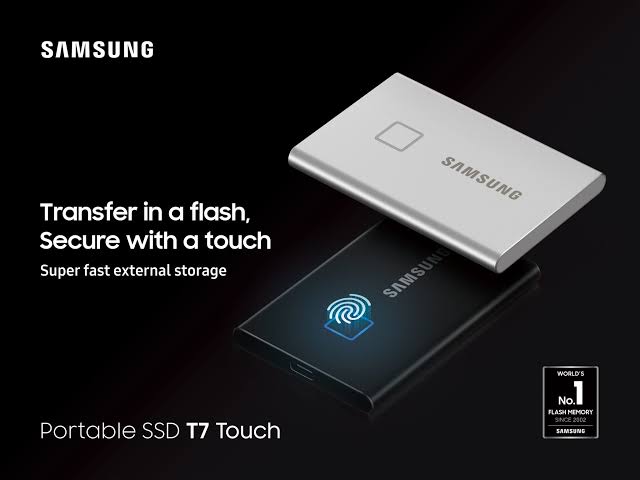 When you are after the improvement of an external SSD, there are mainly two things that matter the most: Storage and Speed of the drive. T7-Touch, Samsung's new external SSD, is a step ahead by adding a fingerprint reader, making it a more secure external drive beyond improving the transfer speed.
Samsung announced T7-Touch at CES-2020 in Las Vegas. It's a brilliant idea of using biometric security even though you don't have a fingerprint scanner on your Laptop/PC. Samsung says that you can register four different fingerprints on T7-Touch. This feature lets you share the drive with your team or with your friends up to four members if you'd like.
Another new addition to the drive is an indicator light that shows when the drive is connected. It also indicates while actively transmitting data. The light indicator was missing since the last generation of Samsung external drives.
The chassis is of Aluminium, which makes the drive drop-resistant up to six and a half feet(approximately 2 meters). Also, a single USB-C port is there that can connect a USB-C to USB-A or USB-C to USB-C cable.
Samsung not only improved the looks of the new drive but also both read & write speeds got improvements. The read speed is at 1,050 MB/s, and the write speeds are 1,000 MB/s. Samsung says these speeds are approximately twice that of the previous version T5.
Price and availability of T7-Touch
If you are in looking for an external drive with more security, then you can go for Samsung T7-Touch. The T7-Touch is available for sale later in January. The price is around $129.99 for a 500 GB version and $229.99 for 1 TB storage variant. Samsung has also released a 2 TB storage variant tagged at $399.99. Another variant of T7 without a fingerprint reader is under development. The fingerprint-less T7 is set to launch in the second quarter of 2020.