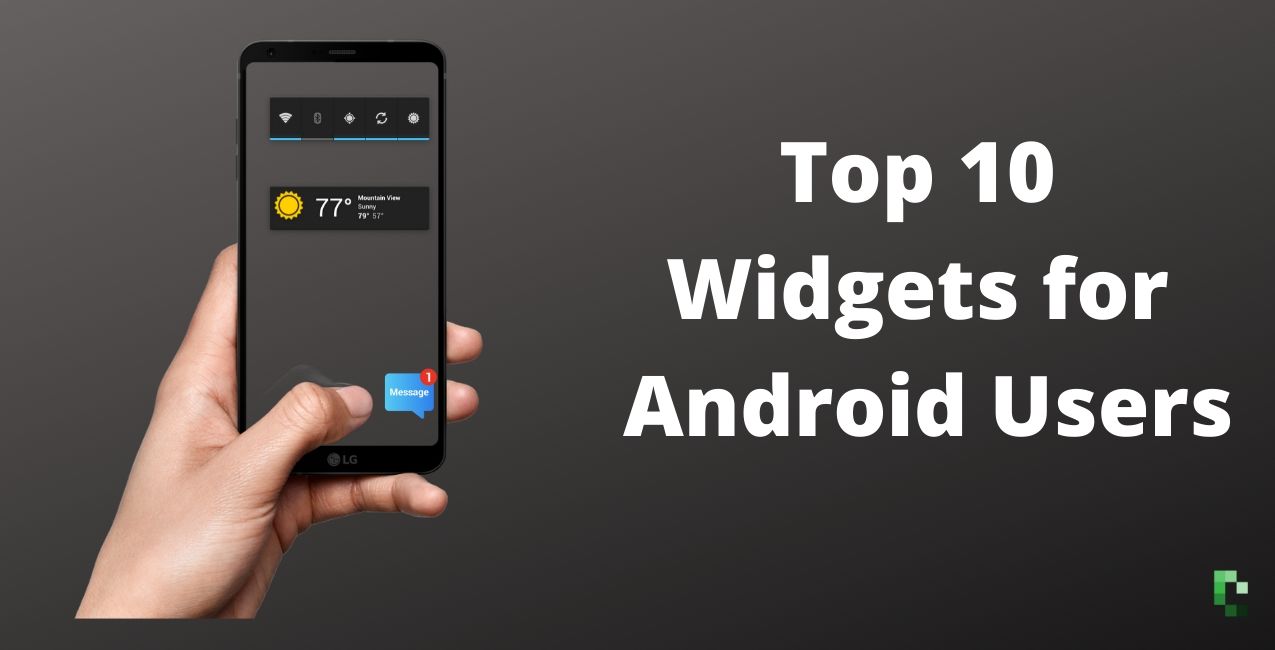 Widgets make the smartphone's home screen appealing, and it also makes the device more functional by providing some features so that users can use some of the apps without even opening it. So, if you want to use some attractive and useful Android widgets in your device's home screen, then below is the list of top 10 widgets for Android devices.
Geometric Weather
The Android app store is full of weather apps and weather widgets. Every user wants to see the forecast at-a-glance, and it is useful. From all the weather widget options, Geometric Weather is good. It is beautifully designed, free of cost, and the size of the widgets are also different, and they have different types of information that are also attached to this widget. It is a kind of widget that will go with every wallpaper that the user has installed for the home screen.
Download Geometric Weather
Volume Control
Volume controls are so useful if you are in an important meeting or library, and you get disturbed by a call, then the volume control will help you. It is a complete app to manage volume levels on Android, and a lot of widgets are included in this, such as control volume for calls, notifications, music, alarms, and many more. The user has to pay for the app or watch a video ad to unlock this widget.
Download Volume Control
Battery Widget Reborn
Battery Widget Reborn is the best Android widget for the battery meters. It provides a single, circular battery scale widget. The user can change the color and size to match the theme and home screen layout of their device. The app comes with the battery information, shortcuts like WiFi and Bluetooth settings, and it also provides the chart to show the more detailed information about the activity of battery. From this app, the user can enable the percentage of battery in the status bar.
Download Battery Widget Reborn
Google Keep Notes
The user can make text notes, list notes, and also the voice notes. It allows the user to share the notes with others for collaboration. This app has a lot of hidden features. It comes with a simple set of Android widgets that provides the facility to create notes quickly. It has a variety depending on the user's needs, such as simple to more complex. It is free to use, and the user can access notes on Google Drive by using any of the web browsers.
Download Google Keep Notes
Month
The month is a beautiful collection of calendar widgets, which has more than 80 themes that fit easily with every wallpaper, icon set, or launcher. The user can use a classy, transparent, full-page Month view, or they can use a more functional Agenda view, which is suitable for busy professionals. It fits with Google Calendar also.
Download Month
Flashlight Widget
Flashlight is one of the most famous categories of Android apps. It is usually full of junk ads and detects the user's data. But, Flashlight Widget is different that is free, open-source, has no ads, and doesn't need any permissions. It gives an on and off button on the home screen that the user can use to toggle the flashlight.
Download Flashlight Widget
Musicolet Music Player
Spotify, Jio Saavan, and other streaming services have their widgets that allow the user to control their tunes without opening the app. But if the user wants to listen to the music which is present in their phone storage and they want a good widget to control it, then use Musicolet. It has unusual features such as it supports the earphone controls and multiple queues; it also allows a handy selection of widgets. It also provides the standard music controls with album art, and the user can browse their preferred playlist.
Download Musicolet Music Player
Google Maps
From one-tap, a user can walk, cycle, drive, or take public transport for a preset address of their choices such as home, office, or gym. It works best for the place where the user goes regularly, but it doesn't always know the way back to. The user can specify a nickname when the widget is made.
Download Google Maps
TickTick
It is one of the best to-do list apps for mobile. It has a simple UI, lots of organization, and customization options, and most of the app features are free. The user can use it to remember their work tasks or their grocery list, and they can share the list with friends or family for collaboration. It also has a reminder option for free, like any other to-do list apps. This app has a lot of widget options such as a minimum, but functional calendar widget and the widgets mainly for the to-do lists. The user can have the per year version subscription in $27.99 if they need more than two reminders per event.
Download TickTick
Owly for Twitter
Owly is a new Twitter app and one of the best-looking apps on Android. It has three shortcut icons to do tweet, follow a particular user, and provide an option to do a quick search. It lets the user keep an eye on all of their latest updates, or what is trending, without opening the app. And when the user wants to post anything, then it is only a screen tap away.
Download Owly for Twitter