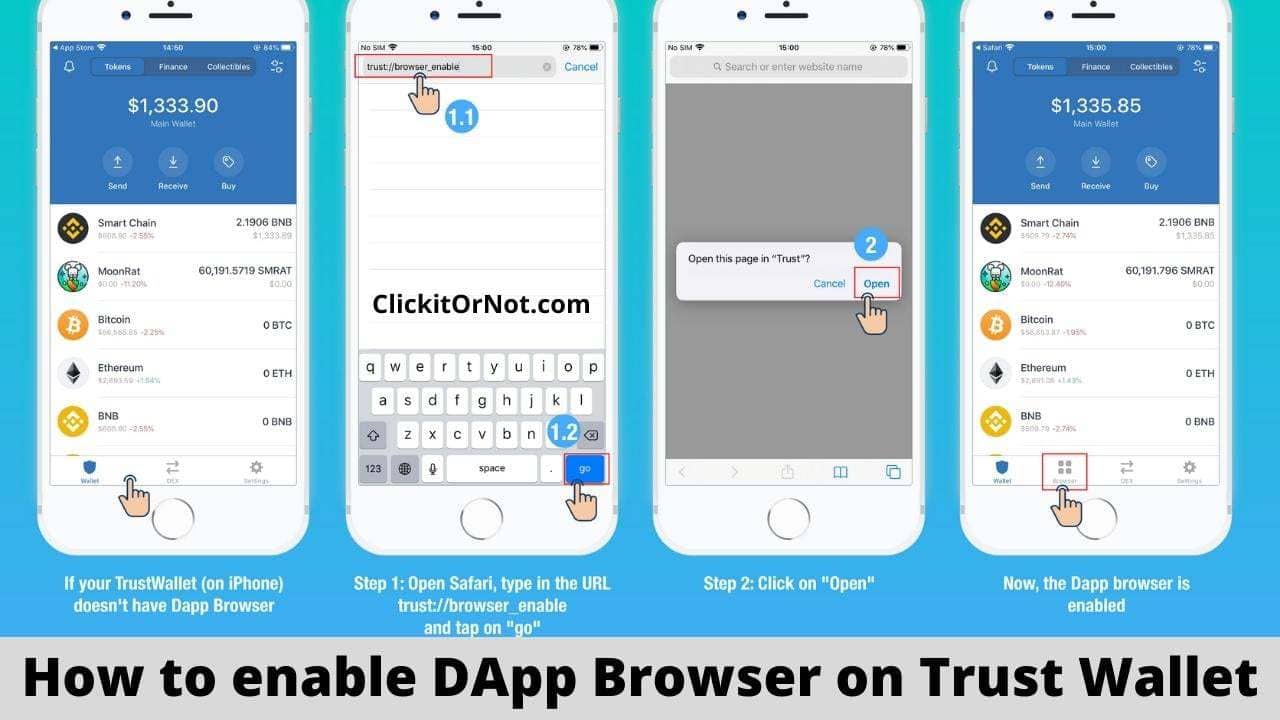 Trust Browser Enable Introduction
DApps are different from normal apps in many ways. Unlike other apps, DApps runs on blockchain and requires to be connected to your crypto wallet. This is the major difference between DApps and other apps.
If you are looking for ways to Trust Wallet enable, you have come to the right place. Enabling the DApp browser on Trust Wallet is important because without it you won't be able to use any decentralized apps.
The good thing is you can Trust Wallet enable iOS and Android both. It is a pretty simple process which we will discuss in the post below. 
So, if you are interested to know more about to enable DApp browser on Trust Wallet, you should give this article a read. We have included all the important things you need to know.
What is Trust Wallet?
Trust Wallet is a cryptocurrency and Ethereum wallet that allows you to store your ERC20, BEP2, ERC721 tokens. With this wallet, you can store, send and receive cryptocurrencies, and other digital assets.
Some of the main features of the Trust Wallet browser are:
Play blockchain games

Access DApps

Earn interest on crypto investments

Get the latest Defi platforms
What is the Trust DApp browser?
Trust DApp browser is a web3 browser that is needed to operate any decentralized app. DApp is short for the decentralized app. It is a great platform that helps you make instant transactions. Not just that, but it is also more secure than other normal browsers. 
It offers safe and secure connectivity while using the DApp on Binance Smart Chain or Ethereum network. It also features a great interface for a smooth user experience. You can trust browser enable on your phone and enjoy all the benefits it has to offer.
What is the function of DApps on Trust Wallet?
DApps are digital apps that are designed to run on blockchain technology or peer-to-peer networks. Instead of a single authority, these apps are controlled by a set of computers.
DApps applications operate in a decentralized environment and thus, provide free access without any hassles. You can enable DApps on the Trust Wallet browser on both Android and iOS. This will allow you to access DApps directly from your phone.
How to enable DApp Browser on Trust Wallet?
To enable dapp browser on trust wallet you need to follow the steps given below.
Open the Trust Wallet download page.

Click on the Download button to get it on your device.

After installing the app on your phone make sure to get the recovery code as you will need it for emergency purposes.

Once the app is installed, you need to enable DApps on iOS and Android. You will find the steps to 

trust wallet browser enable

 in the upcoming sections.
How to enable Trust Wallet Browser on iPhone?
Trust browser enable iPhone is a bit trickier than you might expect. This is because Trust Wallet was asked to remove the DApp browser from Apple's services in June 2021. This was done to be in line with App Store guidelines. This means iOS users can no longer check the DAapp browser directly from their iPhones. 
There are more than one ways to enable trust wallet dapp browser ios. Just follow the steps below and you will be good to go.
Method 1: Safari Browser
The Safari browser method is probably the easiest way to enable trust wallet browser.
Launch the Safari browser.

Go to the URL bar and type trust://browser_enable

Use "Trust Browser: Enable" in the URL field. You will see a pop-up message appear, saying "Open this page on Trust."

Tap Open on the pop-up message.

Now go back to the Trust browser enable on your wallet.

You will see the Browser option at the bottom of the screen. Select it, and your 

DAapp browser

 will be enabled on your iOS device.
Method 2: PancakeSwap Website
Using WalletConnect in conjunction with the PancakeSwap service can help you enable trust wallet browser on your iPhones.
Open Safari browser and go to the official PancakeSwap website.

Locate the Connect option at the upper-right corner of the screen and tap on it.

Select WalletConnect from the given list.

Check if you are still on the Mobile tab, and then select Trust from the given list of wallets.

You will receive the "PancakeSwap wants to connect to your wallet" notification from your Trust Wallet. Tap on the Connect button to accept it.

This will connect your wallet which means you can conduct transactions safely.
Method 3: UniSwap Website
Just like PancakeSwap, UniSwap can also help you achieve the same results. All you have to do is follow the steps correctly.
Launch your Safari browser and open the UniSwap website.

You will see the Connect Wallet option in the center of the screen. Tap on it.

Pick WalletConnect from the provided list of options.

A pop-up will appear with links to several apps. You need to select Trust.

Tap Open when prompted.

This will launch the Trust wallet and ask you to confirm whether you want to make the connection. Tap on the Connect button.

Go back to your browser and try to conduct a transaction with your WalletConnect open.
How to enable Trust Wallet browser on Android?
Compared to iOS, trust //browser enable android version is much easier. It is a simple process with a few easy steps. Here's what you need to do.
Launch the Trust Wallet app and go to Settings.

Tap the option Preferences, and then DApp browser to access a new tab.

Turn your DApp browser on by tapping the Enable slider.

Go back to the dashboard to start using your DApp browser. It is located at the bottom of the Trust Wallet app's main page.
Why should you use a DApp browser for cryptocurrency transactions?
DApps browser offers various advantages that you won't get from normal browsers. Before you think of trust browser enable dapp browser on your device, let's walk you through the benefits you will get from it.
Browsers and apps running over a centralized network tend to delay transactions. But you don't have to deal with the same when using a 

DApp browser

. Unlike other browsers, 

DApp browsers

 conduct instant transactions.

DApps platforms are more secure due to their decentralized nature. Since it has no physical device, malicious entities have fewer options available to target.

DApp usage is private. It doesn't require you to share your data with a browser or platform while conducting a transaction.

DApps doesn't require you to pay any transaction fees.
Despite all the advantages, it has a few drawbacks that cannot go unnoticed. Compared to other browsers, DApp browsers are updated at a slower rate. Also, it requires a full user base before it can fully function.
What are DApps used for?
DApps are a decentralized, open-source platform that runs on blockchain systems such as Bitcoin or Ethereum. It allows users to connect to other decentralized apps on a blockchain.
These apps are used for:
DeFi
Decentralized Finance or DeFi refers to a finance firm based on blockchain. Unlike other financial institutions, it doesn't depend on banks or trading exchanges. It uses smart contracts, which is used to control or document legal actions and events and actions.
After you enable DApp browser on Trust Wallet, these DeFi platforms will allow you to trade cryptocurrencies, borrow or lend funds from others, insure against risk factors, and earn interest while making savings.
Advantages of DApps
There are many advantages of the DApp browser on the trust wallet enable. This includes:
DApps run on Ethereum which is a decentralized platform. This means it is not controlled by any group, organization, or person.
DApps are used in the Ethereum Virtual Machine. The advantage of this is that it doesn't let a smart contract affect the performance of the blockchain network even if it has a bug.
The best thing about DApp is that it doesn't have any downtime issues. This is because the smart contract technology runs on a blockchain network. Due to zero downtime, hackers are not able to attack users using apps on trust wallets.
After you enable trust wallet browser, you don't need to worry about anything. You can make any kind of transaction using smart contracts technology.
When you enable DApp browser on trust wallet, you are not required to submit your real identity while signing with the app.
Data stored on DApps cannot tamper as they are protected by strong crypto technology. It also doesn't let malicious attackers forge previous data or transactions.
Disadvantages of DApps
Despite all the big advantages, DApps has certain disadvantages too. So before you enable the DApps browser on trust wallet, let's check out the disadvantages.
According to legit resources, it's quite difficult to get a smooth user experience on a DApp browser. Users find it hard to use tools to interact with the blockchain.
Many users have claimed that transactions often get stuck while using DApp on trust wallet. This mainly happens due to a large number of transactions taking place on the app. The network can handle only 15-20 transactions per second. If the transaction amount increases, many transactions go unconfirmed.
Many users also find it difficult to maintain. This is mainly because the date and code published in the blockchain cannot be altered. It also prevents developers from making necessary changes to the DApps after publishing it even if there's a bug.
Due to large volumes of transactions, the applications often get overloaded. This creates a lot of issues for users.
Issues While Enabling DApps on Trust Wallet: What to Do?
If you facing issues like "trust browser enable not working" you should take the help of the guide below:
The most common errors users get while enabling DApp on Trust Wallet are:
Web browser not responding

Network issue

The site can't be reached error on Google Chrome
If you are facing any of these issues, you should try the solutions below. 
Method 1: Check Your Network
Check whether you have a good network or not. If you have a poor network, you can't enable DApp on trust wallet browser.
In case of network issues, you will face problems like lagging, buffering, and poor call quality.
You can check your network speed using a speed checker tool. Network issues can also arise during times when the network is down for maintenance. In this case, the only thing you can do is wait. 
Method 2: Update Your Browser
If your web browser version is outdated, you can't enable the DApp browser on trust wallet. Both Apple and Google release updates to fix bugs. So if you haven't updated your browser, the bugs will still be there.
For Google users, they can trust //browser enable chrome by updating their browser. Here are the steps you need to follow:
Open your Google Chrome browser, and click on the three dots located at the top-right corner of the screen.

Click Help and select About Google Chrome.

Once the page opens, the browser will start updating automatically.
To update the Safari browser, you should follow these steps:
Go to the App Store and click on the Apple icon located in the upper left corner of the screen.

Open the updates tab.

Run the Safari update to get the latest version.
After updating your web browser, try to enable the DApp browser on Trust wallet.
Method 3: Scan for Virus
Lastly, you should run a virus scan on your device. This is only if all the above methods fail.
All you have to do is get reliable virus scan software, install it on your device, and run a quick scan.
Final Words
By now you know how to trust browser enable dapp browser. By enabling the DApp browser on Trust Wallet you can make your crypto transactions more conveniently. However, sometimes issues like "trust browser enable not working" stops you from enabling the DApp browser. In that case, you should follow the solutions mentioned in this post.
FAQs about Trust Browser Enable
How do I add a browser to my Trust Wallet?
Go to trust //browser enable and follow the necessary steps to add a browser to your Trust wallet.
---
How do I use Pancakeswap on my iPhone?
You can access PancakeSwap from the Safari browser on your iPhone.
---
Can I download Trust Wallet on PC?
Yes, you can download the Trust Wallet on your computer.
---
What happened to the Trust Wallet?
Trust Wallet was acquired by Binance on 31st July 2018.
---
Can Trust Wallet be hacked?
Trust Wallet is a digital wallet that is designed to be highly anonymous. This keeps it protected from hackers.
---
Does Trust Wallet have a browser extension?
Unfortunately, Trust Wallet doesn't have any browser extension.
---
How do I access my Trust Wallet?
You can access Trust Wallet from both PC and mobile devices.
---
How do I enable PancakeSwap on my Trust Wallet?
You can trust //browser enable pancakeswap on your iPhone.
---
MUST SEE:
1. Tamilplay – Download HD Tamil South Movies on Tamil Play
2. Norstrat Review – Northern Strategy Consulting Company
3. WPC2027: Complete guide on WPC 2027 Live
4. ATT Yahoo Email – Login and Troubleshoot ATT Email Yahoo
5. How Late is the Closest Grocery Store Open? (24 Hours)
6. Avple Tv – How to Login and Download Videos from Avple