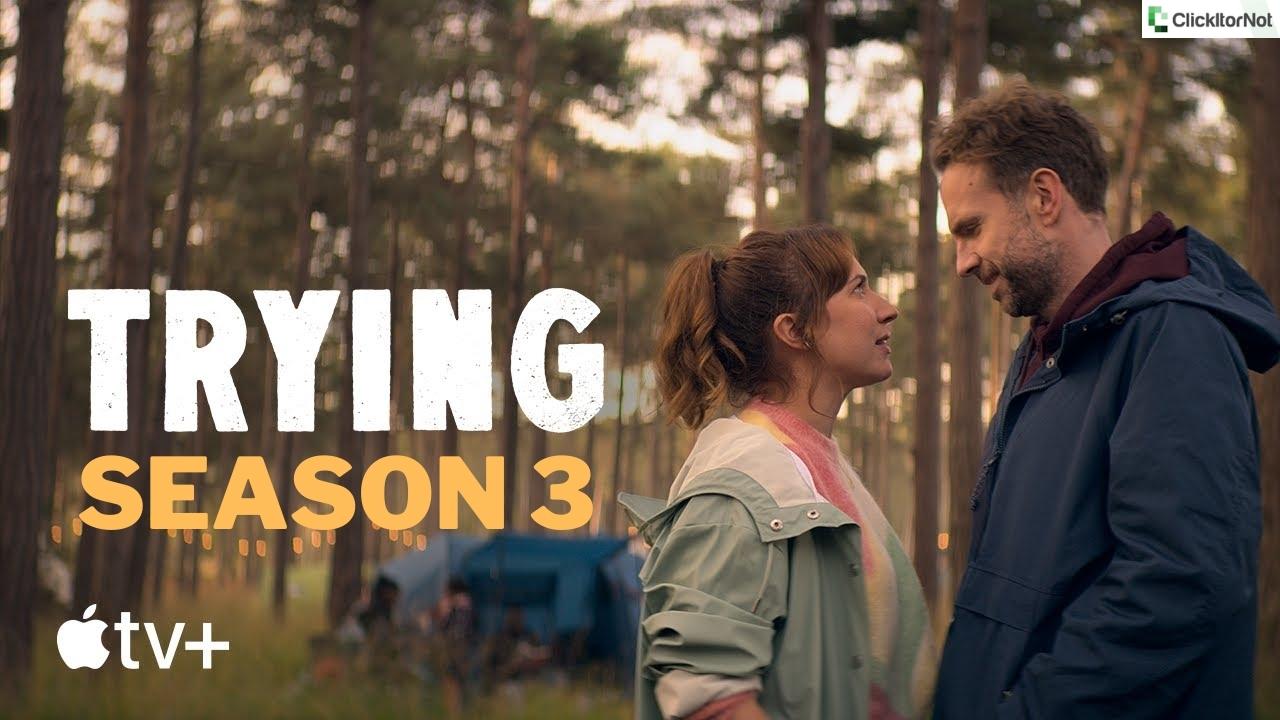 Trying Season 3 Wiki
Trying follows the story of a couple who are desperate to become parents, but struggle to conceive. Unable to have a biological baby, they decide to opt for adoption, only to face a series of new challenges and surprises.
These heart-warming comedy series have released two seasons so far. It's been a year since the last season came out. Fans are getting impatient to know the release updates of the third season.
You are lucky to have found this page because we have included all the details regarding Trying Season 3 in this post.
Trying Season 3 Release Date
So when is Trying Season 3 coming out? There's good news for all Trying fans. The show is coming back with the third season sooner than you think.
Trying Season 3 release date is already declared. It will arrive on Apple TV+ on Friday 22nd July 2022. For those who have been waiting to watch the third season, it's time to renew your Apple TV+ subscription.
New episodes will be released weekly except for the first two episodes which will be dropped on the first day. The final episode will be launched on 2nd September 2022.
Now that you are aware of Trying Season 3 release updates, mark the calendar.
Trying Season 3 Cast
There won't be any major changes in Trying Season 3 cast. Expect to see the same cast members from the previous two seasons. Here are the details of Trying Season 3 cast members:
Esther Smith

as Nikki

Rafe Spall

as Jason

Imelda Stauton

as Penny

Marian McLoughlin

as Jilly

Ophelia Lovibond

as Erica

Paula Wilcox

as Sandra

Phil Davis

as Vic

Oliver Chris

as Freddy

Robyn Cara

as Jennifer

Sian Brooke

as Karen

Darren Boyd

as Scott
Trying Season 3 Trailer
Trying season 3 trailer is 2 minutes 13 seconds long. It gives us a glimpse of the third season. The trailer came out on 23rd June and is available on YouTube. Here's the link:
Trying Season 3 Teaser
At this point, there's no need for Trying season 3 teaser. This is because the official trailer is already out.
Trying Season 3 Plot & Expected Storyline
Talking about Trying season 3 plot, it will continue the events shown in the last season. In the upcoming season, Jason and Nikki will get to know their kids and try their best to keep them both. But things will not be easy for them.
You will find more details regarding the show on Trying season 3 wiki guide.
Trying Season 2 RECAP: How did the last season end?
Let's take a look at Trying season 2 recap to know how did Trying season 2 end.
Season 2 ending was filled with unexpected proposals, unexpected boyfriends, emergency news, and a dance set to bebop jazz.
Trying Season 3 Review & Ratings
Trying is a touching comedy series that has got great ratings from the audience. Trying season 3 review is positive and this is why the show is being extended season after season.
Trying Season 3 IMDb rating is 7.8/10 and 93% on Rotten Tomatoes.
Where to watch Trying Season 3?
Trying Season 3 where to watch? Trying is an Apple TV exclusive, so expect it to arrive on the Apple TV+ platform. The third season will be released on 22nd July 2022.
The first two seasons are also available on Apple TV+.
Trying Season 3 Renewal Status
Trying Season 3 renewal status was updated after the release of the second season. In just a couple of weeks, we will have Trying Season 3 on our screens.
Trying Season 3 Countdown
Trying Season 3 countdown is on. We are just a few weeks away from the release of the third season. It is set to arrive on 22nd July on Apple TV+.
Trying Season 3 Episode Guide
Trying Season 3 episodes every week till 2nd September. Only the first two episodes will be released together on the premiere date. 
Just a reminder Trying Season 3 episode 1 start date is 22nd July.
Trying Season 3 Spoilers & Leaks
We will have to disappoint you, but we don't have any Trying Season 3 spoilers.
Trying Season 3 News Update
According to Trying Season 3 news, the third season will arrive with eight episodes.
To get more such updates you should follow Trying Season 3 Twitter.
Trying Season 3 Poster
Trying season 3 poster is not available. However, you will find dozens of pictures from the third season online.
Final Thoughts on Trying Season 3
Trying season 3 is soon going to release on Apple TV+ on 22nd July. After waiting for a full year, the show is finally coming back.
Trying season 3 FAQs
---
Will Trying have a season 3?
Trying season 3 is set to release on 22nd July 2022.
---
Who plays Nikki on Trying?
Esther Smith plays the role of Nikki in Trying.
---
How many episodes are in Trying?
So far the show has released 16 episodes, each season had eight episodes.
---
Was Trying renewed? 
Trying is coming with the third season in July 2022.
---
MUST SEE: