WhatsApp has recently submitted its new update details to the Google Play Beta program bringing the WhatApp beta version to 2.19.366. There are some changes to the previous version.
The most awaited Dark Theme is not yet available. WhatsApp is still working on the features to ensure a bug-free experience. WhatsApp is still adding new features to the Dark Theme before its release.
The update if it is not available in Playstore then you have to wait till Google rolls out for you. It will be available for download very soon.
There were some bugs in the previous version 2.19.365 including the one that crashed the App after the splash screen.
WhatsApp beta new version 2.19.366 is out and is available on Playstore for download. This update has fixed the bug for almost everyone and if it didn't fix for you then hope for the next version to solve it for you.
Some more new features have been included in this update including;
Six emojis have been given new skins:

The Wallpaper option has been moved under the Display section in Chat settings:
The Dark Theme option which is still under development was also moved under Chats section.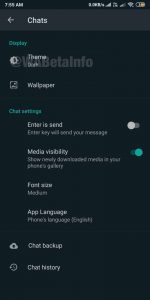 WhatsApp has not yet revealed the release date of Dark Theme but will soon be available.  We will let you know as soon as the release date is confirmed.