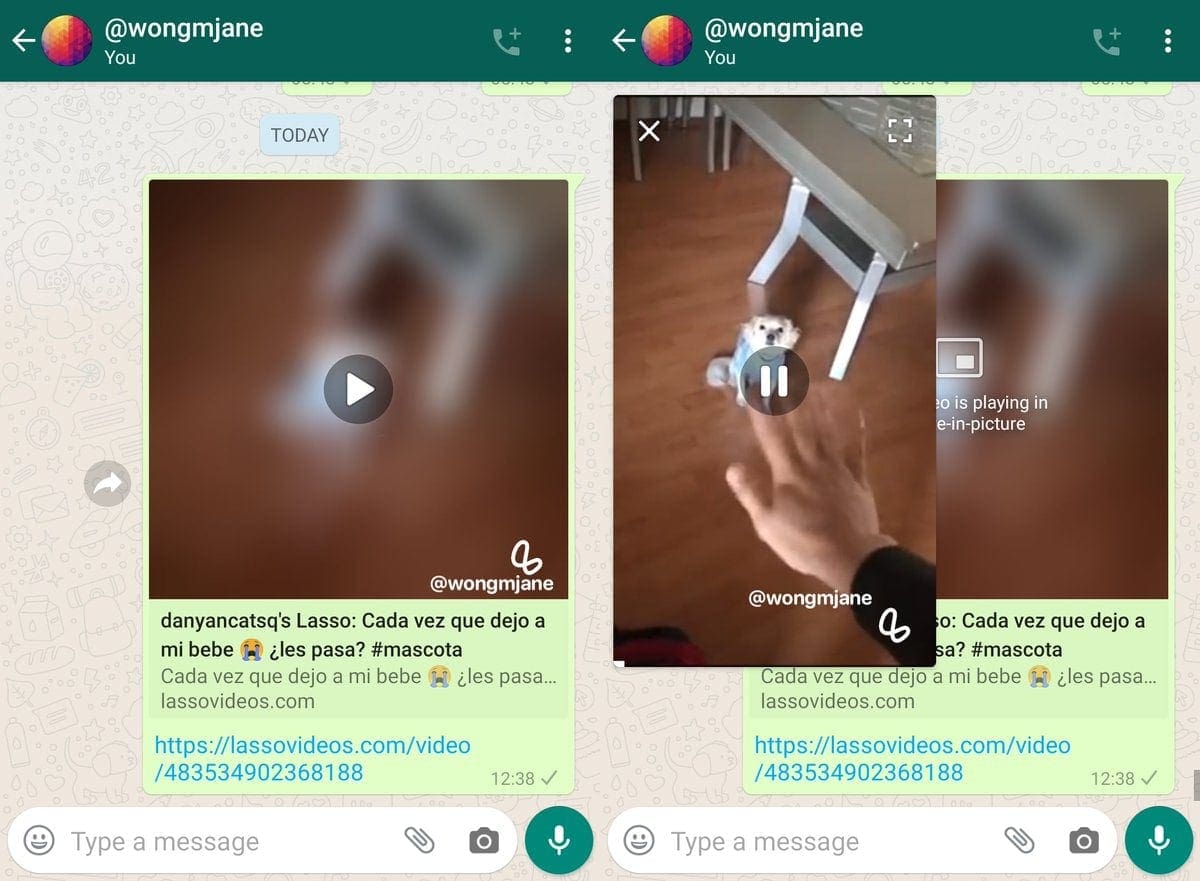 Lasso is a music and video sharing platform similar to TikTok. It may now be integrated with WhatsApp. WhatsApp, a subsidiary of Facebook, has changed the text messaging course with its arrival. It is working on developing new features now and then. It is bringing updates and cool features rapidly to its users.
WhatsApp has now integrated with Lasso?
Well, we believe it has. A Twitter user "Jane Manchun Wong" tweeted about this new feature.
WhatsApp is working on Lasso integration pic.twitter.com/ZYJc6rAJb4

— Jane Manchun Wong (@wongmjane) January 7, 2020
WhatsApp Lasso integration allows users to view Lasso videos directly in the WhatsApp chat window. Users just need to click on the Lasso link which is in the chat. The video will start playing in the chat window itself, you can navigate in the chat while video is playing. The Lasso video will be played in a small bubble in the chat window and users can increase or decrease the size of that bubble.
Lasso is a music and video sharing platform similar to TikTok. Facebook has cloned Snapchat before, and now it is trying to clone the Chinese video-sharing platform TikTok. It is developed to compete with TikTok, where TikTok is already big and want to grab the whole market where TikTok has not yet arrived.
Lasso makes it simple for anyone to create and share videos of short duration with effects and fun filters. It lets you follow creators, discover popular viral video trends, search hashtags, and join in by putting your creativity on them.
Once you've found a video of your choice that's trending, whether it's #fail or #comedy, you can use the camera provided in the app to create your spin on those videos with text on video, special effects, music, and editing tools that you can use to edit your funny videos. You can add hashtags to your video and share it with the rest of the world. You can also add your videos to your Facebook story directly.
COOL CAMERA TOOLS AND EFFECTS
Get high-quality video editing tools, text on video tools, effects, music, and more using the in-app camera.
A MASSIVE MUSIC LIBRARY
Lasso has one of the biggest music libraries. From vintage classics to trending pop hits, you'll find all the songs you need to take your videos to another level.
THE LATEST HASHTAGS AND CHALLENGES
You can know which hashtags are trending or going viral and which ones will be trending shortly. Be one of the first people to identify a new trend or one of the first to create and share a video of it.
SHARE DIRECTLY TO YOUR STORY
Lasso allows you to connects to Facebook seamlessly so that you can post your videos to your story with just a single tap. Whether you want your video to be seen in one place or all your social profiles, you have control over what you are sharing and where it is going.
If this integration works fine, then we will be able to watch videos and other trending stuff directly on our WhatsApp app. Lasso was first announced in November 2018.