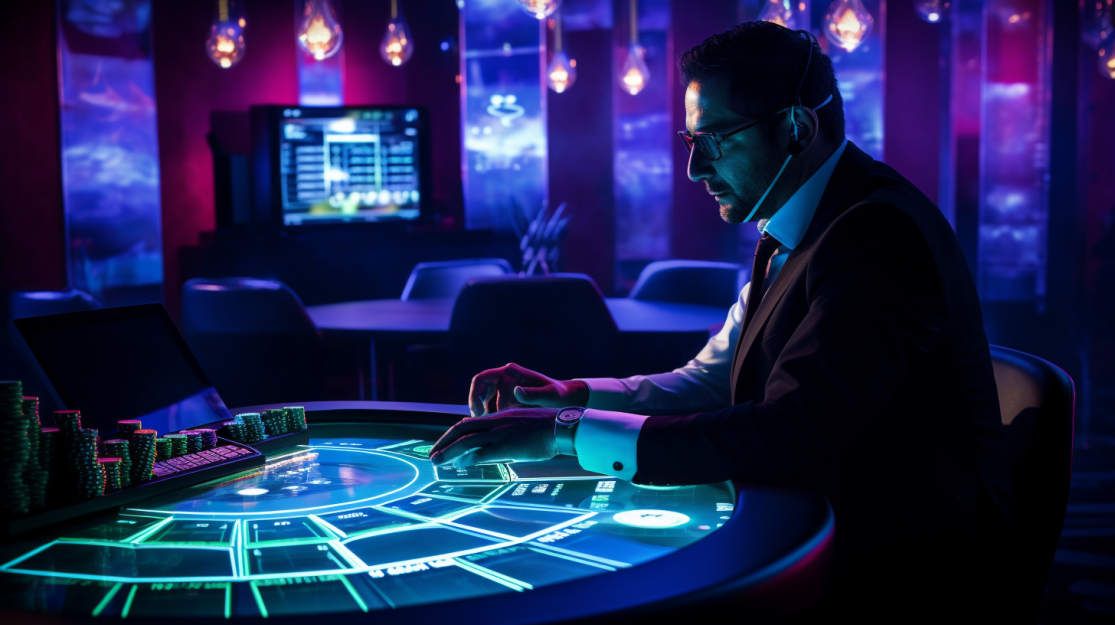 Online gambling has significantly evolved over the years, moving from rudimentary interfaces and limited game choices to a world of immersive, authentic casino experiences through live dealer games. Technology has played a monumental role in this transformation, with new advancements continually changing the way we play and interact with online casino games.
The Evolution of Live Dealer Games
The first online casinos were launched in the mid-1990s, offering only a small selection of games with basic graphics and sound effects. Live dealer games came into existence almost a decade later, marking a revolutionary advancement in the world of online gambling.
The early versions of these games, while still providing a human element that was missing from regular online games, were far from perfect. The video streaming quality was poor, the user interfaces were clunky, and the games were slow. Despite these shortcomings, they represented an exciting step towards emulating the real-life casino experience, introducing a social aspect to online gambling.
Online casinos have continually improved their live dealer games over the years, leveraging advancements in technology to enhance the player experience. Initially, one of the most attractive features was the ability to watch real dealers shuffle and deal cards in real-time for games like poker, baccarat, or blackjack. This reassured players about the fairness of the game and introduced an element of reality that wasn't present in regular online games. And speaking of games, learning how to play blackjack and other games became easier, as live dealer games offered a realistic, interactive environment for practice.
Technological Advances Powering Live Dealer Games
High-Quality Streaming
One of the key technological advancements in live dealer games is the adoption of high-quality, seamless streaming. With the rapid improvements in internet speed and the advent of 4K technology, players can now enjoy live dealer games with crystal clear visuals and virtually zero latency. The games are streamed from professional studios or sometimes even real casinos, complete with all the sights and sounds you'd expect from a physical casino.
Augmented Reality (AR) and Virtual Reality (VR)
Harnessing the formidable power of Augmented Reality (AR) and Virtual Reality (VR) signifies a pivotal leap in technology, propelling live dealer games to unprecedented heights. Imbuing the games with tantalizing layers of immersion, they now sing the siren song of authentic casino tables, ensnaring players in a mesmerizing virtual dance.
A mere VR headset serves as a magic portal, bridging the chasm between the humdrum of the ordinary and the intoxicating allure of the casino. Glance about the animated arena, exchange jests with fellow gamblers or the dealer, even extend a hand to place a daring wager on the ephemeral, glimmering table.
In contrast, AR weaves an extraordinary tapestry of the live dealer game onto the dull canvas of the player's everyday environment. It's a vibrant splash of thrilling color, bringing the enticing thrill of real casino gaming into the quiet sanctuary of your home. It serves as a delightful confluence of the comfort of familiar surroundings and the stirring excitement of a live gaming experience.
Improved Interaction
Interaction is a crucial element of live dealer games, and advancements in technology have greatly enhanced this aspect. For players, the modern gaming arena is now alive with chatter and camaraderie. Communication lines stretch between the dealer and other players, facilitated by clever chat mechanisms. These enhancements foster a joyous and sociable environment, teeming with lively banter and laughter.
Intriguingly, a smattering of online gambling dens are dabbling in the realm of voice recognition tech. This sophisticated conduit enables players to speak directly, bridging the gap with the dealer. It bestows an extra layer of authenticity upon the games, making them seem almost palpable in their reality.
AI and Machine Learning
The relentless march of Artificial Intelligence (AI) and Machine Learning (ML) is leaving indelible imprints across myriad sectors. Online gambling, standing tall among these transformed landscapes, is far from immune. These cutting-edge technologies are ingeniously harnessed, their raw power channeled to augment the player journey in live dealer games. AI can analyse player behaviour and preferences to offer personalized gaming experiences, while machine learning algorithms are used to enhance game fairness and security.
The Impact of Advanced Live Dealer Game Technology
Enhanced Player Experience
The impact of these technological advancements on live dealer games is clear: they have vastly improved the player experience. High-quality streaming, AR and VR technologies, improved interaction, and AI-driven personalization all contribute to an immersive, authentic casino experience that players can enjoy from their homes. The element of human interaction, coupled with the advanced technology, makes live dealer games increasingly preferable to traditional online casino games.
Greater Player Confidence
Advancements in technology have also resulted in greater player confidence. The transparency provided by live dealer games, where players can watch the dealer shuffle and deal cards in real-time, reassures players about the fairness of the games. Furthermore, AI and machine learning technologies are used to detect and prevent fraudulent activities, ensuring a safe and secure gaming environment.
Increased Popularity and Demand
With the improved player experience and confidence, live dealer games are experiencing a surge in popularity. More and more players are choosing live dealer games over traditional online casino games, leading to an increased demand for these games. This has prompted online casinos to continually invest in new technologies to enhance their live dealer offerings and stay ahead of the competition.
The Future of Live Dealer Games Technology
The future of live dealer games looks promising, with several exciting advancements on the horizon. One such advancement is the potential integration of blockchain technology. This would add another layer of transparency and security to live dealer games by recording each transaction in a decentralized, immutable ledger.
Additionally, with the continuous development in AI and machine learning technologies, we can expect even more personalized and immersive live dealer experiences in the future.