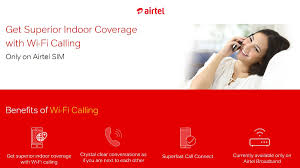 After the introduction of Airtel Wi-Fi calling service, on Friday, Bharati Airtel added six more devices to its list of smartphones compatible with its VoWiFi service.
Now, Airtel customers on OnePlus 6 and OnePlus 6T, as well as Samsung Galaxy S10, Galaxy S10+, Galaxy S10e, and Galaxy M20, can configure Wi-Fi calling that enables them to switch to voice over Wi-Fi inside their offices or home.
There are no extra charges for making calls through Airtel Wi-Fi calling service. At present, the service is available in Delhi/NCR, Andhra Pradesh, Karnataka, Tamil Nadu, Mumbai & Kolkata, and it is expected to soon open for all the major cities in India in the coming days.
Subscribers can get started to the Airtel Wi-Fi calling on their smartphones without downloading any additional app or purchasing any sim.
Besides, the service is already accessible to the Airtel customers using iPhone X, iPhone 6s, iPhone 7, iPhone 6s Plus, iPhone 7 Plus, iPhone 8, iPhone 8 Plus, iPhone XR, iPhone XS, iPhone XS Plus, iPhone 11, iPhone 11 Pro, and iPhone 11 Pro Plus.
Apart from the Apple phones, Xiaomi's Redmi K20 Pro, Redmi K20, Poco F1, Samsung's Galaxy J6, Galaxy A10s, Samsung Galaxy M30s, Samsung Galaxy On6, OnePlus 7, OnePlus 7 Pro, OnePlus 7T, and OnePlus 7T Pro.
Users have to opt for the Wi-Fi calling feature on their smartphone and update it to the latest software build to start using Airtel Wi-Fi Calling. Further, users are recommended to turn on VoLTE for the best results. A 5 minute Wi-Fi call will take less than 5MB of data. If the Wi-Fi network goes off, the ongoing Wi-Fi call will be automatically switched to VoLTE.
The advantage of Airtel Wi-Fi Calling is that the users can call or send a message from any place with a Wi-Fi network. Additionally, the Wi-Fi-based calling service offers a better audio quality of the call compared to VoLTE.
The users do not need to go for a new plan or pay any extra for using Airtel Wi-Fi calling service. A Wi-Fi call will be handled the same as a regular call and will go on the user's existing recharge or master balance.