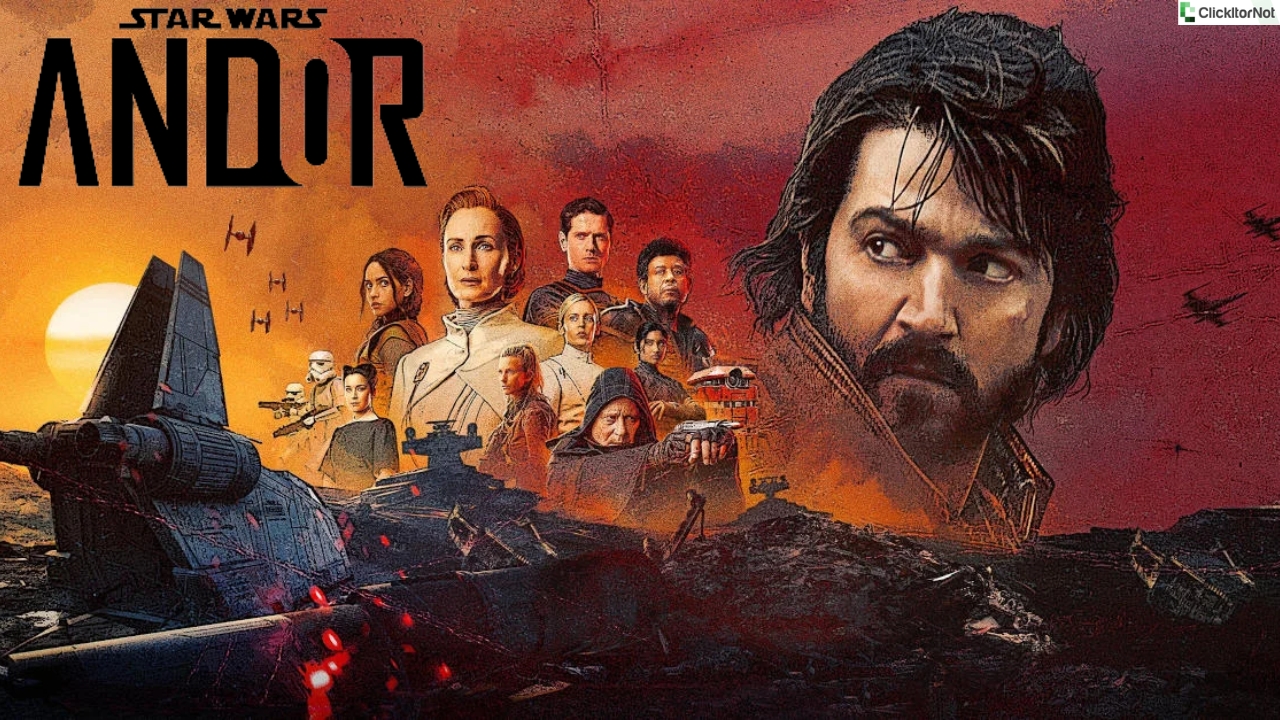 Andor
Andor is the new "Star Wars" series that was released just recently on Disney+. It is the prequel to 2016's Rogue One: A Star Wars Story.
After binge-watching the available episodes of the first season, fans have now turned their attention to the next season. The internet is flooded with questions like "when is Andor Season 2 coming," "will there be an Andor Season 2," and so on.
We will be answering all your questions in the post below.
Andor Season 2 Release Date
Fans will be happy to know that the Andor series is confirmed for 24 episodes spread across two seasons.
Additionally, the creator of the show Tony Gilroy has said that production for the second season will begin in November. They will be shooting the remaining episodes in blocks of three.
This means fans will have to wait for at least two more years before Andor Season 2 release date is announced. In a recent interview, Gilroy said that the show is likely to return in 2024.
Andor Season 2 Cast
Andor Season 2 cast is likely to have the same actors from the previous season. If there are any changes, the creators of the show will surely inform us about them.
Diego Luna as Cassian Andor
Kyle Soller as Syril Karn
Adria Arjona as Bix Caleen
Joplin Sibtain as Brasso
James McArdle as Timm Karlo
Gary Beadle as Clem Andor
Genevieve O'Reilly as Mon Mothma
Denise Gough as Dedra Meero
Faye Marsay as Vel Sartha
Rupert Vansittart as Chief Hyne
Stellan Skarsgård as Luthen Rael
Fiona Shaw as Maarva Andor
Alex Ferns as Sergeant Linus Mosk
Alastair Mackenzie as Perrin Fertha
Anton Lesser as Major Partagaz
Alex Lawther as Karis Nemik
Sule Rimi as Lieutenant Gorn
Varada Sethu as Cinta Kaz
Elizabeth Dulau as Kleya Mark
Kathryn Hunter as Eedy Karn
Ebon Moss-Bachrach as Arvel Skeen
Gershwyn Eustache Jnr as Taramyn Barcona
Stanley Townsend as Commandant Jay hold Beehaz
Andor Season 2 Trailer
Shooting for the new season will commence in November. This means it will take time for Andor Season 2 trailer to release.
Andor Season 2 Teaser
The creators of the show might drop the Andor Season 2 teaser to confirm the premiere date. This is just speculation, so you shouldn't take it seriously.
Andor Season 2 Plot & Expected Storyline
There is still no update available about Andor Season 2 plot. But one thing is clear; season 2 will pick up where the first season ended.
Since we are yet to know the ending of the first season, it is difficult for us to guess what to expect in the next season.
Andor Season 1 RECAP: How did the last season end?
Those asking "how did Andor Season 1 end?" will have to wait for the first season to finish airing. The final episode is set to release on 23rd November 2022. Therefore, we can't give you an Andor Season 1 recap.
Andor Season 2 Review & Ratings
Andor Season 2 review is excellent. Viewers have loved the show since the first day of release. Andor Season 2 IMDb rating is 8.1/10 and 91% on Rotten Tomatoes.
Where to watch Andor Season 2?
Andor Season 2 where to watch? When the new season is released, it will be available on Disney+. Meanwhile, you can watch the first season which is currently running on the platform.
Andor Season 2 Renewal Status
Talking about Andor Season 2 renewal status, the show is confirmed for 2 seasons. It is not clear whether the second season will be the last season of the show.
Andor Season 2 Countdown
Fans will have to wait till 2024 for Andor Season 2 countdown to start. As per sources, the second season will release in the first half of 2024.
Andor Season 2 Episode Guide
The only thing known about Andor Season 2 episodes is that there will be 12 of them. As far as the Andor Season 2 episode 1 start date is concerned, it will be sometime in 2024.
Andor Season 2 Spoilers & Leaks
According to sources, there might be new characters in the second season. But it is not confirmed who will join the show.
You will have to stick around for more Andor Season 2 spoilers.
Andor Season 2 News Update
The team will start filming for the new season in November. The production is most likely to start after the conclusion of the first season.
For more Andor Season 2 news, you should follow Andor Season 2 Twitter.
Andor Season 2 Poster
Andor Season 2 poster is not available yet.
Final Thoughts on Andor Season 2
Andor Season 2 is confirmed, but fans will have to wait till 2024 to stream the new season.
Andor Season 2 FAQs
Will there be an Andor Season 2?
Yes, Andor Season 2 is confirmed and the production will start in November 2022.
How many episodes are there in Andor?
Andor will have 24 episodes spread across two seasons.
How many seasons will Andor have?
Andor is confirmed for two seasons.
Is the first season of Andor over?
Andor season 1 is currently running. It will wrap up on 23rd November 2022.
MUST SEE: