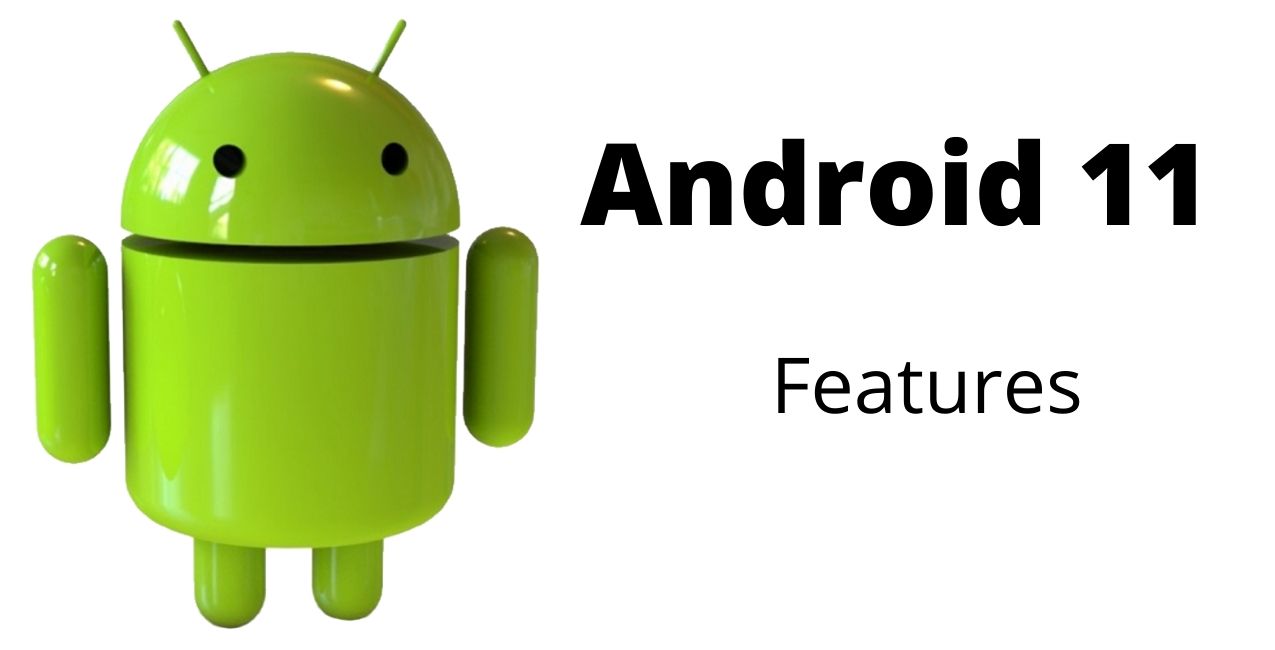 Recently, Google has released the first developer preview for Android 11. The update has brought along some new features along with changes.
If you are eager to know what Android 11 might have brought along, then read through this article to know the 13 new and cool features that Android 11 might bring for you along with its launch.
Android 11 Features
1.

Chat Bubbles

Back in beta versions of Android Q, you might have observed this feature. But, Google has removed it in the stable Android 10 release.

This feature again made its reappearance in the Android R first beta developer preview with the same concept.

With chat bubbles, the messaging app can show the conversations in the floating bubbles, which is similar to that of the Facebook Messenger chat heads.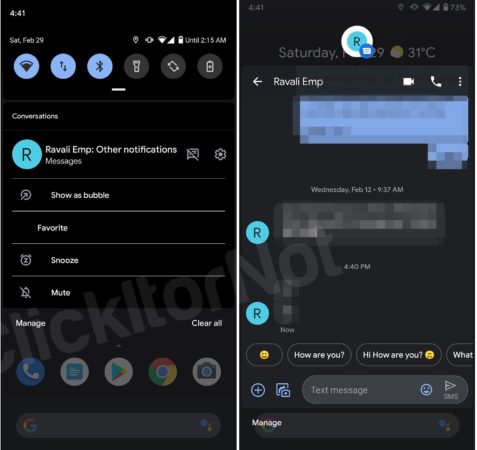 Just a long press on a message notification and tap on "Show in a chat bubble," can open the chat bubble for a conversation. You can then reply to the conversations in a floating window similar to that of the Messenger'sMessenger's implementation. It even has support for the smart reply.
2. Conversations
Google is also trying to make it easy for the user to find notifications related to their conversation in the pool of information in the notification shade.
Android 11 will automatically bring together all the message threads to a handy conversations section of the notification panel, which is also kept on the top right.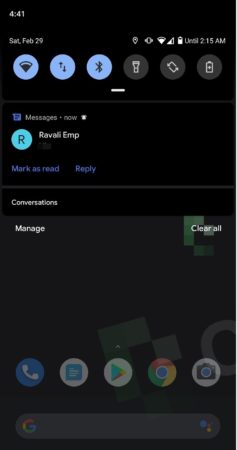 In the conversations section, if you long press on any notification, then it shows up a tonne of options that includes adding a shortcut to the conversation on the home screen, the capability to open the conversation in a bubble, or marking it as important.
3. Copy-paste in Notification Shade
If you are one among the people who often find replying to the messages right from the notification shade, then Android 11 is also bringing another exciting feature for you.
The notification will now support copy-paste so that you can copy an image from say Chrome and paste it directly into the reply section of the notification to share it.
It means that you no longer require to open the messaging app to attach a picture to your reply. It is definitely a handy feature that Google is bringing for you.
4. Improved Permissions
Google is making Android more secure with each of its updates. With Android 10, last year, it has enhanced location permissions that are granted to apps and gave us little more granular control over access to our location data by the apps.
Google has made even more strict location permissions with the Android 11 and further added granular control over more permissions such as microphone and camera.
If an app asks for location access in Android R, you get a new "Only this time" option that will only give access to your location for just that single time. There is no "Always allow" option now. It means that apps need approval every time to access the location.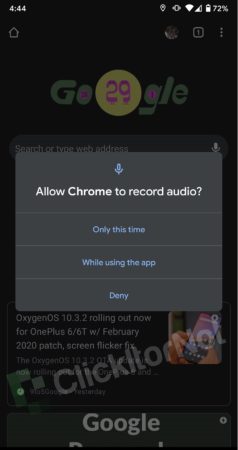 Also, you can now allow a single-time access pass to an app for using your microphone and camera to ensure it does not try to access any of those things without your knowledge. That is a significant relief, particularly with the rise of spyware in recent times.
5. Native Screen Recorder
Another feature, which first popped up last year with Android Q beta only but later removed for the stable release of Android 10, is the screen recorder. It is back again this time, with an improved UI.
You can access the in-built screen recorder functionality in Android 11 from the Quick Settings panel. If you tap on this, it starts a 3-second timer before the screen begins recording. You can also get a handy notification to pause, stop, or cancel the screen recording.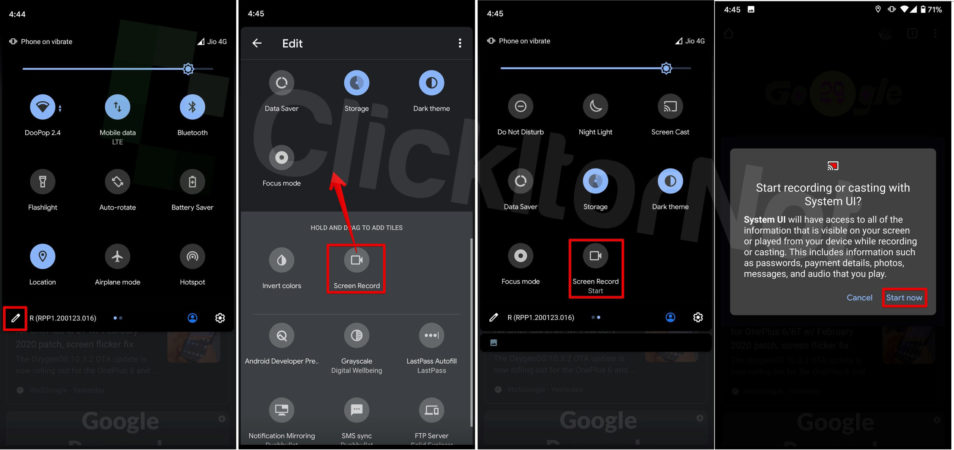 Until now, there are no settings to record internal audio, change the resolution, or to set an orientation for the screen recordings. Still, positively we will get to see them added in the upcoming updates.
6. Improved Do Not Disturb
Android 11 will also bring improvements to Do Not Disturb. You might have probably known that with Android 10, the DND menu has already featured some exceptions, but now there are better and more organized categories like Apps, Alerts, and People.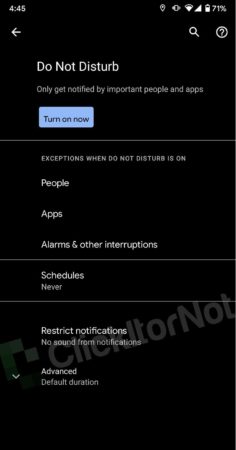 So you can be able to set do not disturb exceptions for specific apps, particular callers, or further, allow reminders and alarms to ring regardless of the DND status on your phone. That is pretty good news.
7. Scheduled Dark Mode
Google, at last, brought a native, system-wide dark mode to Android 10, in the previous year. And this year, it seems that it is going to improve the feature, mainly by adding an option to schedule for the automatic turning on and off of the dark mode.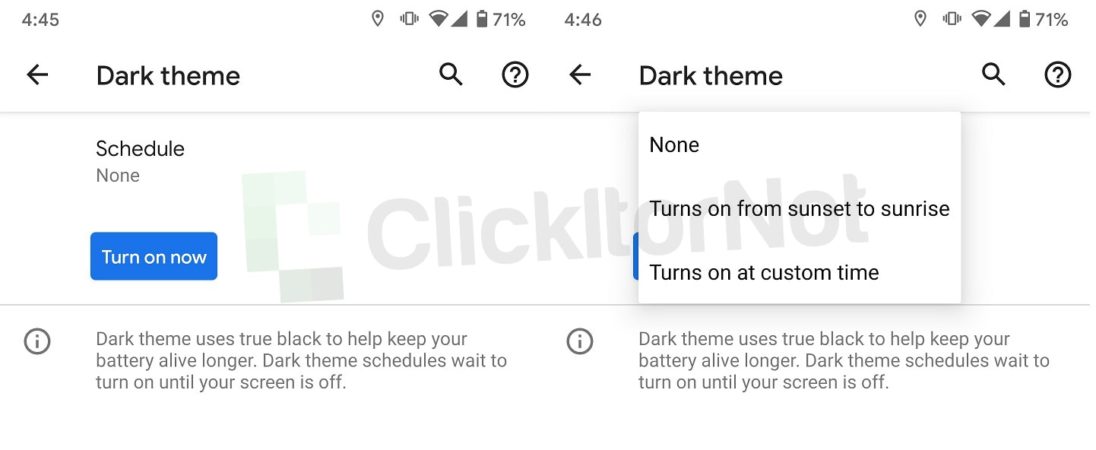 The schedule can work based on either the sunrise and sunset times in your region or, according to your preferences, set a custom time for the dark mode to enable. Using the dark mode for the whole day feels just a little annoying to many people, but using it post-sunset is a lot better, especially when you are outside.
8. Pin Apps in the Share Menu
It is another feature that was available in the Android Q beta update as well and again removed later on. With the first developer preview of Android 11, you can now once again pin the apps to top in the share sheet. It means that you can make sure that the apps you use the most will be on top. They do not get replaced by some random apps just because you handled them once and now cannot get rid of them.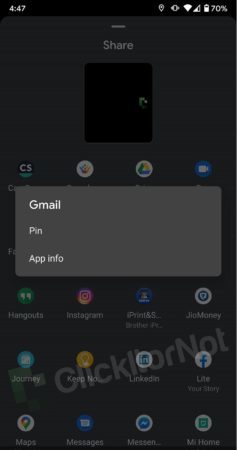 9. Turning on Airplane Mode No Longer Disconnects Bluetooth
A lot of people have the biggest complaint with Android is the fact that when you turn on Airplane mode, the Bluetooth also automatically turns off.
Fortunately, that is no longer the case with Android 11. So, next time you board a flight with your headphones on, you can enable Airplane mode without Bluetooth getting turned off. Furthermore, there is no need to turn it on again and wait for your headphones to reconnect.
10. Pixel 4 Exclusive Features
Increase Touch Sensitivity
Most of the screen protectors do not usually hinder the day-to-day operation of your smartphone. But, some more robust tempered glasses can make the display not to respond quickly to light touches. To solve that problem, Google has added an option to increase the touch sensitivity on Pixel 4 devices.
If you want to enable this feature, go to Display settings, scroll down all the way to the bottom, and tap on Advanced.
Soli Gestures for Playing or Pausing Music
Android 11 is also adding a new Soli gesture that will allow users to employ a simple hand gesture to play or pause music. The Soli feature does not work in India. But the feature states that users can pause and resume music by just "tapping the air above the phone." It sounds incredibly cool!
11. Other Features
Apart from the features mentioned above, Android 11 is also bringing a tonne of changes and features to it.
Now, the Developer option will only show Bluetooth codecs, supported by the connected Bluetooth headphones. A new overlay displays the refresh rate of the screen. There is support for many kinds of displays like waterfall displays and folding ones.
Besides, Android 11 claims to bring along 5G & connectivity improvements, a hidden Battery Share menu, and also a scrolling screenshot feature, which is hidden as of now. The upcoming Pixel 5 might feature these hidden features with support for reverse wireless charging.
12. Battery Share (Hidden Feature)
In the Android 11 settings, there is a hidden option called "Battery Share." As per the description of the feature, it appears to be something related to reverse wireless charging. The feature pops up on searching for "Battery" in the Settings app on Android 11.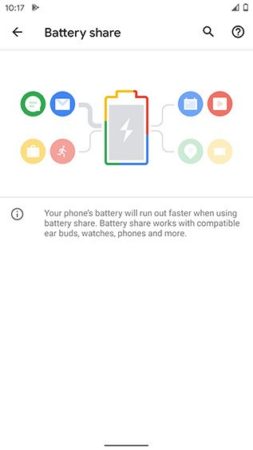 Since no Pixel phone as of now has the hardware needed for a wireless power share, this feature might be a Google's plan to bring with its forthcoming Pixel 5 that had its first render leak some days back.
13. Gesture Settings (Hidden Feature)
Another hidden feature of the Android 11 that was first spotted by 9to5Google is the Gesture Settings. The feature appears to be a work in progress. But it seems to be directed towards solving the issue of swiping to open the hamburger menu inside apps.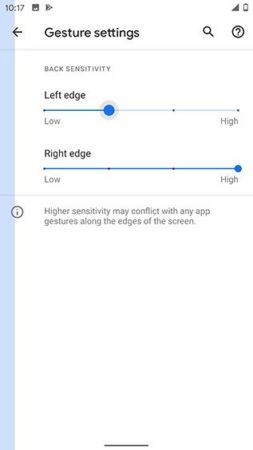 Under the Gesture Settings, users can adjust the back sensitivity for both the right and left edges individually, so that you can probably reduce the sensitivity for the left side and make it easy to open app drawers with a swipe. Expectedly, we will get further information about this feature in the coming developer previews.
Though with the first developer preview of Android 11, it is very early to find out what exactly comes along with this update. If you are interested in testing out Android 11, then go through How to Install Android 11 first Developer Preview on Pixel.
Update:
Some of the new features spotted with the Android 11 Developer Preview 1:
Smart home devices control using the power button:
According to a series of hidden tweaks in the Android 11 Developer Preview 1, it suggests that it will be possible to control the smart home devices soon using the power button.
New Pixel launcher animations:
Android 11 is bringing in a new 'jiggly' scrolling animation for the home screen.
Change Quick Settings icon colors:
With some ADB commands, you can now change the icon colors of the Quick Settings toggle or also enable and disable them.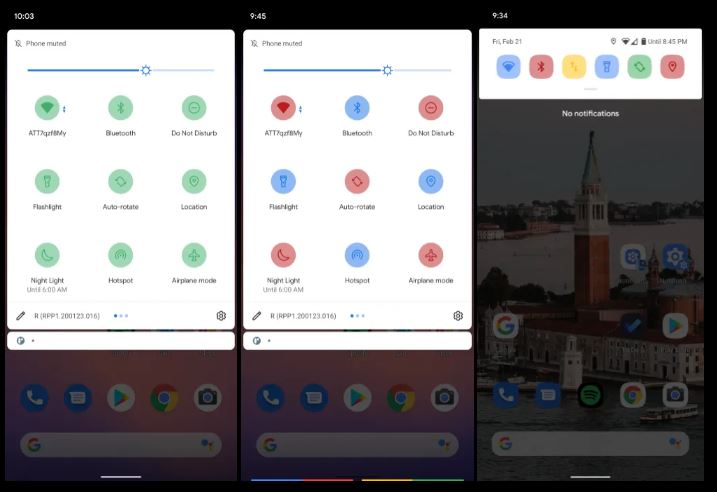 Project Mainline upgrade:
The Android 11 Developer Preview shows that the Project Mainline that allows updating the device through the Google Play Store has been updated and now supports about 20 different system modules.
Car crash detection for older Pixel phones:
A new Personal Safety application included with the Android 11, which brings the Car Crash Detection feature for older Pixel smartphones. It can be restricted either functionally or geographically.
One tap to open links in another app:
Instead of tapping twice, now, while opening the links in any application, you will require to tap only once. Earlier, you need to tap on the app's name and then tap on the 'just once' option.
New restrictions for APIs:
Android 11 is bringing in more restrictions and for the non-public APIs, and developers require to make sure that their applications are working with the new restrictions introduced in Android 11.
In-built GSI installer:
In Android 11 Developer Preview 1, there is an in-built GSI system installer that does not seem to work right now.
Built-in app compatibility tester:
Developers can now test the compatibility of their apps directly within Android 11 by individually enabling and disabling them.
Labeled server issue:
Instead of a 'no internet' notification, Android 11 will let you know the culprit behind the connectivity issues.