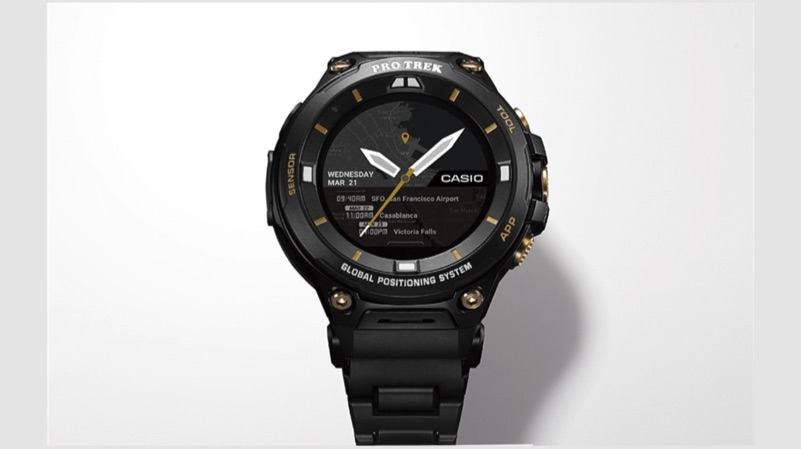 Casio has announced its limited edition WSD- F20 SC smartwatch, which will work on the latest Wear OS, making it the second smartwatch after the Big Bang Referee by Hublot. It was recently when Google had rebranded its Android Wear OS to Wear OS specifically for the wearable tech.
Casio has made an announcement of the watch, however, it has yet not officially unveiled the price of the wearable tech. It is believed that the watch will be on the higher side of the price range, compared to its predecessor – the WSD-F20, which was released last year. The Casio WSD F20SC is a rugged limited edition.
The company is believed to genuinely mean its "limited edition" tag as only 700 units of the watch are to be manufactured. The watch is set to be released in June, this year. Unlike the other smartwatches, the name of Casio's WSD – F20 SC does not reveal about its specifications or updates.
The smartwatch will have a 1.32 inch TFT display that will feature sapphire crystal and the rear of the watch is covered with stainless steel. The smartphones boast an ion-plated switch, which will be available on the side of the watch. Equipped with GPS, WiFi, Bluetooth and offline color map features makes the smartwatch an enhanced wearable tech.
The MIL-STD-810G certification of the watch makes the smartwatch waterproof up to 50 meters. There are several additional features in the smartphone like the accelerometer, gyro-meter, and pressure sensor. Available with enhanced features, the battery life of the Casio WSD – F20 SC is for a complete day when working on the colored display mode. The battery of the smartwatch charges via magnetic terminal and takes a 2 hour time to completely charge.
The smartwatch has a lot to offer and since it is a limited edition, the pricing will play a huge part to play when releases.
source: Casio