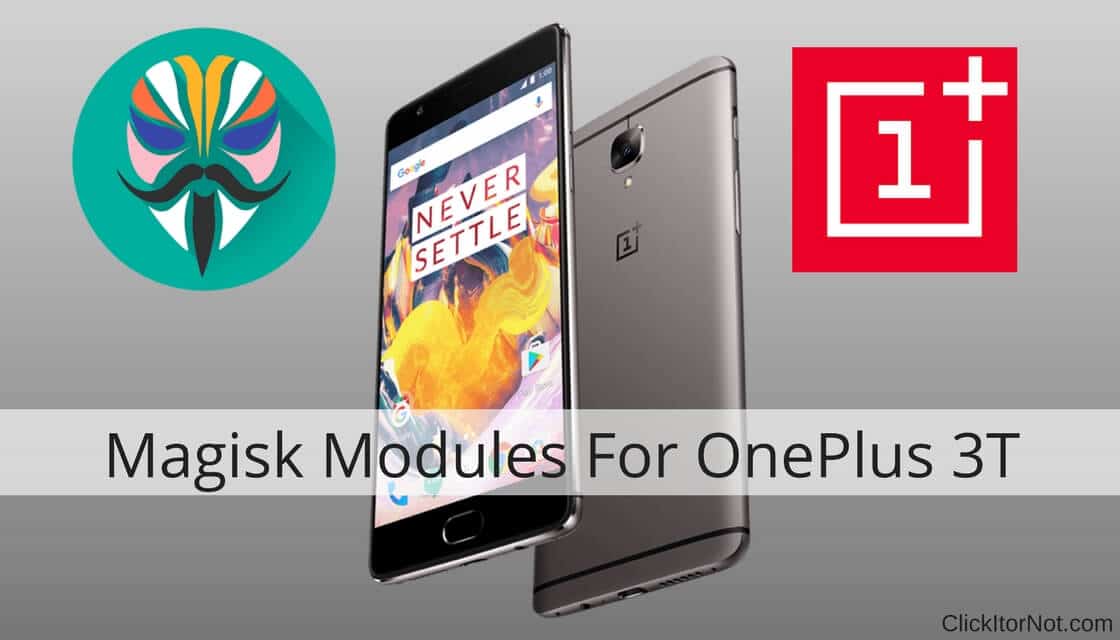 You can alter your OnePlus 3T systemless-ly with Magisk Module. Out of the multiple mods that can run on OnePlus 3T, with Oxygen OS; Magisk is the most preferred. This comes in multiple modules, all of which offer different features to the user.
Features
Magisk Manager:


Install / Upgrade Magisk in-app. Manage, Upgrade, Download, Install Magisk Modules within a few taps.

Magic Mount:


Allow you to do any system (vendor) modification without actually tampering the partitions.

Resetprop:


Allow you to do any modifications to system props (build.prop), including read-only props.

Multiple Entry Points:


Provides several entry points to developers to run scripts at different boot times, reliably pausing the boot process before your scripts are done. This allows experienced developer to fine tune the Magisk Module's behavior.

Open Source Root Solution:


(Optional) Root your device with Superuser forked from phh's Superuser (additional features and tweaks).

Magisk Hide:


(Optional) Paired with the included root solution, users can choose to hide Magisk from detection.
This can bypass SafetyNet, which is used in Android Pay, Pokemon GO etc.

"post-fs" a.k.a "Cache" Mode:


Some special files require to be mounted even earlier (e.g. Boot Animation)
Built-in systemless host support
Built-in busybox which extends support back to Lollipop (5.0)
Remove dm-verity, forceencrypt and patches sepolicy by default
List of all Magisk Modules
Google Pixel Launcher v1 – This module provides users with the latest edition of Pixel launcher.
Download

---

Google Pixel Sound Set v1 – Using this module you can replace system UI sound in OnePlus , with the Pixel sounds.
Download

---

Google Dialer – Use this to add Google Dialer along with its multiple frameworks and permissions.
Download

---

Google Assistant –By using this module you can make use of the Google Assistant.
Download

---

Google Daydream VR – This module facilitates Daydream VR along with multiple Daydream VR apps.
Download

---

Chrome Homepage – This module allow home button in Chrome along with the alternative default parent page in settings of the chrome.
Download

---

SELinux Display – Use this module to unhide the status of SELinux status in the device settings.
Download

---

EmojiOne Replacer – With this module you can swap emoji set up in OnePlus.
Download

---

PhaseBeam Live Wallpaper – This can help you add PhaseBeam Live wallpaper with the option of changing colour.
Download

---

ViPER4Android FX 2.3.4.0 – Probably the only version that has scope for selecting 3 quality drivers.
Download

---

APT-X HD Codec – This can add codecs, along with enabling APT-X HD for bluetooth headsets.
Download

---

Key layouts for Gaming Controllers – This can add key layouts to be used with Xbox 360, Nvidia Shield controllers and Xbox One S.
Download

---

Snapdragon Camera –This can add the Snapdragon camera.
Download

---

Stereo Speakers and Mic Gain – Through this module, you can make use of your earphones as the speakers.
Download

---
Disclaimer: These Magisk modules will not run if you have not installed the Magisk 10.2, along with Oxygen OS 4.0.2 and PHH's SuperUser.
Prerequisite to download Magisk
The existence of Magisk is only possible with Systemless SuperSU from Chainfire and unofficial included phh Superuser
At the time of downloading Magisk, if the root is already there in the device, it will be removed automatically and the available root systemless-ly will be installed instead.
Downloads
Magisk Manager – Play Store | Direct Link
Steps to install Magisk Module
TWRP Method
Download and Save Magisk v11.0, Magisk Modules zip files in your internal storage.
Now turn off your device and reboot your device into TWRP recovery mode by pressing Volume Down + power button. With this, the recovery mode will be initiated.
Wipe down the phone data but mind the internal memory.

Go back to the main menu and click on select install button and browse the SuperSU Zip File from the drop down option.

Wait till the installation gets complete.
Install Magisk 10.2, Magisk Modules zip files in the same above process
Once the installation process gets completed reboot your device from main menu.
And it's done!
If device is rooted with Magisk phh's superuser, or Official Systemless SuperSU
Directly install Magisk Manager from the play store
Upgrade Magisk step by step as prompted in the app
Reboot the device
Here you done!