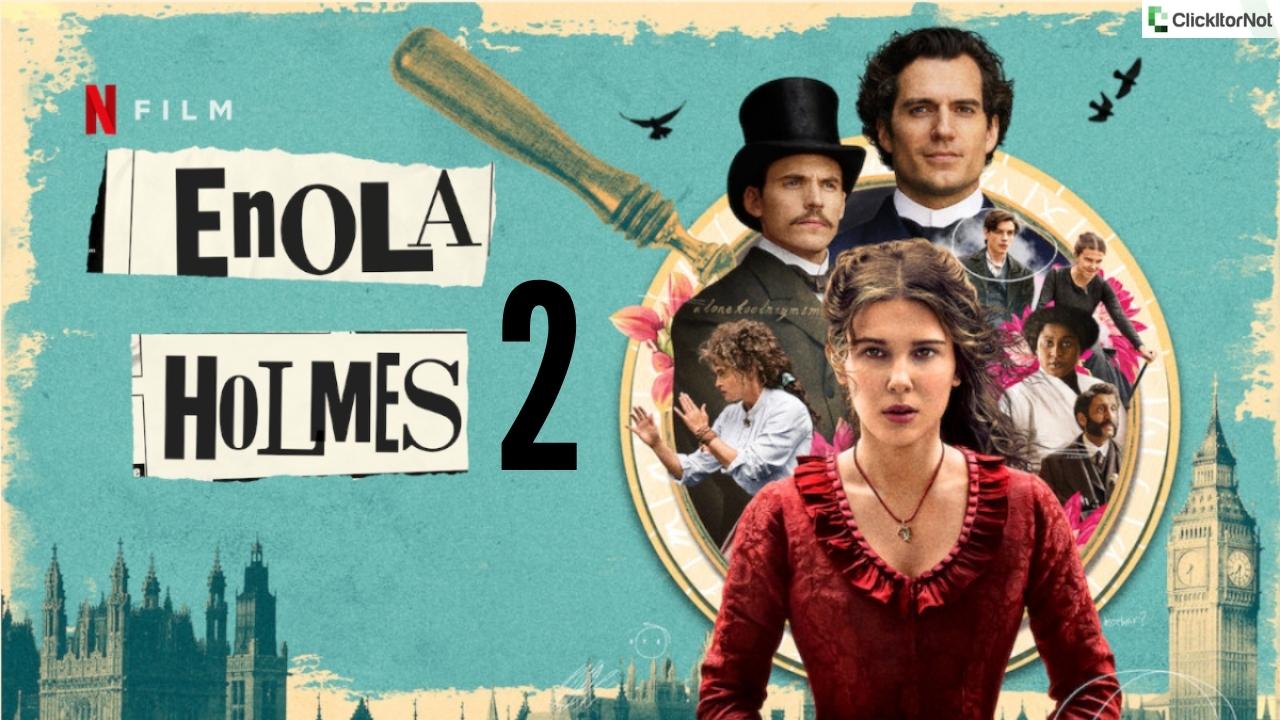 Enola Holmes 2 Wiki
For those who are not familiar, Enola Holmes is a mystery drama film that is based on Nancy Springer's adult fiction book series of the same name.
It follows the story of the young sister of Sherlock Holmes, who moves to London searching for her mother. But fate had different plans and she ends up with a runaway lord. The two embark on a mission to solve a mystery that is dangerous to the entire country.
The first film came out in September 2020. It's been two years and now fans are getting impatient to know if there will be an Enola Holmes 2. To know further details, you should read this blog till the end.
Enola Holmes 2 Release Date
Fans are dying to know when will Enola Holmes 2 be on Netflix. The streamer announced a sequel, but it didn't give us a release date. This has raised many questions among fans as they worry about the future of the Enola Holmes franchise.
There were rumors that the second movie will arrive in June 2022. However, that didn't happen and the wait continues.
As of now, there's no Enola Holmes 2 release date. But there's nothing to worry about because we know the second movie is happening. According to reports, the filming for Enola Holmes 2 concluded in January 2022. So, we can expect post-production to wrap up by August or so. In that case, the sequel will be released at the end of 2022. However, nothing is confirmed yet.
Enola Holmes 2 Cast
Many of the core cast members from the previous movie are expected to appear in the sequel. Here are the details of Enola Holmes 2 cast members.
Millie Bobby Brown

as Enola Holmes

Henry Cavill

as Sherlock Holmes

Adeel Akhtar

as Lestrade

Helena Bonham Carter

as Eudoria Holmes

Louis Partridge

as Tewkesbury

Susan Wokoma

as Edith
Enola Holmes 2 Trailer
Enola Holmes 2 trailer is not released yet, but expect it to arrive soon. We will update the trailer link after it arrives.
Enola Holmes 2 Teaser
Enola Holmes 2 teaser is out and that's the biggest proof that the sequel is happening. The first teaser dropped in February 2022. You can see the teaser here:
Enola Holmes 2 Plot & Expected Storyline
Talking about Enola Holmes 2 plot, Enola Holmes will work as a detective-for-hire. Her first case is to find a missing girl. This leads her to a dangerous conspiracy that requires the help of friends to be solved.
You will get to know more about the movie from Enola Holmes 2 wiki guide.
Enola Holmes 1 RECAP: How did the last season end?
How did Enola Holmes 1 end? Here's a quick Enola Holmes 1 recap.
At the end of the first movie, Enola Holmes decides to be a detective in her own right. She ends the movie by saying that her future is her own.
Enola Holmes 2 Review & Ratings
Enola Holmes 2 review was good. Enola Holmes 2 IMDB rating is 6.6/10 and 91% on Rotten Tomatoes.
Where to watch Enola Holmes 2?
Fans who are not sure Enola Holmes 2 where to watch, the movie will arrive on Netflix. The exact release date is not known. Before the sequel comes out, you should finish watching the first movie.
Enola Holmes 2 Renewal Status
Enola Holmes 2 renewal status was updated by Netflix as it owns the distribution rights.
Enola Holmes 2 Countdown
Without knowing the official release date, it's not possible to start Enola Holmes 2 countdown. Since the teaser is out, it is expected that the movie will arrive soon.
Enola Holmes 2 Spoilers & Leaks
There are rumors that the sequel will arrive on Netflix in September 2022. But we will have to wait for the streamer to confirm this news.
At the time of writing, there are no more Enola Holmes 2 spoilers available.
Enola Holmes 2 News Update
According to Enola Holmes 2 news, the filming started back in October 2021 and concluded in January 2022. The post-production work is expected to get over by August.
For more updates, you should follow Enola Holmes 2 Twitter page.
Enola Holmes 2 Poster
Enola Holmes 2 poster for promotional release is out. You can check it out here:
Final Thoughts on Enola Holmes 2
Enola Holmes 2 is happening and the first teaser is out. Now we just have to wait for Netflix to announce the release date.
Enola Holmes 2 FAQs
---
Will there be an Enola Holmes 2?
Enola Holmes 2 is expected to arrive soon.
---
Where can I watch Enola Holmes 2?
Once Enola Holmes 2 is out, it can be streamed on Netflix.
---
Will there be an Enola Holmes 3?
Right now, we cannot confirm if there will be a third Enola Holmes movie.
---
Is Tewksbury going to Enola 2?
Yes, Tewksbury will appear in Enola Holmes 2.
---
Why did Enola kiss Tewksbury?
The characters of Millie Bobby Brown and Louis Partridge were supposed to kiss in the movie, but on the actual, they decided not to.
---
How old is Tewksbury? 
Tewksbury in Enola Holmes is 12 years old.
---
MUST SEE: