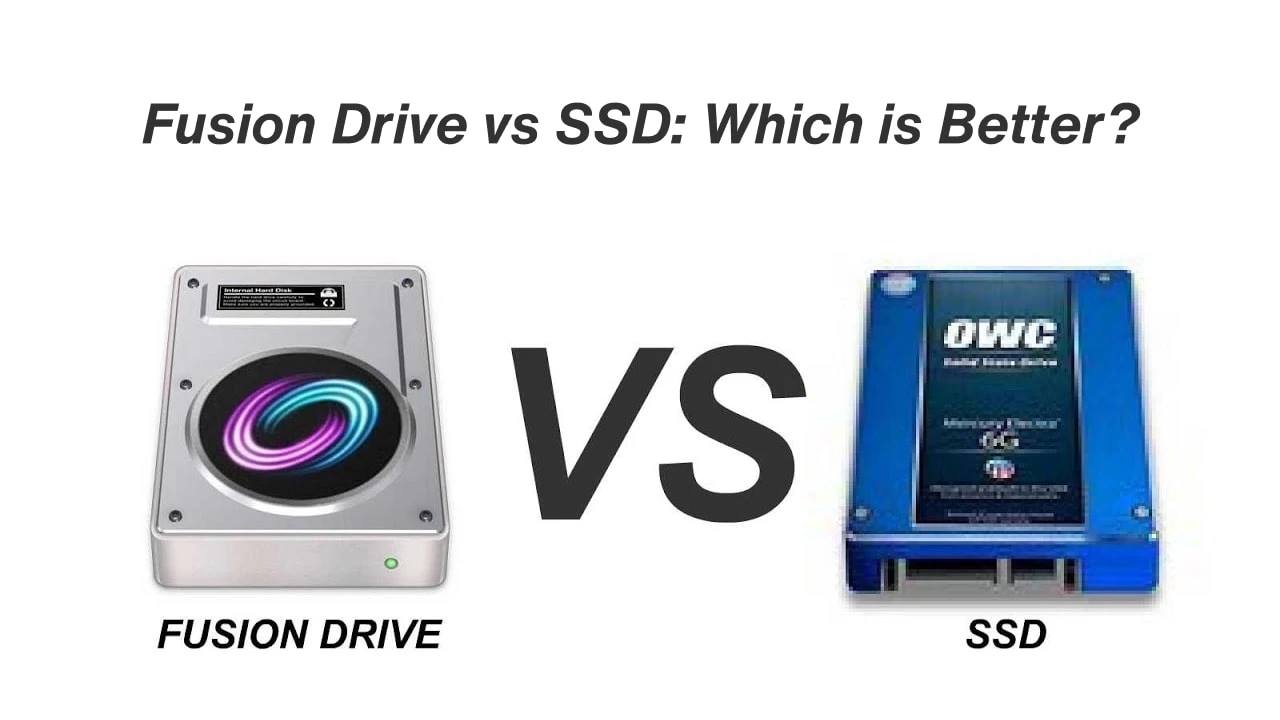 Fusion Drive vs SSD (Flash Drive)
Are you confused between SSD and a Fusion Drive? Well, this is a common confusion among people who are planning to get an iMac.
Mac devices don't offer many options for customization, except in the case of storage. If you are buying a MacBook Air, you can choose from the 256GB and 128GB variants. But you get better choices in the case of iMac.
iMac is an all-in-one computer series from Apple. The best thing about an iMac is that it is regularly updated with high-end processors and specs. If you prefer a desktop-based working set-up, then buying an iMac would be the best choice for you. That said, you will have to choose between Fusion vs SSD for storage.
iMac gives you the option to shift between Fusion Drive or SSD. You need to select the one that is most beneficial for you. Well, this is what we are here for. In this post, we will compare both SSD vs Fusion Drive to give you an idea of which one is better. So without wasting time, let's get into the details.
Fusion Drive Vs SSD (Flash Drive): Comparison
We will be explaining both types of storage separately and also highlighting their advantages and disadvantages. This will give you a better idea about fusion drive vs SSD 2021. 
What is a Fusion Drive?
The first thing we will learn is what is fusion drive? To put it in simple words, Fusion Drive is a hybrid hard drive and is used in Apple devices.
Apple combines a Flash Storage Drive and a Hard Disk Drive. For instance, if you buy an iMac, you can choose an Apple 1TB fusion drive to 3TB size. Besides having a high-capacity hard drive, it has a dedicated storage space using SSD. For example, the 2015 iMac 2TB Fusion Drive version had 128GB of Flash storage. 
Mac Fusion Drive was introduced by Apple in 2012 and they have been using it since then. As far as the design is concerned, an HDD and SSD are merged into a single device, which is operated by macOS.
What is SSD or Flash Hard Drive?
Solid State Drive (SSD) is also known as a Flash Hard Drive or Flash Storage. This type of storage is commonly available in Ultrabooks. Besides that, you will also find it in other high-end laptops like MacBook Air, MacBook Pro, etc. 
Just so you know SSDs are now using the Flash Storage interface to deliver better speed and performance. So if you hear an iMac has Flash Storage, it means that it has SSD Storage.
In short, Flash-based iMac devices have a single SSD storage for all purposes. Compared to HDDs, SSD-based devices deliver a better speed and performance. Not just that, but they are also more stable and durable. Also, it is worth mentioning that SSDs work great with Apple devices.
Fusion Drives: Advantages & Disadvantages
Now that you know what exactly a Fusion Drive is, it's time to learn about the advantages and disadvantages. But before that, you should know that Fusion Drives were introduced to replace expensive Flash Storage options. 
We will start with the advantages first. The main advantages of using Apple Fusion Drives are:
A fusion drive is more affordable than an SSD storage type. Even though they are more expensive than HDDs, they won't burn a hole in your pocket.

Compared to traditional HDDs, Fusion Drives create very little noise. However, they are not completely silent if that's what you are thinking. 

One of the best things about Fusion Drives is that they are available in higher capacities. For instance, you will find 

a 1TB fusion drive

 and a 3TB fusion drive in iMacs.

Fusion drives are designed to work logically, without affecting load times or user experience.

Fusion Drives also have a better boot-up time than HDDs.
Now let's talk about the disadvantages. There are a few cons that you must know to make the right choice.
In terms of performance, Fusion Drives are not as good as dedicated SSDs.

Fusion Drives come with a lower RPM.
SSD (Flash Drives): Advantages & Disadvantages
To be frank, SSDs have more advantages than Fusion Drives. For instance, if you consider fusion drive vs SSD speed, the latter is better than the former. For performance-oriented tasks, SDDs make a better choice. But before jumping to conclusions, let's take a look at the advantages and disadvantages.
The main advantages of SSDs or Flash Drives are:
SSDs offer higher speed and performance and therefore, they make a better choice for professionals.

It also takes less time for booting-up time.

SSD storage in iMac Late 2015 Edition is 2.5x faster than all the previous versions.

It generates no noise. 

It consumes very little power. 

It doesn't heat your device.

It makes a good choice for demanding and performance-oriented tasks like video editing and gaming. 
Despite all the good things, it does have a few disadvantages, and they are as follows:
SSD storage options are very expensive. It can cost you a lot of money.

Mostly, SSDs are not available in higher capacities. For instance, the maximum SSD storage you can get for an iMac is just 1TB.
Fusion Drive Vs SSD (Flash Drive): Which is better?
When you compare SSD vs fusion drive together, you will find a significant difference in their performance and speed.
If we consider the speed, then an SSD is much faster than a Fusion Drive. To be more precise, the writing speed of an SSD is much faster than that of a Fusion Drive. On the other hand, the reading speed of a Fusion Drive is slower than that of an SSD.
The SSD writes at a speed of almost 1900MB/s, while the reading speed can go up to 1650MB/s. On the contrary, Fusion Drives have a writing speed of 430MB/s while the reading speed is limited to 1250MB/s.
If you compare the export times in Final Cut Pro X, you will see surprising results. A study was conducted to see and compare the export times on the 2019 Fusion-based iMac and an External SSD and an Internal SSD on the iMac Pro.
The iMac with SSD storage could export the video in just half the time that it took using a Fusion Disk. But at the same time, it should also be noted that SSD storage is much more expensive than a Fusion Drive.
When comparing fusion drive vs SSD speed, the latter is the winner. This is why it makes a better choice for professionals who need to get their work done quickly.
Even in terms of performance, an SSD is better than a fusion drive. However, the ultimate choice depends on your budget and workflow, which is different for every individual.
For example, if you do a lot of video editing, you should opt for an SSD drive. It will cost you more than a Fusion Storage Drive, but at the same time, it will also improve your workflow significantly.
On the other hand, if you use your device for basic tasks like writing documents, browsing, etc., then you can consider opting for a Fusion Drive. This will help you save a lot of money.
After comparing fusion drive vs SSD, we know for a fact that SSD storage options are better than fusion drives. If you want an iMac for professional work, an SSD would make a far better choice. That's because it delivers better speed and performance. However, if you don't have the budget for an SSD, then a fusion drive would be a suitable choice for you. It gives you a decent performance with a fast boot-up time. Also, you can choose fusion drives in higher capacities. In the end, it is up to you which one you will choose. To be more precise, it depends largely on your requirements.
FAQs
What is the difference between a fusion drive and SSD?
First of all, fusion drives are more affordable than SSD. Secondly, fusion drives are available in higher capacities than SSD storage options. But when it comes to performance and speed, SSD takes the lead.
How much of 1TB Fusion drive is SSD?
1TB Fusion Drive consists of a 7200 RPM HDD and a 24GB SSD.
Are Apple fusion drives any good?
Apple fusion drives are good in terms of affordability and capacity. They make a good alternative to SSD storage. Also, they have a good boot-up time.
Can you replace a fusion drive with SSD?
You can't swap out the SSD in a Fusion combo without a lot of work. The Fusion drive pairs an SSD with very few gigabytes with a much larger HDD. 
What is the disadvantage of SSD or Flash Drive?
SSDs are usually not available in higher capacities. Also, they are much more expensive than other storage options.
Can I replace the iMac hard drive with SSD?
For the 2020 iMac models, the SSD in these models, by default, is soldered on-board. To be more precise, Apple does not support users upgrading the SSD in these models.
---
Don't Miss: