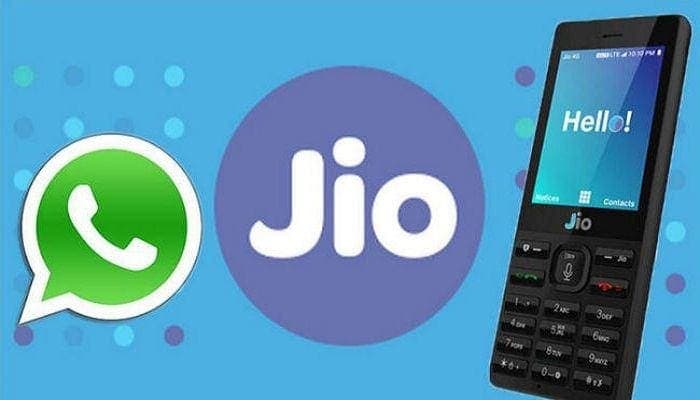 Facebook-owned application WhatsApp is working in close proximity along with telecommunication giant Reliance Jio in order to spread awareness regarding false messages. This was weeks after the Reliance Jio opened up its messaging service to millions of customers with the help of its inexpensive Internet-enabled phone.
This month, Jio introduced its new product, Jio Phone to more than 25 million customers, amongst whom many were first-time Internet users. In addition to this, users got access to WhatsApp and at this point in time, the messaging service has been battling the fake and incendiary texts and videos which are being circulated on the platform.
Mukesh Ambani, the chairman at Reliance is considered to be India's richest man. Ambani launched the Jio Phone last year at a deposit which was refundable and was priced at a nominal Rs. 1,500 ($20.60). Initially, the device didn't have internet access but currently, it is internet enabled and allows usage of Whatsapp and other features present in smartphones.
WhatsApp spokesman Carl Woog told Reuters- All new users of the Jio Phone also get an additional educational material which educates users to spot a forwarded WhatsApp message and encourage users to share messages thoughtfully.
Woog added- "We are working alongside Jio in a campaign to continue educating Whatsapp users about forwarded messages".
Regions in the small towns and villages of India act as a key market to sell inexpensive devices such as the Jio Phone. Fake news problems are aggravated due to various prejudices present in the country. According to current reports, more than 30 people have died in 2018 due to mob violence that was triggered by vitriolic messages circulated on social media and WhatsApp messenger. Previously, police reported Reuters that in some remote and rural areas, minorities were also targeted. These incidents have prompted New Delhi to call Whatsapp to take immediate action to end this menace.
Accordingly, WhatsApp has taken a few steps to stop fake news from spreading like wildfire.
It launched print and radio ad campaigns that would educate users, along with an introduction to new features of the application like limiting message forwards and labeling messages that are forwarded as "forwarded messages". In addition to this, it has partnered with the Digital Empowerment Foundation (DEF), which is a New Delhi-based non-profit organization, in order to spread digital literacy across India's towns and cities.
In this matter, DEF will host a workshop in the eastern Indian city of Ranchi this week. WhatsApp plans to expand its outreach programme to existing Jio Phone users as well. No statement on behalf of Reliance Jio has been provided.
India is a key market for WhatsApp with a whopping 200 million users. It has faced delays in the official launch of its payments services due to India pushing on data localization. WhatsApp, in India, is currently looking for a chief and a policy head. It appointed a grievance officer for Indian users at its Menlo Park, California headquarters, last month.
India has taken strict considerations to make its laws much more strict with respect to pushing US tech giants to have their grievance officers in India.