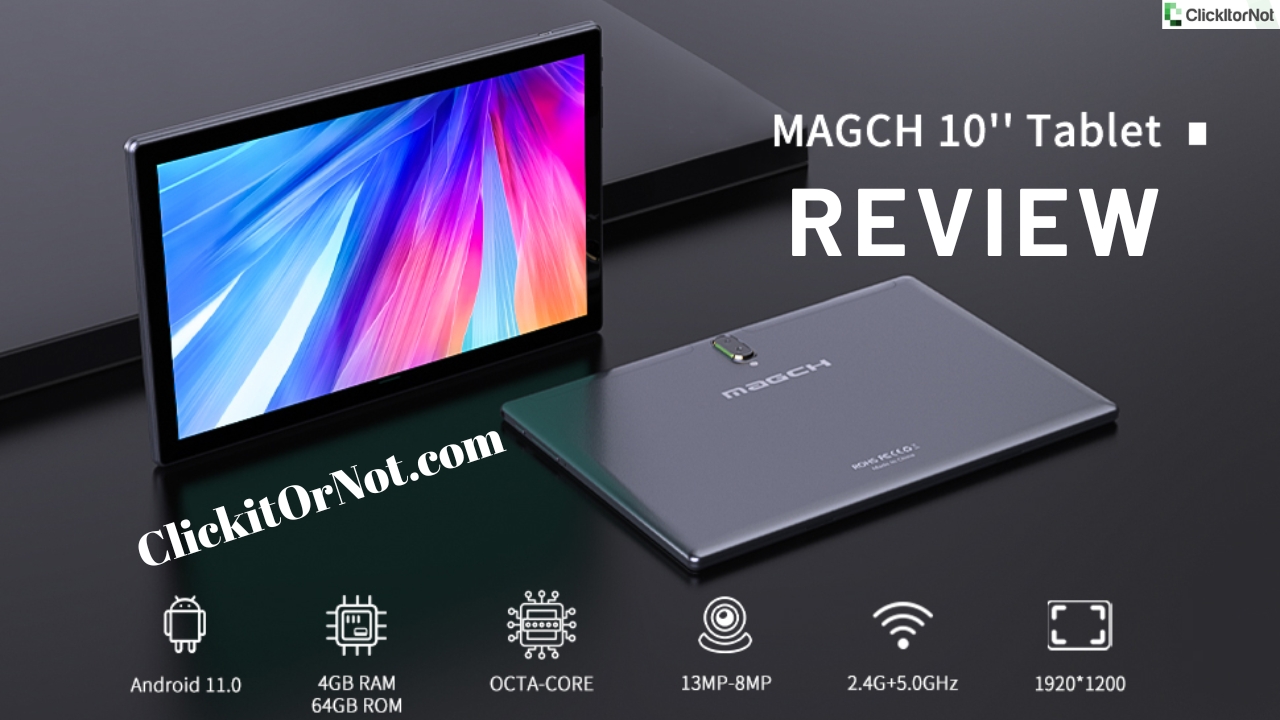 MAGCH Tablet Wiki
For all these years, we have been familiar with Samsung tablets, iPads, and other popular brands. But there's a new player in the market which is becoming fast popular among users. The one we are talking about is called MAGCH. 
MAGCH tablet is currently one of the best-sellers on the market. It is an affordable device designed for multitasking. It is perfect for handling your daily tasks and entertainment. Plus, it has a truckload of other features which we will discuss shortly.
There are currently two MAGCH tablets. One is MAGCH m101, and the second one is MAGCH x10. Both tablets are quite similar in terms of looks and features. However, there are slight differences between the two.
If you are confused about which MAGCH tablet to choose, you are in the right place. In this post, we will review both tablets, so you can decide which one is better for you.
MAGCH Tablet Overview
MAGCH m101 is a new type of tablet that has gotten insanely popular among Android users. This unique tablet is powered by Android, which is an open-source operating system. For those unversed, an open-source operating system can be customized by users to shape their experience.
MAGCH m101 tablet is different from other regular tablets. It packs a range of features that makes it worth the investment. For starters, it has an in-built microphone and camera.
MAGCH tablet is developed keeping the desktop users in mind. The unique thing about this device is that you can use it both as a tablet and a laptop. Some users like to use an external keyboard to type on their tablets. Instead of carrying a spare keyboard around, you can simply use the tablet's built-in keyboard.
MAGCH Android tablet 10-inch size is travel-friendly. You can carry this device wherever you go. Due to its sleek and slim design, it can easily fit in your bag. 
After reading the above lines, you might think that MAGCH tablet 10-inch Android is an expensive device. However, that is far from being true. Compared to other tablets, MAGCH m101 is far more affordable.
Although it has features similar to high-end tablets, it has a lower price tag. If you are planning to get a new tablet, you can consider buying the MAGCH m101 tablet. It has everything to give you an enhanced user experience.
MAGCH Tablet Operating System
MAGCH Tablet is equipped with the latest version of Android i.e. Android 11. It is a powerful device that is capable of many great things. For anyone who wants a 10.1 inch Android tablet, you should consider MAGCH m101 or x10. Both tablets are GMS certified and have the best features.
The 10-inch display allows you to enjoy your videos and movies to the fullest. It gives you access to many Google services, such as YouTube, Gmail, Maps, and Drive. These are essential services that are a must-have for everyone.
This 10 inch Android tablet is free of bloatware or annoying advertisements. This allows you to use the tablet without interruption. Like other Android devices, MAGCH tablet also has Google Playstore, which is pre-installed on the device. You can have complete access to the Playstore and download whatever apps you like.
Both MAGCH m101 and MAGCH x10 are designed for multitasking. It allows you to swiftly switch between multiple apps without slowing down the device. This 10 inch Android tablet with 2gb ram works fine even when multiple apps are running in the background.
MAGCH Tablet Design and Performance
MAGCH Android tablet 10″ has a slim and sleek design that adds to its stylish vibe. It has a solid build that makes the tablet sturdy and durable. It has the perfect screen size and resolution. Given the features of this device, it can be said that this tablet is best for watching movies and videos.
Besides the good looks, it also delivers a great performance. It runs on a powerful operating system and has a long-lasting battery life. That's not all, it also doesn't slow down or lag like other tablets. 
MAGCH Android tablet 10 is a fully-functional tablet that is equipped with a high-performance processor. To be more precise, it has an octa-core processor with 1.8 Ghz speed.
This 10 Android tablet can handle most of your daily tasks. From watching videos to reading the news, and shopping online, you can do it all on a single device. MAGCH Android tablet 32gb allows you to easily switch between apps for an intuitive user experience. However, you shouldn't expect it to work super fast. It has a decent speed which is perfect for a tablet within this price range.
Coming to the display part, it has a 10-inch screen with a pretty good resolution. It provides clear and bright pictures, allowing you to enjoy your movies and videos in greater detail. It also has high-quality speakers with impressive sound quality.
Unlike other 10 Android tablet 32gb, MAGCH is not slow. Rather it is fast and responsive. It can easily handle any task you throw in its way. Overall, it is a pretty great tablet for everyday use.
MAGCH Tablet Display and Camera
Talking about the display, MAGCH tablets 10 inch have a resolution of 25601 x 1600 with 300 PPI pixel density. It provides very bright and clear pictures, even when viewed from a distance. The colors are also very vibrant and accurate.
As far as the display size is concerned, it has a 10-inch screen, which is good enough for a tablet in this price range. High pixel density combined with high resolution ensures a better viewing experience on this tablet.
This 10 Android tablet has a 12 MP rear camera and a 5 MP front camera. This comes in handy when capturing photos or videos. The front-facing lens can also be used for 1080p video recording. The quality of the videos and pictures is great. However, you shouldn't expect professional-level results. In short, this tablet is good for making video calls and capturing memories.
MAGCH Tablet Connectivity Options
Now let's talk about MAGCH m101 and x10 tablets connectivity options. Both tablets are equipped with GPS, Bluetooth, and Wi-Fi capabilities. The GPS will help you find the right direction and Wi-Fi will allow you to connect to the internet. You can use the Bluetooth option to connect to other compatible devices such as headphones, speakers, and others.
MAGCH 10inch Android tablet is fast and reliable. You can use this tablet to perform daily tasks such as streaming, taking notes, playing games, etc. It provides a seamless connection to the internet, so you can enjoy a great browsing experience. 
Even Bluetooth is very easy to use. It quickly connects to other compatible devices, allowing you to make the most of your tablet. The GPS is pretty impressive. It provides accurate direction when driving. With this 10″ Android tablet, you don't have to worry about getting lost.
MAGCH tablet has very good battery life. It will last several hours even if the Wi-Fi and Bluetooth are on. Unlike other tablets, you don't need to change this often. Also, when it's time to charge, it takes very less time to get fully juiced up. It is because of these reasons that MAGCH has become so popular among users. It is one of the best budget-friendly tablets on the market.
MAGCH Tablet Processor
The processor of a laptop is a crucial thing. Thankfully, MAGCH m101 and x10 tablets are equipped with an octa-core processor with a clock speed of 1.8 GHz. This is what makes the tablet fast and efficient.
The processor is designed to handle demanding tasks and multitasking. It is also power efficient, meaning it doesn't exhaust the battery quickly. The high-performance processor is ideal for gaming. Although it is not a gaming-oriented tablet, it is good enough for light titles.
MAGCH is also known for its excellent graphical capabilities. From video games to web browsing and video streaming, it can handle it all. The high-speed processor delivers exactly the performance that you would expect from this tablet. It is fast, responsive, and easy to use.
With MAGCH 10 inch Android tablet, you can stay productive all day long. The best thing about this tablet is that it doesn't lag or slow down. It is built for multitasking on the go. Whether you are a student or professional, MAGCH tablet could be the best choice for you. It delivers a very responsive and smooth performance. Buying this tablet will not only boost your productivity but also keep you entertained.
MAGCH Tablet Memory Storage
With MAGCH you can store more of your files and memories. It has 64GB built-in memory which is good enough to accommodate all your HD images, videos, and other media files.
The good thing is that you can further expand the memory up to 256GB using an SD card. So if you ever run out of storage on your tablet, you can simply insert an SD card. The only thing is that you have to purchase the SD card separately as it is not included with the tablet.
MAGCH Tablet Speakers and Battery
The MAGCH tablet is equipped with dual speakers for loud and clear audio. It delivers high-quality sound to enhance your listening experience.
As far as the runtime is concerned, it has a 6000 mAh battery which lasts for about 9 hours on a single charge. If you use Wi-Fi or Bluetooth, then the battery life comes down to six hours. So it can be said that MAGCH has a decent battery life.
Also Read: Youtube Vanced APK
Conclusion on MAGCH Tablet
MAGCH m101 and MAGCH x10 are both great tablets. If you want an efficient tablet for multitasking, you should consider choosing between these two tablets. The tablets are equipped with a fast processor and a good amount of RAM. Additionally, it has a 10-inch display and high resolution. Compared to other tablets, MAGCH is cheaper. Despite the affordable price, it doesn't fail to impress users with its performance. MAGCH tablet is ideal for those who like Android OS.
FAQs about MAGCH Tablet
---
What is the operating system of MAGCH?
Magch's operating system is Android. It runs on an open-source operating system.
---
Can you multitask with MAGCH?
MAGCH is specially designed for multitasking. It can easily handle all your daily tasks such as streaming, video calling, gaming, etc.
---
Why should you get a tablet?
A tablet is a crossover between a smartphone and a laptop. If you want something travel-friendly with a larger screen than your mobile phone, then buying a tablet is worth it.
---
Does MAGCH have a front camera?
Yes, MAGCH has a 5 MP front camera, which is perfect for taking selfies, and video calling.
---
What processor does MAGCH have? 
MAGCH tablet is equipped with an octa-core processor for fast performance.
---
MUST SEE: