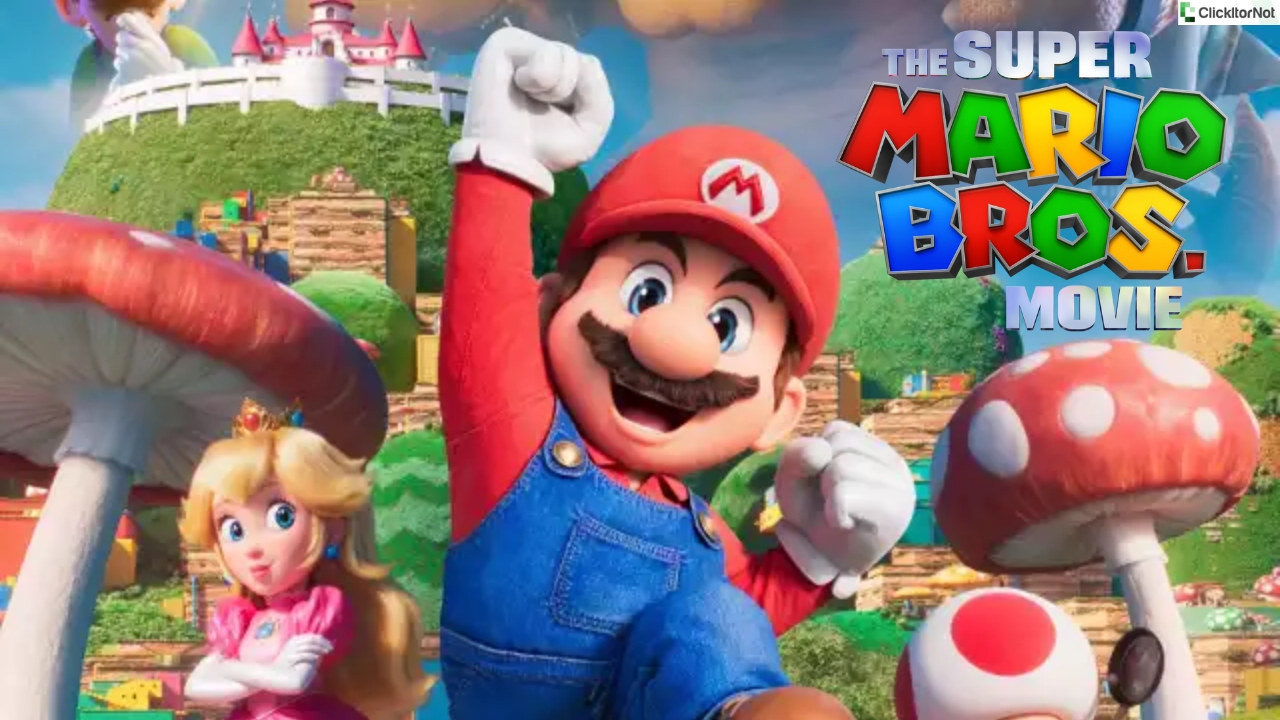 Mario Movie
Super Mario Bros is one of the most popular video game franchises in the world. Things are going to get even more exciting for Mario fans as Nintendo is set to release a film version of the game, Mario Movie, next year.
However, this is not the first time we will get a Mario Movie. Previously, a live-action feature film was released in 1993. The upcoming movie will be fully animated in a style reminiscent of the game.
According to reports, the upcoming Mario Movie will feature Chris Patt as Mario. If you are excited to know more about the Mario Movie 2023, then you should give this article a read.
Mario Movie Release Date
The first look of Mario Movie 2023 is revealed. Nintendo has released the first official poster, giving us a glimpse of Mario in the Mushroom Kingdom. As per reports, the first trailer will be launched by Nintendo on 7th October.
The movie is directed by Michael Jelenic and Aaron Horvath, while the screenplay is done by Matthew Fogel.
As far as the Mario Movie release date is concerned, it is going to arrive in the theatres on 7th April 2023. Previously, it was informed that the movie will arrive in December 2022, but now it has been postponed to April 2023.
The movie will be released only in theatres, which means it will not be available for online streaming.
Mario Movie Cast
Mario Movie cast (voice) is confirmed. Besides Chris Pratt, we will have many other known faces in the cast list. We have laid down the details below.
Chris Pratt as Mario
Anya Taylor-Joy as Princess Peach
Charlie Day as Luigi
Fred Armisen as Cranky Kong
Jack Black as Bowser
Sebastian Maniscalco as Spike
Kevin Michael Richardson as Kamek
Seth Rogen as Donkey Kong
Keegan-Michael Key as Toad
Charles Martinet will voice various cameo appearances
Mario Movie Trailer
Mario Movie trailer is not released yet. As per reports, the trailer will arrive on 7th October 2022.
As soon as the trailer is released, we will update the link in this section. Till then stay tuned to this page.
Mario Movie Teaser
Instead of dropping a Mario Movie teaser, Nintendo released a poster to reveal the first look of the movie. We will be discussing the first Mario Movie poster later in the post.
Mario Movie Plot & Expected Storyline
Fans are excited to know about Mario Movie plot. But the makers are being very cautious about the storyline.
However, Mario creator Shigeru Miyanmoto revealed a few things about the movie during Nintendo Direct. He said that Mario will do a lot of talking in the film. Also, Martinet will be voicing several surprise cameos.
The upcoming animated film is set to release in April 2023, so we have a lot of time in between. We are confident that the makers will feed us with more plot details within this time. We would also suggest you keep a check on Mario Movie wiki guide.
Where to watch Mario Movie?
Ever since the animated film is announced, fans have been asking Mario Movie where to watch it. The movie is scheduled to release on 7th April 2023 in theatres. It will not be available on any streaming platform.
Mario Movie Countdown
Mario Movie countdown is on. The official release date of the movie is 7th April 2023. This means we still have several months to go.
Mario Movie Spoilers & Leaks
According to Shigeru Miyanmoto, the creator of Mario, there will be several cameo appearances in the movie. The voices of these characters will be done by Charles Martinet. It is not clear who these surprise characters are. It seems like we will have to wait for more Mario Movie spoilers.
Mario Movie News Update
According to Mario Movie news, the film will be produced by Illumination Entertainment. The movie is currently in the production stage.
For more updates, you should follow Mario Movie Twitter page.
Mario Movie Poster
Mario Movie poster is released and it features Mario in the Mushroom Kingdom. You can check out the poster here:
https://www.imdb.com/title/tt6718170/mediaviewer/rm341639169/
Mario Movie Concept Trailer
Check out this Mario Movie trailer concept:
Final Thoughts on Mario Movie
Mario Movie is coming on 7th April 2023. It will be a fully animated film with Chris Pratt as Mario. Save the date because it will be released only in theatres.
Mario Movie FAQs
Will there be a Mario animated movie in 2022?
Mario Movie will be released on 7th April 2023.
Is the Mario movie Disney?
The upcoming Mario movie is a Nintendo movie.
Who plays Yoshi in the Mario movie?
Frank Welker plays Yoshi in the Mario movie.
What is the Mario movie going to be called?
The Mario movie is not named yet.
MUST SEE: