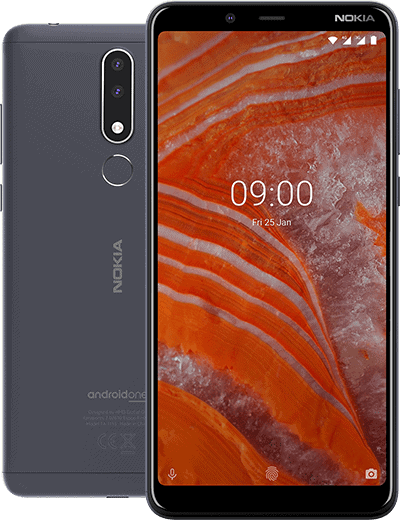 After a lot of speculations, a stable Nokia 3.1 Plus Android 10 update finally started to roll out as per the road map.
HMD Global announced in its community forum that for a smooth roll-out, it would release the update in Waves. Last week, the first wave of Nokia 3.1 Plus Android 10 was released. The company released an update to only 10% of the devices to the countries mentioned in the post. However, we have also shared the download link for the update before.
The second wave of the update scheduled to roll out on May 16, and all the devices of the markets mentioned expected the update by May 18. But immediately after the roll-out of the first wave, users started to complain about the notification issue they are facing after updating to Android 10.
A user, Irina 333, posted on Google support, "After Nokia 3.1 Plus Android 10 update, notifications in such apps as WhatsApp had disappeared. Also, these messages are not delivered to me (sender sees only one tick) until I start an app.
I rebooted my phone, reinstalled the app, and checked all settings, but it still doesn't work. What can I do?"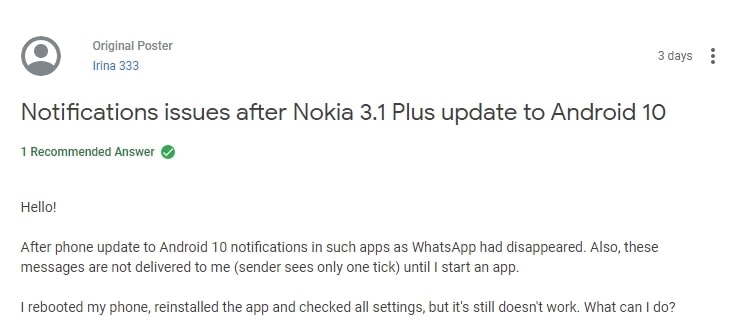 As per the user, many applications such as WhatsApp, Telegram, Instagram, Viber, Gmail, etc. are not showing up notifications.
Another user, Govind Pilla, posted on Twitter, "I just updated my Nokia 3.1 Plus Android 10 only to find the push notifications for essential third-party apps (whatsapp) not working, I am a working professional and need to reply on whatsapp, Find the fix instantly."
Not only these, but many reports were also found on the Nokia community regarding this issue.
However, HMD Global has not acknowledged this issue until now, and we don't have any idea when the problem would be resolved. Keep reading for further information on this issue.