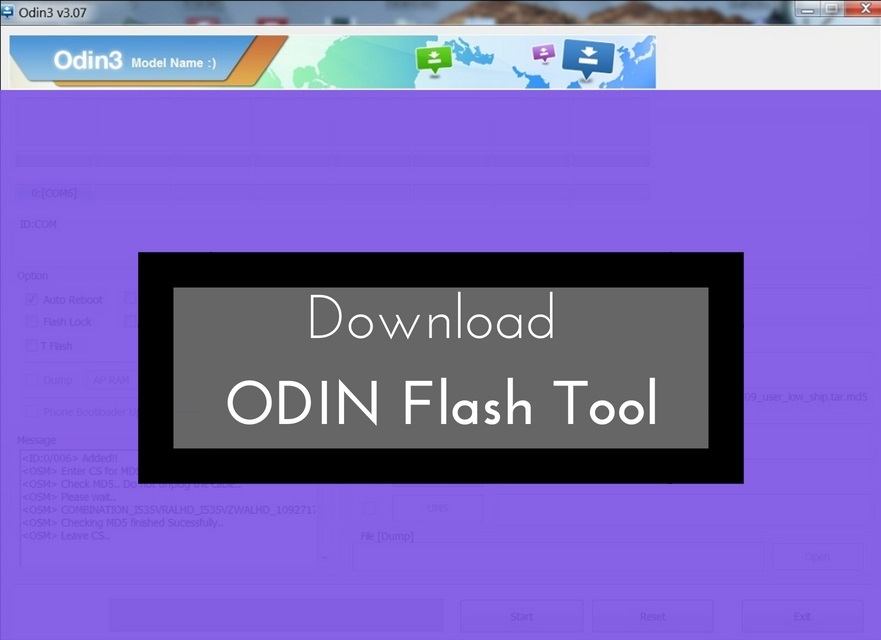 Samsung is one of the best and most popular smartphones throughout the world. It has emerged as the strongest competitor to other smartphones and devices in the market through its unique features and cost-effectiveness; making it affordable for a wide range of the population. Besides the features that the manufacturers offer to their customers, there are certain features or aspects of the device that are restricted to user's access. A passway to such aspects and features can be gained through rooting the device, flashing a stock firmware or custom recovery. So as to perform these activities in Samsung Galaxy devices Odin Flash tool is provided by Samsung.
Odin Flash Tool is basically a firmware flashing software developed by Samsung for its wide range of devices. Odin helps in flashing Stock Firmware, Custom Firmware, Stock recovery, Custom Recovery, Kernel. It is mainly used within the organization permits of Samsung and its service centers to repair and resolve issues that emerge in the devices. However, the Odin software has been leaked on public platforms and is now freely available for download. In this article, we have listed the complete guide regarding the procedure to be followed in downloading and installing the Odin Flash Tool.
Download Odin Flash Tool for Samsung Galaxy Devices
Samsung smartphones and tablets can be rooted easily by flashing the root packages like SuperSU. However, the greatest benefit of using Odin Flash Tool is that it does trip the KNOX counter, thereby preventing warranty from being lapsed. Odin can also be used to install the OTA updates that are not yet rolled out in one region. Further, it facilitates the installation of both official and unofficial firmware without any restriction. Therefore, it is clearly evident that Odin Flash Tool provides users with freedom more than Samsung has intended.
In order to provide you with a comprehensive understanding of Odin Flash tool we have enlisted the functions it performs in the subsequent points:
Help flash Stock Firmware and Custom Firmware on Galaxy devices.

Flash custom recovery like TWRP.

Flash custom kernels resulting in enhanced performance and better battery life.

Install Root Packages like SuperSU, so as to gain root access on your Samsung Device.
Now, without any further delay let us proceed to the process of installing the Odin Flash tool on your desktop/ PC.
Download Odin Flash Tool (All Versions)
For effective results, it is recommended to download the latest version of the Odin Flash tool. In cases where you are using the device of an older model or an older Android version ensure that you download the corresponding Odin Flash tool for smooth usage.
Odin3_v3.13.1.zip (Supports new firmware with compressed binaries lz4)
Odin3_v3.10.7.zip (For Marshmallow firmware)
Odin3_v3.09.zip (For KitKat/JellyBean firmware)
Odin3_v1.85.zip (For Ice Cream Sandwich and Gingerbread firmware)
Odin_Multi_Downloader_v4.44.zip
Download Heimdall and Java-Odin for Mac and Linux
Pre-requisites
Ensure that you have downloaded and installed the latest Samsung USB driver on your PC.

Also, remember that Odin supports:


└ flashing firmware and files only on Samsung Android devices.
└ only on Windows operating system.

While using the tool, you need to ensure that Samsung Kies software is not running, else it might halt the process.

To install Firmware, you must first download the stock firmware for your device. Some most trustable sources include:
How to Install Odin Flash Tool on Windows PC
Download the Odin Flash tool zip file in accordance with your Samsung device and the Android version.

Now, extract the downloaded file on your PC using an archive tool.

Open the extracted folder "Odin".

Then, double-click on the executable file "

Odin

".




Note: If you launch the previous versions of Odin, you shall be prompted to allow "User Account Control".

After this, the tool automatically launches on your Windows PC.

Now, connect your Samsung Galaxy device in Download Mode, select the files, and you are all set.
It is important here to note that Odin only supports files with ".tar" and ".tar.md5" extensions.
Although Odin Flash Tool enables the users to perform various functions that improve the functioning of the device, it has a flip side too. Odin software completely writes the entire system of the device. As a result of which, in case of any interruption during the installation process there is scope for an issue to emerge. In worst-case scenarios, the phone might even get bricked. Though reflashing the firmware using Odin can fix bricked devices in cases of hard brick it becomes extremely difficult.
Nevertheless, the Odin Flash tool is proved to be effective in solving most of the issues that emerge in Samsung devices as the manufacturer itself uses this software for a similar purpose. So go and install the Odin Flash tool right away by following the steps mentioned.