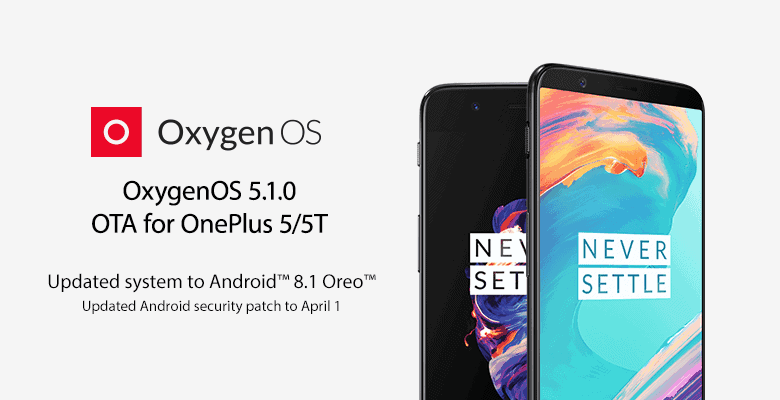 The best part about Android is its updates for operating system and security patches. No doubt, timeliness is a big issue, however, Android does not disappoint you. As you can see OnePlus 5 and 5T has started receiving Android Oreo 8.1 updates.
OnePlus announced today to rollout OxygenOS 5.1.1 hot-fix to ensure all OnePlus 5 and 5T users receive Oreo 8.1. The change-log shows operating system update plus April security patch as well as the screen, gaming, and launcher centric changes in the smartphone. The OTA has a size of 766 MB.
Major changes are made in how gaming entertainment can be achieved on OnePlus 5 and 5T. The full-screen gesture is added to ensure wholesome gaming experience like Apple iPhone X, however, this feature is limited to OnePlus 5T only. The forum post, which was found OnePlus announcing OxygenOS 5.1.1 release mentions android security patch for both smartphones.
New optimization in gaming functionality would certainly win the heart of the users as it includes pausing adaptive brightness as well as power saving mode. The update also ensures network priority for the gaming mode as well as network boost button to ensure games do not become sluggish.
In case of bugs, you can always go to bug report forum to submit all kind of problems that you may find with the update for immediate resolution. "As always, this OTA will be incremental. The OTA will reach a small percentage of users today, and we'll begin a broader rollout in a few days," says Manu J, Staff Member, Beta Program and Developer Relations, OnePlus in the forum post. Download and Install OxygenOS 5.1.1 on OnePlus 5 and 5T for a better experience.

The speed with which OnePlus is bringing system update would certainly increase the credibility of the company as is all set to launch the latest smartphone with lot many new features and Apple iPhone X like design in OnePlus 6.