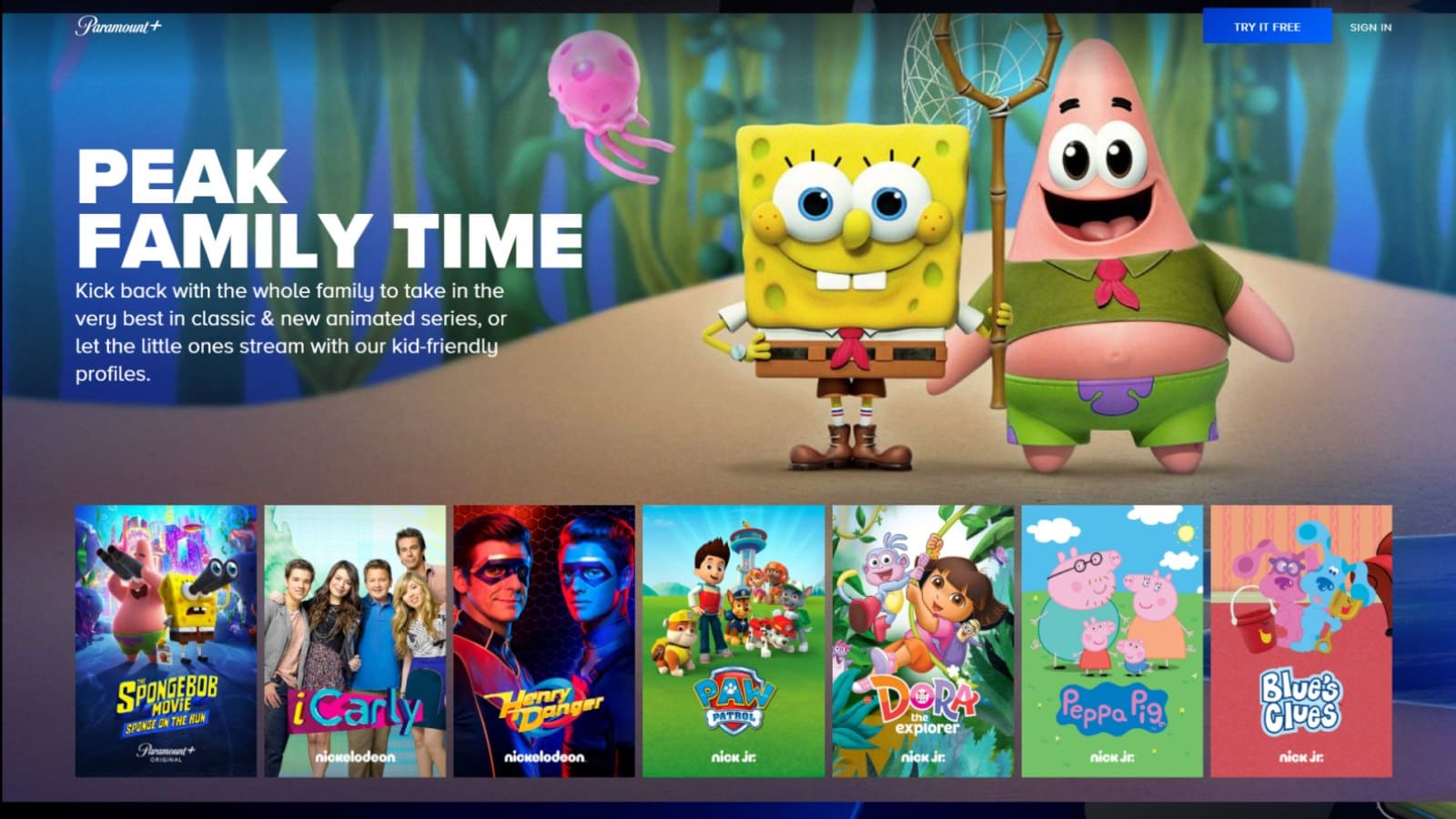 Paramount+ is an American-based subscription video-on-demand OTT streaming service owned and run by ViacomCBS streaming, a division of ViacomCBS. 
Paramount Plus is the rebranding of CBS All Access as it entered the streaming world in the US. It is a new streaming service that is trying to find reasons to make us give it a chance.
It replaces CBS All Access and brings a lot of new content to the table. If you want to know more about ParamountPlus, then do read our review. We have tried to include all the important details you want to know.
What is Paramount Plus?
Before moving onto any further details, let us first answer the question what is a paramount plus?
Paramount Plus is a new subscription streaming-video service that has replaced CBS All Access. It features live sports and news, and on-demand movies and shows. It includes all original content that leans into parent company ViacomCBS brands, such as BET, MTV, CBS, Nickelodeon, Comedy Central, and Paramount Pictures. Besides that, it also licenses movies and shows from others to include all that content in its library. 
This streaming service is launched to draw a deeper well of content from the parent company's portfolio. It will promote older movies and shows alongside a collection of originals. 
Paramount Plus streaming will feature 50+ original series, with more than 30,000 episodes of TV shows and 2,500+ movies. However, the content will vary internationally depending on current licensing deals.
In the future, Paramount streaming service is expected to be the home of big-budget originals the Star Trek: Strange New Worlds, Halo TV series, and a Frasier reboot. Besides that, it will also have a growing library of movies, like A Quiet Place Part 2 and Mission: Impossible 7. 
In short, this is an attempt made by ViacomCBS to expand into an all-conquering Netflix rival. Now the question remains, will it work?
Paramount Plus Release Date
Paramount Plus is already here. It was launched in the US on 4 March 2021, along with parts of Latin America. The Nordics will receive the streaming service on 25th March, while it will be launched in Australia in mid-2021.
On March 4, the CBS All Access service in Canada will also change its name to ParamountPlus. Some reports talk about an expanded offering to be released later this year in that region. 
While other markets will receive the service eventually, it is not clear whether it will be launched in the UK.
Paramount Plus Price & Discounts
Since Paramount+ is a brand new service, many of you are yet to learn about the pricing. 
ParamountPlus price is $9.99 per month without ads. You can avail of the service at $5.99 but in this case, you will have to deal with ads. Well, now you know how much is Paramount Plus a month.
However, in June 2021, the price of the ad-supported tier drops to $4.99 per month. Regardless of the tier you choose, it will feature the same collection of on-demand originals and library content. The only difference is access to local CBS stations, which are exclusively reserved for the high-priced tier. Not just that, but you also get more sports and live CBS TV through the higher tier option.
Does Paramount Plus have a free trial?
If you are wondering how to get Paramount plus for free, then you will be happy to know that they offer a 30-day free trial. But there's a catch. This offer is available only for a limited time. So if you want to enjoy this streaming service for free, then you need to grab the Paramount Plus free trial offer before it expires.
Paramount Plus Apps: Which devices are compatible?
Now the question is what devices are compatible with the Paramount TV app. Before you get your hands on this streaming service you need to know about the list of devices it supports. To save you time and effort, we have already listed the supported devices below.
Apple TV ('Supported versions' on 4th Gen and 4K)

iPad and iPhone (iOS 11+) 

Chromecast 

Samsung TV

Vizio TV

LG TV

Fire TV (including Fire Cube and Fire Stick) 

Portal TV

Xbox Series S and X

Xfinity Flex

Android TV (including Nvidia Shield, Hisense Android TVs, Sony Bravia TVs from 2015 onwards, TCL 3-Series Smart TVs)

Android phones and tablets

PS4

Roku 

Web browsers: Chrome, Safari (Mac OS X 10.10+), and Microsoft Edge
So if you have any of these devices, then you can easily access Paramount movies app. To get the most out of Paramount streaming service, we recommend you to go for the higher tier option.
Paramount Plus Android App: Get from Play Store
Paramount Plus iOS App: Get From Apple Store
Paramount Plus Shows & Originals
Now that you already know about Paramount Plus cost, let's talk about the shows on Paramount Plus.
Like any other streaming service, Paramount Plus will feature an array of shows and originals. It will complement the CBS All Access shows that are already available. 
At launch, the original shows include Tooning Out the News from Stephen Colbert, SpongeBob prequel series Kamp Koral, For Heaven's Sake, and a reboot of MTV's The Real World Homecoming.
It will also feature existing CBS All Access originals including Star Trek: Picard, Star Trek: Lower Decks, Star Trek: Discovery, The Good Fight, and Why Women Kill. These shows will now be available on Paramount Plus originals for future seasons. You can also find The Twilight Zone reboot on this streaming platform.
Paramount Plus will also give you access to the CBS shows after they are aired. At launch, these include The Equalizer, Clarice, and Young Sheldon. 
Now the question is what more is coming in the future? According to reports, a lot of new originals are soon going to be part of this streaming service.
The Offer is a 10-episode limited series based on the making of The Godfather. Besides that, you will find Yellowstone on Paramount. This includes Lioness, a spy drama. Other shows include Sicarios Taylor Sheridan and a new version of MTV's Behind the Music. 
They have also confirmed the arrival of the shows based on the movies The Parallax View, The Italian Job, Love Story and Flashdance. They have also revived the TV series Criminal Minds for a 10-episode serialized run. 
You will also get to watch the Oil drama Land Man and Mayor of Kingstown, a Michigan-based incarceration industry drama. Another popular work that will be a part of the Paramount Plus app is a TV version of The Man Who Fell to Earth.
The show Halo, which is expected to launch in 2022 can also be found on this platform. It is based on the popular games of the same name. Another good show that is being revived as a CGI series is Rugrats. The show will feature the original cast. The revival of Frasier is already in the works and it will star Kelsey Grammer.
In the comedy series, you will have Inside Amy Schumer. Beavis and Butt-Head are also returning in a new original movie. 
Besides all the amazing TV shows, you will also get access to many live-action animated series like The Fairly OddParents and Dora the Explorer. They are also reviving the popular Nickelodeon series iCarly.
Avatar Studios, a new production studio has been set up to produce new movies, spin-offs, series, and short-form content based on the Avatar: The Last Airbender universe. 
For those who love crime docuseries, you will find a number of them on Paramount Plus. Some of the best ones that are included are The Real Criminal Minds and The Game.
A prequel series to a cable show Yellowstone is also on the way. Y: 1883 was announced in February 2021, while another Yellowstone spin-off called the 6666 is also on the way.
CG series Star Trek: Prodigy and Star Trek: Brave New Worlds will also be added to this streaming platform.
As far as sports content is concerned, it will include UEFA soccer, NFL, PGA golf, NCAA basketball, The Masters, and National Women's Soccer League. You will also get several news-related programs.
Paramount Plus movies
So you already have an idea about the list of shows and originals that will be available on the Paramount Plus streaming app. Now it's time we talk about Paramount Plus movies.
As far as we know there are going to be big films available on this platform. But it will take some time before that happens. The Paramount Plus subscription will give you access to the existing CBS All Access collection of movies. Some of the movies that are worth mentioning are Indiana Jones films and Star Trek movies.
Those of you who love SpongeBob can watch The SpongeBob Movie: Sponge on the Run. 
According to reports, the Paramount streaming app will stream an array of popular movies, including James Bond films and the Hunger Games series. Not just that, but they will also add The Avengers, and The Addams Family. Paramount+ says that its library consists of more than 2,500 movies.
Paramount Plus has also struck a deal to be the streaming home of MGM's new movies, like House of Gucci, No Time To Die, and Creed 3. But these movies will be available on the platform after they make their paid TV debut. 
Paramount+ will also have its movie collection. Some of their upcoming movies are Mission: Impossible 7, A Quiet Place Part 2, and Paw Patrol: The Movie. These movies will debut on the platform 30-45 days after the release in theatres. 
Other future movies that will be added to this streaming service include, Snake Eyes, Top Gun: Maverick, Sonic the Hedgehog 2, Clifford the Big Red Dog, Dungeons and Dragons, and Scream, and Transformers 7.
Existing Paramount films like Sonic the Hedgehog, Dora the Explorer, Rocketman, and Bumblebee are also planned to be added to this service. 
The good news is that Paramount Plus is also making its original movies – including Pet Sematary, new takes on Paranormal Activity, and The In-Between.
Also see: Top 12 Most Unbiased News Sources around the World
Conclusion
Paramount Plus is a new streaming service, replacing CBS All Access. Although this streaming service was launched just a few months ago, it already has a huge collection of movies, shows, and other stuff. It is a reasonably priced streaming service that gives you access to a variety of content.
---
FAQs
Does it cost to get Paramount Plus?
Yes, you have to pay a monthly subscription fee to access Paramount Plus content. Paramount Plus cost is $9.99 per month with no ads. They have a low-priced tier costing $5.99 with ads.
Is Paramount Plus free with Amazon Prime?
You can get a 30-day free trial to Prime Video along with a 7-day free trial to Paramount Plus which will be billed through your Amazon Prime account. You can access the Paramount Plus channel through Apple TV, but only if you have the premium plan.
How can I watch Paramount Plus for free?
You can sign up for the Paramount Plus free trial directly through the app or website. If you choose to keep your streaming services organized, you can access the free trial through Prime Video for which you will have to create an account.
How much does Paramount Network cost?
Paramount Plus has two monthly subscription plans. The high-priced tier is available at $9.99 with no ads. The low-priced tier is priced at $5.99 with ads.
Is Paramount Plus free with cable?
The answer is no. To get into Paramount+, you will have to pay a full Paramount Plus subscription. There are two options to choose from; the first is $5.99/month and it includes advertising. The second is $9.99/month with no ads and exclusive content.
How much is Paramount Plus on Amazon Prime?
Amazon Music Unlimited's plan starts at $8 per month for Prime members and non-Prime members; it is $10 per month. The ad-free plan from Paramount Plus costs $10 per month. This new deal can help you save up to $57 over three months.
What channels does Paramount Plus have?
With Paramount+, you can access more than 30,000 episodes and movies from different channels like CBS, BET, MTV, Comedy Central, Nickelodeon, Paramount Pictures, Nick Jr., and Smithsonian Channel. Besides that, it also gives you access to exclusive originals, live sports, news, kids, and family programming.
Is Paramount+ an app?
Paramount+ has both an app and a website. But at the moment, the app is limited only to the United States.