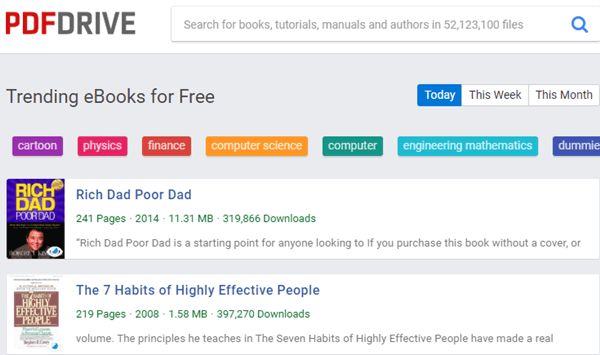 Let's say you need an eBook. You start looking for it on the internet. But it isn't always easy to find what you are looking for. Sometimes, you may find only a few portions of a specific PDF book and other times, nothing at all. This is where the need for a PDF online search engine comes in.
One of the popular PDF online search engines around is PDF Drive. It is an efficient PDF online search engine that allows you to search and download PDF files. The site has more than 75 million indexed eBooks, articles, and magazines that can be easily discoverable using PDFDrive.
If you want an efficient PDF online search engine to find PDF files online, you can rely on pdfdrive.com. To know more about this amazing tool, give this article a read.
What is PDF Drive?
PDF Drive is a popular search engine that is used for searching PDF files. The site boasts 75+ million eBooks that can be downloaded for free. From eBooks to articles, you will find different types of PDF content on this platform.
The best thing about this site is that it is free. You can access the PDF files anytime and anywhere. Unlike other websites, it doesn't have annoying ads. It allows you to search for the PDFs you want without any hassles. Plus, you can search and download as many books as you want without any restrictions.
PDFDrive covers a wide range of topics, including Art, Business & Career, Lifestyle, Health & Fitness, Biography, and Environment. They also have a separate section for Most Popular PDFs and Editor's Pick. If you have nothing specific to look for you can check out these sections and find something interesting.
Using PDF Drive net is simple. It is a user-friendly website with a smooth interface. All you need to do is type in your query and look for the PDF you want. Besides that, you can also browse through the different available categories on the site. 
PDF Drive presents you with three options: 
A pop-up viewing interface for previewing the eBook. While in preview mode, you can visit the source of the PDF, where it was first published.

You can download and save the PDF file on your computer. By doing so, you can view the PDF immediately on your device using your preferred PDF viewer.
Or you can click to check out other alternatives, such as converting the PDF to XLS or PDF to EPUB by sending it through Kindle, email, or reporting the file.
PDF Drive Features
Before you start using PDFdrive.com, you must know about its features and capabilities. To give you an idea, we have laid it down in the pointers below.
PDF Drive safe

 has both free and premium account options. 

It allows you to filter the PDF file by page number, publication date, popularity, and download size, using the advanced filtering option.

The site is extremely fast and it takes only milliseconds to find the PDF you are looking for. 

The site gets updated regularly with new PDF collections.

Drive PDF

 is smart because it suggests categories based on your previous searches.
Is PDF Drive Free?
Yes, PDFDrive com is a free online search engine. But there are two types of accounts depending on the way you want to use them.
The two types of account include:
1. Free Account
The free account is meant to give you a personalized experience along with a few extra features. Every PDF book you search will show with few options and details. This makes it easier for you to find the file you are looking for.
Statistics: It will show you the file statistics with the total number of pages, the file size, and the number of times the PDF is downloaded.

Preview: This option gives you a pop-up viewing interface. When you are in the preview mode using your free account, you can download the file in PDF format by clicking on the Quick Download option.

Like: When you like a PDF file, it gets added to your My Likes list, so it's easier for you to locate or bookmark the PDF again.

Save to My Drive: By clicking on this option you can add the PDF file to your My Drive list. You can then create a directory containing all the PDFs in one place.

Search: If you tap on the magnifying glass icon, it will take you to Google search, so that you can find other sources related to the title.
Note: PDF Drive free accounts provide 100 MB of storage space on My Drive, where you can save your PDF books. It also gives you the option to upload and save your PDF files to PDF Drive.
2. Premium Account
Besides the free account, PDFdrive also has a premium account, which is paid. It gives you certain extra features that are not available in the free account. This includes:
Unlimited free cloud storage

Exclusive experiences

Quick Download and Preview

Ad-free

Increased Download Speeds
The site offers you a free trial for 7 days, after which you can decide whether you want to buy a premium account or not. If you choose the premium version, you will need to pay for monthly subscriptions.
PDF Drive net is also mobile-friendly, which means you can read PDF files on the go. You can download the PDF Drive app on your Android phone for free.
How to download the PDF Drive app?
This PDF search engine has a mobile app that is more convenient to use. Once you download the PDF Drive app on your device, you can access PDF files in just 2 minutes. Before you proceed to download the app, you should be informed that the app is not available in your mobile's app store. This means you will need to download it from a third-party source online.
To download it from an online website, you need to enable the Unknown Sources option on your phone. This can be done from the Settings of your device.
Here are the steps you need to follow to download PDF Drive app:
At first, you need to search for 

PDF Drive app free download

 online. Many websites are offering 

PDFDrive apk

. But make sure the site you are downloading it from is safe to use.

Once you find the app, click on the download link. This will start the downloading process, which should take just a couple of minutes or less.

After the downloading is over, you can find the 

PDFdrive apk

 in the Downloads folder of your device. 

Now complete the installation process and have fun using it.
Advantages of Using PDF Drive
Using PDF Drive has various advantages. Some of the obvious ones include:
It offers its services for free.

It allows you to carry millions of books. You can access these books anytime and anyplace with an internet connection.

It has a mobile app that is simple and user-friendly.

Besides eBooks, it also offers journals, articles, and current information.

The site is very fast and lets you search PDFs in seconds.

It allows you to both download and read eBooks online.

The site is free of ads.

You can access the site whenever you want, and from any location.

It allows you to share eBooks with your friends or people who are physically away from you.
Is PDF Drive safe to use?
PDF Drive com is a 100% safe website to use when it comes to searching and downloading PDF files. Unlike other websites, it doesn't have hidden links or ads that may be malicious. Not just that, but it also provides you with an easy way to search eBooks for free.
Depending on the book format, you may have to download an extra resource. Like an EPUB, to read it. 
Is PDF Drive Legal?
When it comes to downloading or publishing PDF files, legality matters the most. PDF Drive is a service that allows you to download files through its servers, which is a proxy server. They collect data from different sources and assemble it in one place for the convenience of users. It means the data is not controlled by the site. You will also need legal rights to download the file you are accessing through the website.
According to the DMCA disclaimer, the data is published only for general use. The company doesn't give warranties on the content itself. They also provide you with the source URL, so you can verify the authenticity of the file. 
They only share a PDF-based resource and don't encourage users to download content illegally or violate copyright laws. Whether you want to use PDF Drive or not, it is up to you. However, it is always good to cross-check those PDF titles and links for any copyright violation before you start downloading them.
Top PDF Drive Alternatives 
You will find hundreds of PDFDrive alternatives on the web. However, only a few of them are worth your time. To get the best user experience, you should use these sites like PDF Drive.
Bookboon

Free-eBooks.net 

Bookyards

Internet Archive

Many Books

Google

OnlineProgrammingBooks.com

Open Library

Open Culture

Europeana

Smashwords

Booknet.com

Read Print

Authorama

Librivox

OceanofPDF

FreeBookSpot

NOOK: Read eBooks & Magazines

Aldiko Book Reader

Kobo Books

Obooko

Calameo PDF Downloader

PDFBooksWorld 

BookFi
25 Best PDFDrive Alternatives:
Bookboon is a popular online site with a collection of over 10,000 books. It is considered to be one of the best sites like PDFDrive. The textbooks available on the site cover a wide range of topics, including Economics, Engineering, IT, and Business. The benefit of using the site is that it saves you from buying books written by professors from top global universities. Besides that, you can contribute to the website by becoming an author yourself. 
This is yet another leading website, where you can download free eBooks. It is one of the best PDF Drive alternatives around. This site is also good for authors to upload their work and share it for free. Most titles available on the website are in different formats, including TXT, EPUB, PDF, and HTML. To make things more convenient, it allows you to search a book by its title or author.
Bookyards come with over 20,000 books. It gives you access to hundreds and thousands of books and other learning materials that you may need. It allows you to search for PDFs or books by category. Some of the popular categories on the website include business and finance, computers, art, children, economics, and culture. Besides downloading books, you can also become a publisher or author on the site. 
Internet Archive is a digital library with over 25 million free books and texts. The good thing is that all the content available on the site are downloadable. You will also find a good selection of modern eBooks that can be accessed without a subscription. The books available on the site are available in different formats including PDFs, ITEM TILE, EPUB, KINDLE, and ABBYY GZ. 
ManyBooks was established back in 2004 and since then it has been serving readers with an excellent collection of books. They have an extensive selection of books that can be accessed for free. It serves as an ideal hub for authors and readers. You will also find discounted and free bestsellers on this platform. From action to adventure, fantasy to romance, you will find almost all types of books on this site.
Google is considered one of the best resources when it comes to looking for PDF files or eBooks. When you are unable to find an eBook or PDF on the PDFDrive app, you should try Google. It offers a powerful search function. Plus, the Google search engine is super-fast.
OnlineProgrammingBooks.com
This is among one of the top PDF Drive replacement sites. OnlineProgrammingBooks.com is primarily targeted at programmers and developers. They can use this site to look for various eBooks related to computers, graphic design, programming, and mobile app development. You can also download the books if needed. 
If you are looking for a good digital library, then Open Library could be the best choice for you. It has features that make it better than PDF Drive com. It allows you to borrow books and also download them free of cost. The eBooks available on the site are in various formats such as PLAIN TEXT, KINDLE, EPUB, PDF, and DAISY.
Next up we have Open Culture which is yet another top PDFdrive alternative that you can use. On this site, you will find hundreds of eBooks, audiobooks, movies, and online courses. The eBooks on this site cover various genres including drama, fiction, romance, etc. You can also find books in various languages.
This is an interesting platform where you will find a massive collection of books, videos, artworks, etc. In short, this is more than just a PDF eBook reading site. It is available in 20 languages including English, French, and Spanish. The best part of this site is that it is free.
Smashwords happen to be the distributor of eBooks. This site gives you access to a large collection of books. Apart from that, you can also publish your books. Most of the books are available for free. But some of the premium titles require you to pay for access.
On this site, you will find a wide range of books including fantasy, suspense, mystery, and more. This is a free PDF book website, where you will find a variety of content to read. All the books available on the site are grouped by updates, popularity, best-sellers, etc. On this site, you can also read the synopsis of each book.
If you want free PDF books, then Read Print is a good website. It makes the perfect alternative to PDF Drive net. The site offers advanced search filters, using which you can easily find the eBooks you are looking for. The most popular topics covered are art, horror, novels, medicine, and others.
Authorama has a good selection of eBooks from a wide variety of authors. You can access all these books for free. For the convenience of users, the books are arranged in alphabetical order. Also, they are in a readable format. You will find both English and German books here.
The next best site like PDF Drive is Librivox. It offers you both audible books and eBooks for free. Unlike many other free sites, Librivox doesn't have a lot of ads. Plus, the quality of audiobooks on this platform is quite high as they are released by qualified volunteers.
This is a dynamic platform where you will find valuable books to download. It allows you to download eBooks with ease. Not just that, but it also provides information on each book including book genre, title, author name, etc. The site also offers advanced search filters that help you to find books with fewer hassles.
This is a very popular eBook link library you will find online. At FreeBookSpot you can find almost any eBook that you want. This is a free website and is ideal for all book lovers. The site has 90 different categories and each of them has its books. You can download, save, and explore books without any restrictions.
iBooks not only offers you a loaded eBook library but also serves as a book reader. This is one of the top PDF Drive alternatives you will use. For those who don't know, this tool is managed by Apple. On this app, you will find a variety of books ranging from best-sellers to classics.
NOOK: Read eBooks & Magazines
With NOOK you can read both eBooks and magazines. If you enjoy reading a lot, you will surely like this app. It gives you access to thousands of free eBooks. Not just that, but you can also download them whenever you want. The user-friendly interface makes it easier for users to use this tool.
Users claim that Aldiko Book Reader is even better than the PDFDrive app. It has a database of millions of eBooks. Besides that, it can also be used as a reading app. This simple app is used by millions of people across the world. It is free and doesn't require any subscription. You can download the app from Google Playstore.
There are so many reasons why Kobo Books is considered one of the best PDF Drive.com alternatives.
If you love reading contemporary books, then you will surely like this site. Obooko offers you free contemporary eBooks to read. You can also download the books if you wish. But for that, you will have to first create an account. On this site, you will find books covering topics like romance, science fiction, health, travel, adventure, and many others.
This is a free tool that is used for downloading any book on Calameo as PDF eBooks. They have around 10 publications and allow you to download the eBooks in PDF format. Most of the books available on this site are about life-concerned topics, which you will find interesting to read.
This is yet another top PDFdrive alternative that is worth mentioning. The speciality of this site is that they publish eBooks written by popular authors in the past. The objective of this site is to make these old books popular in the modern era.
At the end of the PDF Drive alternative list, we have BookFi, which comes with a huge selection of eBooks. This is a multilingual online library where you will find many popular books in PDF format. The main categories include art & photography, history, novels, computer, etc. The best thing is you can access all the books for free.
Final Words about PDF Drive
PDF Drive is an excellent online source for readers, students, and workers. It helps them to search for PDF files and eBooks they need. The site offers both free and paid accounts. To access all the features of the site, you will need to pay for the premium account. However, if you are not satisfied with PDFDrive, you can use its alternatives. There are plenty of other similar sites available and they are as good as PDF Drive.
FAQs
How many types of accounts does PDF Drive offer?
PDF Drive has two different accounts types, one is free and the second is premium. The latter is a paid option and it gives you some extra features that you don't get with a free account.
What are the best alternatives to PDF Drive?
Some of the best PDF Drive alternatives are Internet Archive, ManyBooks, and Bookyard. These are some of the top online sources, where you can read and download an endless collection of PDF files and books.
Is PDF Drive safe?
Yes, PDF Drive is a safe and reliable website. It is trusted by millions of people who rely on the website to search PDF files online. The site also covers a wide range of topics.
Is PDFDrive completely free?
PDF Drive is free as long as you don't decide to sign up for their premium account. The advantage of using the premium account is that it comes with many extra features that you won't get with a free account.
What type of topics or books are available on PDF Drive?
PDF Drive covers different books and topics. This includes art, lifestyle, health and fitness, business and career, and more. You can read and download these PDFs for free.
---
Don't Miss: