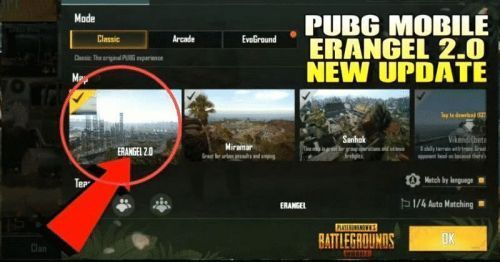 The most famous classic map of PUBG, Erangel, is ready to get a new update. Tencent Games teased the revamped version of the map "Erangel 2.0" a year ago. We can see the new locations added to the map in the short teaser. Apart from new locations, the update features more crisp and clear graphics in the Erangel map.
The information is based on the leaked YouTube gameplay in the Mr. Ghost Gaming YouTube channel. From the channel, it is also confirmed that Erangel 2.0 map will feature in the next PUBG Mobile beta update. As usual, the Chinese edition of PUBG Mobile receives the Erangel 2.0 update before the global release.
After testing the beta version, the updated map will get a nod to enter into the global servers. Below we have attached the gameplay video of the revamped version of the map. We got the video from Mr. Ghost Gaming YouTube channel.
New Features and Release Date of Erangel 2.0 Map in PUBG Mobile
In the next update, the players will get some cool upgrades like the melee throw feature, etc. With this melee throw, the players have a chance to throw their melee weapons on anyone they want to damage or destroy. The melee weapon damages both the users' friends and also the enemies. If you are familiar with the PUBG PC, you should have already found this feature in it. The melee throw feature is still pending to get a nod to become PUBG Mobile's part.
As we already know that PUBG Mobile Global version's second anniversary is not far, the game most probably gets its 0.17.0 update soon. We did not find the "Erangel 2.0" map in the present PUBG Mobile beta version. We don't have strong information on this, but we hope to get the updated map in the next PUBG Mobile v0.17.5.