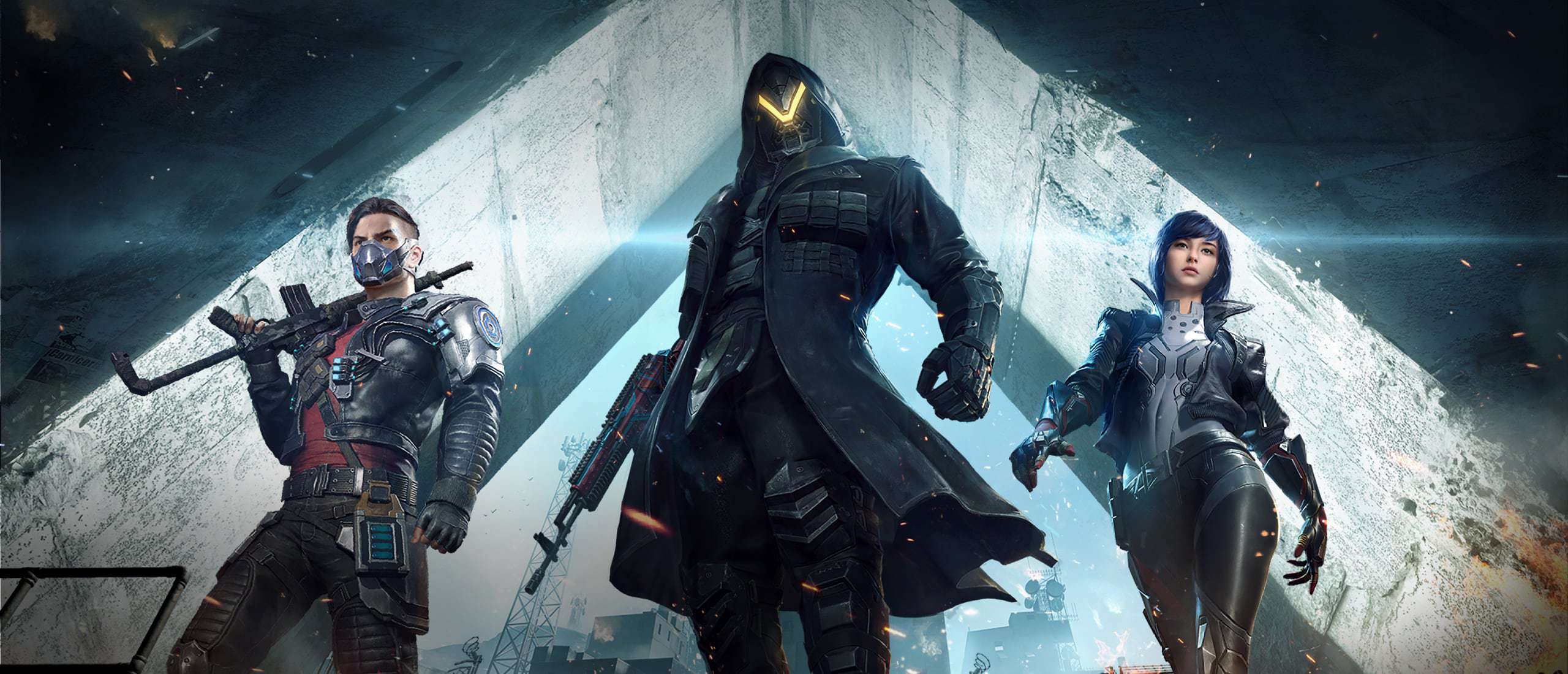 PUBG Mobile Season 11 has made its way to the mobiles with a new update 0.16.5 from January 9, 2020. PUBG kickstarted the Season 11 Royale Pass with a bunch of new year-themed items, avatar frames, rewards, maps, outfits, vehicles, new weapon & item skins, emotes, and many more. So, Let's get into the details.
Royale Pass:
Royale Pass of the PUBG Mobile Season 11 is the foremost way for the players to get rewards in the game.
Free Royale Pass:
Everyone cannot afford a royale pass in every season. Tencent games introduced "Free Royale Pass." This free segment is open to all players. Players can earn royale points from missions, items, and crates to rank up and to collect rewards. Players can receive free rewards with this. It is also available for Elite Pass holders too.
Elite Royale Pass:
The Elite Pass would cost you 600 UC per player. The players who hold this pass can get better rewards and can further rank up faster through the elite missions. Moreover, these pass holders get 4000 UC worth of rewards immediately after its purchase.
Elite Royale Pass Plus:
The Elite Pass Plus holders get all the advantages offered by Elite Pass. Additionally, players using elite pass plus get grants of 25 ranks at a 40% off when compared to Elite Pass. Besides, these pass holders get 10,000 UC worth of rewards immediately after its purchase. While the Elite Plus Royale Pass costs about 1800 UC per player.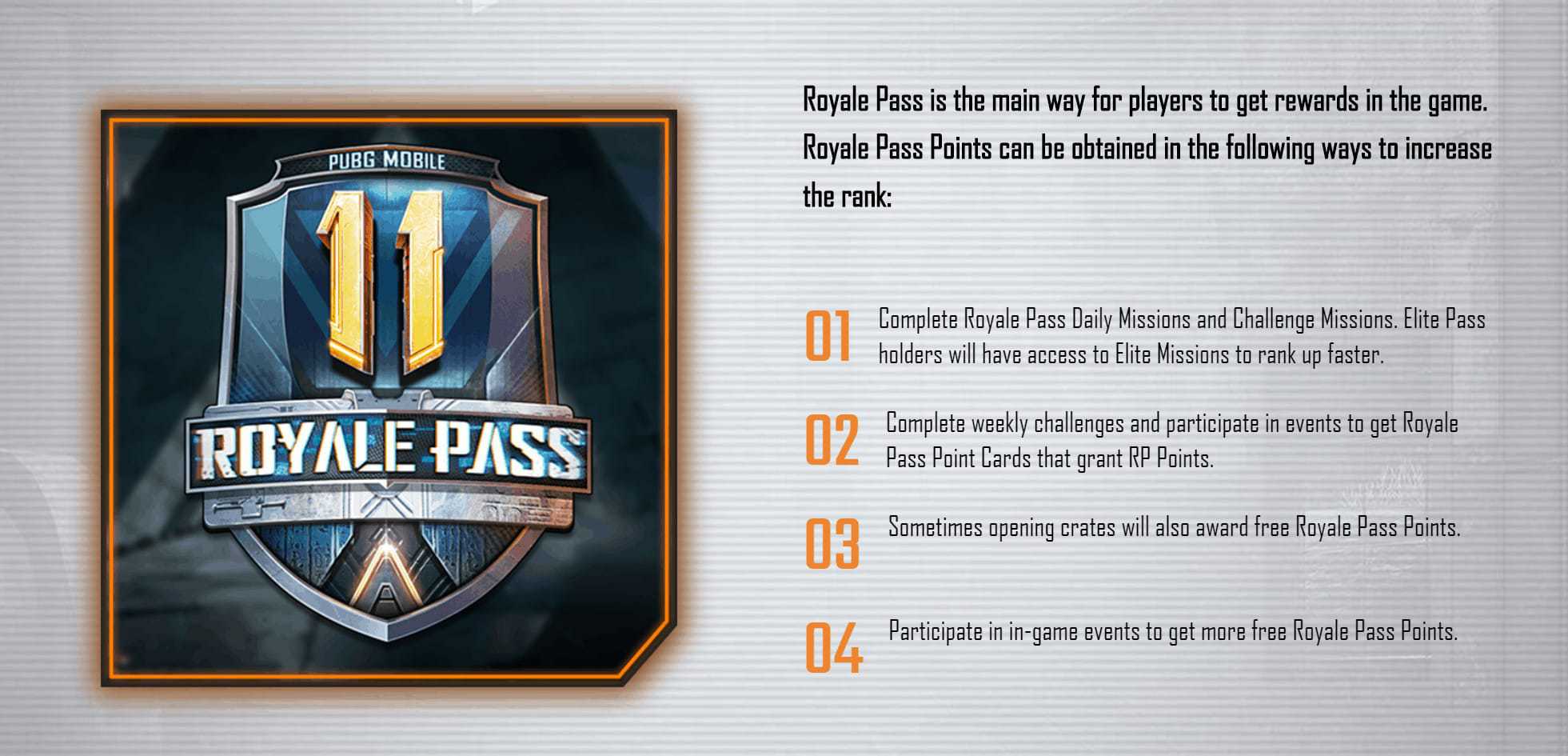 Missions:
To increase their rank, players can get Royale Pass Points in the following ways:
Players have to complete Royale Pass Daily Missions and Challenge Missions. To rank up faster, Elite Pass holders have access to Elite Missions.
To get Royale Pass Point Cards that grant RP Points, players can complete weekly challenges and participate in events.
Sometimes opening crates will also grant free Royale Pass Points.
To get more free Royale Pass Points, players have to participate in the in-game events.
Rank Up:
For every rank up, players can unlock its corresponding reward. When a player reaches the maximum level, he gets a bonus of 600 UC. Moreover, with this reward, he can upgrade to the next season's pass. The Elite Royale Pass rewards are worth 30,000 UC.
PUBG Mobile Season 11 Challenge Missions
Week 1
Royal Pass
| Mission | RP |
| --- | --- |
| Restore 1000 Health in Classic mode. | 75 |
| Complete 10 matches with Friends in Classic mode / Payload or 20 matches with Friends in Team Arena. | 150 |
| Pick up M24 over 3 matches in Classic mode. | 75 |
| Destroy 10 vehicle tires in Classic mode. | 75 |
Free Pass
| Mission | RP |
| --- | --- |
| Land on any rooftop in School (Erangel) / Ha Tinh (Sanhok) / Castle (Vikendi) 3 times in Classic .mode | 100 |
| Kill 16 enemies with Assault Rifles in Erangel in Classic mode. | 50 |
| Kill 5 enemies with Pistol in any mode. | 50 |
| Add 5 Friends. | 50 |
| Give 20 LIKEs to teammates. | 50 |
| Win a Classic match 1 time while wearing a Spetsmaz Helmet (Lv. 3). | 50 |
Week 2
Royal Pass
| Mission | RP |
| --- | --- |
| Pick up Smoke Grenade over 20 matches in Classic mode. | 75 |
| Deal a total of 3600 damage in Classic mode or 7500 damage in Arena | 150 |
| Bring back 6 dead teammates in Payload. | 150 |
| Kill an enemy from 200 meters away 1 time in Classic mode. | 75 |
| Travel for a total of 20000 meters while driving a(n) Vehicle in Classic mode. | 75 |
Free Pass
| Mission | RP |
| --- | --- |
| Finish in the top 3 with friends 2 times in Classic mode. | 50 |
| Use the Clap or Greet emote in Pochinki / Military Base / School (Erangel) in Classic mode. | 100 |
| Kill 8 enemies with Shotguns in Erangel in Classic mode. | 50 |
| Kill 3 enemies while driving a vehicle in Classic mode. | 50 |
| Revive teammates 5 times in Classic mode. | 50 |
| Complete 15 matches in Arena. | 15 |