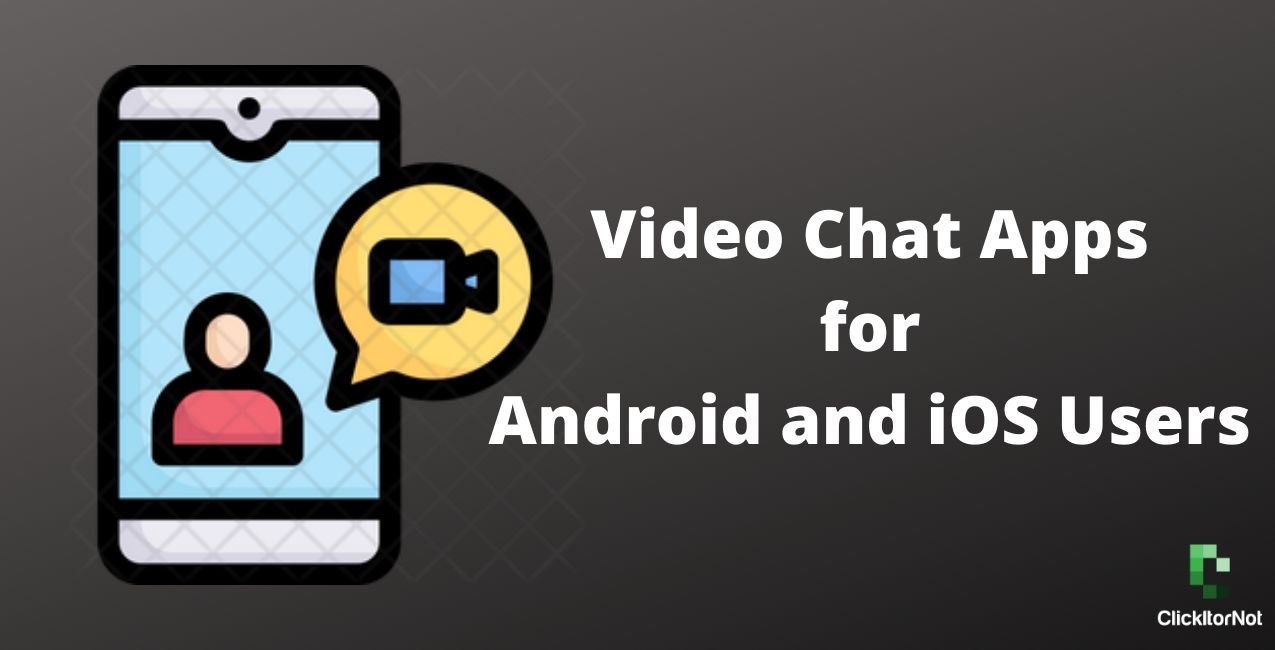 Video calling is now so easy to do that anyone can do it on computers, smartphones, and tablets. There are many options available for the people who are looking to do video chat with their friends or family. Below is the list of 10 best video chat apps for Android and iOS users.
Google Duo
Google Duo is mainly an answer to FaceTime, and it is one of the simple video chat apps available. The user has to log in, verify his number, and done. The user can do a video call to other Google Duo users like they do a regular phone call. The feature named Knock Knock allows the user to see if someone is online to answer the video call. The app is cross-platform; i.e., it works between iOS and Android.
Download Google Duo for Android and iOS Users
Zoom
This app is famous for work conferences, school classes, and all virtual get-togethers. It is the best overall choice for a video chat app. The user can use this app on desktop and mobile phones to view the person speaking or the whole group. Hosts can organize webinars where he is the only person with video and audio. Zoom app is free, but it has a 40-minute limit for more than three users, except the user opts for one of the pricing plans.
Download Zoom for Android and iOS Users
WhatsApp
It is one of the most popular messaging apps. It is one of the apps that owns more than one billion active users. It started as a text chat service before Facebook bought it some times back. From that time, the app comes with voice calling, video calling, and many other features. The video calling works well, and the user doesn't face any problem while using it.
Download WhatsApp for Android and iOS Users
Skype
It has local apps on most of the platforms, which makes it one of the best cross-platform options. The Android app is not perfect, but it gets the job done. The user can do group video calls with up to 25 people. The app has a free text chat, Microsoft, and Facebook account combination, and the user can do call on regular cell phones at a low fee.
Download Skype for Android and iOS Users
Snapchat
Most of the teenagers love Snapchat because of its social features that allow the user to share videos and pictures with a 24-hour time limit. While doing chatting, the user can switch to video calls with a maximum number of 16 users. The app has good filters built-in for fun to change the appearance.
Download Snapchat for Android and iOS Users
Facebook Messenger
Many people use Facebook and Facebook Messenger. The video chat experience is comparatively well. As most of the people are on Facebook, so it is easy to use this app than to convince every person to join a new platform. This app is not perfect, but possibly the most convenient for the video chat, and it is free.
Download Facebook Messenger for Android and iOS Users
Wire
Data mining is a problem and most big companies such as Google and Facebook mine user data for ads and profits. Wire follows EU privacy laws, which are very strict. The app is open source and completely free, and the user gets a secure experience while doing video calls. The personal plan is free where the user can make video calls, share files, connect with cloud storage services such as Dropbox, and can share the screen with ten people. Wire is free to use, and it doesn't show any ads.
Download Wire for Android and iOS Users
Viber
It is one of the oldest audio and video calling apps in the app world, and very popular. From this app, the user can do secured video calls, but not a group video call, with end-to-end encryption, enabled. Viber is free to use, and it has stickers, emoticons, and chat functions. Many famous brands have public profiles on Viber, that allows them to chat with them and clear their queries. A feature named video messages let the users send 30-second videos to their loved ones. The user can create chat rooms with 250 people, and they can hide private chats. A feature named communities allows the user to have up to 1 billion members.
Download Viber for Android and iOS Users
JusTalk
The user can apply theme in their app, do things such as doodle while doing a video call to add fun. The app has group chats, encryption, and cross-platform support. It is an alternative for some video platforms like Google Duo, where video calls are the primary feature. This app is free. The in-app purchases are for themes and other personalization advantages.
Download JusTalk for Android and iOS Users
Discord
This app is mainly for gamers, but the user can start a server and chat with like-minded peoples about any topic the user wants. The app mainly focuses on group chats, DMs, and voice chats for gamers. There is a video chat function if the user needs it. Both the user should have Discord to do the call.