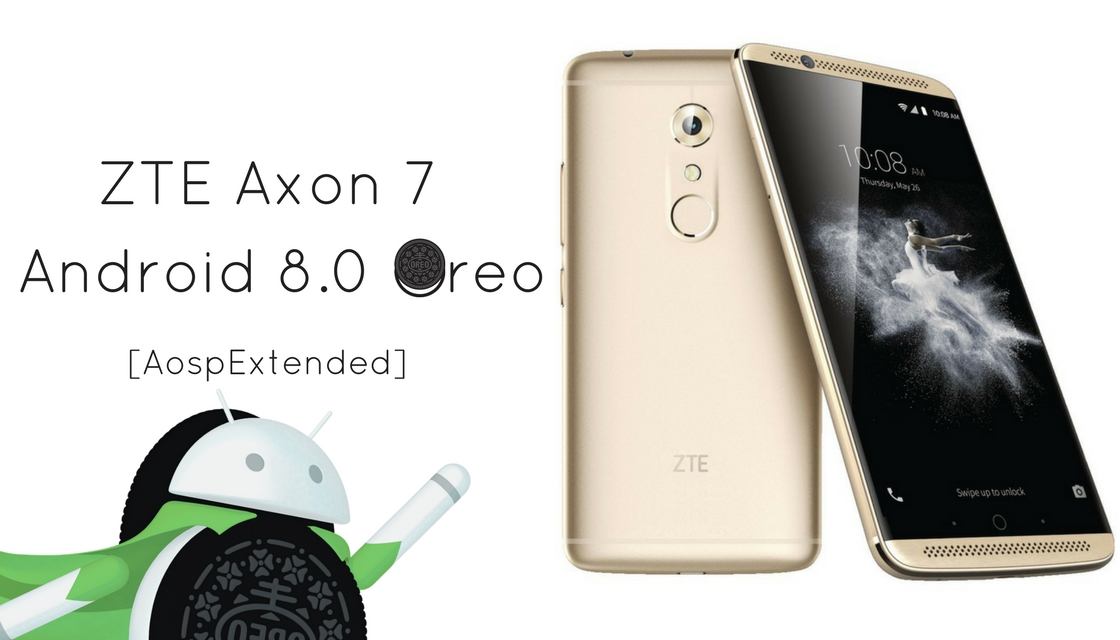 Android 8.1 Oreo on ZTE Axon 7 [AospExtended]
Android 8.1 Oreo for ZTE Axon 7 is now available via AospExtended custom ROM. The NFound XDA senior member for AospExtended ROM based on Android 8.1 Oreo builds. In this article, we will guide you how to install Android 8.1 Oreo on ZTE Axon 7.
ZTE Axon 7 is the budget friendly smartphone with a sleek design, powerful specifications which perform like the top tier Android smartphone. ZTE Axon 7 is packed with a 5.5-inch qhd AMOLED Corning Gorilla Glass Scratch Resistant display with a resolution of 1440 x 2560 pixels at 538 PPI.
Android 8.1 Oreo is currently available only for Google device users. Developers do require time to roll out the Android Oreo update for all the other android phones. AospExtended (Android 8.1 Oreo) lets the users of the Android phone enjoy and experience Android 8.1 Oreo until it is made available on air. Besides, AospExtended based on Android 8.1 Oreo comes with additional functionalities that make it unique. Check the below guide to install Android 8.1 Oreo on ZTE Axon 7.
Android 8.1 Oreo Features:
1. Background limits:
The apps which are running in backgrounds consume the resources like Ram, Memory which reduces the performance of the device.Therefore to improve the user experience Android 8.0 Oreo comes with Background Limit Feature which ultimately minimizes the background activity in the apps you use least.
---
2. Picture-in-Picture:
This feature allows the user to do multitasking very easily.It lets you keep for example Facebook in a floating window while reading emails or doing any other task.
---
3. Notification Channels and Dots:
This new feature allows you to see new notification faster and easily clear by swiping away.By this feature, you can see a small dot in the corner of the app icon to let you know about the notification.
---
4. Autofill APIs:
Previously auto fill option comes with chrome only but this autofill feature work outside the chrome also.This means with your permission autofill will remember your logins for Instagram, Facebook, Twitter etc Which helps in reducing the login time.
---
5. Adaptive icons:
This feature helps you to display the variety of shapes across different models.Ultimately the developer will provide a "full-Bleed square shaped" icon.
---
6. Better Keyword Navigation:
In Android 8.0 Oreo, you will get an optimized navigation bar and you can manually add the fourth icon in the navigation menu. You have to provide a provide a proper key code for the navigation buttons to work.
---
7. Wide color Gamut imaging apps:
By this Feature, you can display the app in wide color gamut modes unless you device mark it as supported. Such profiles include Pro photo RGB and DCI-P3 in professional imaging and video applications.
---
8. Better Audio:
Android 8.0 Oreo provides a number of new options to improve audio performance.Volume shaper option is added for fade in and fades out of the audio.The new delayed focus gains enable apps to wait for focus before commencing playback.It also comes with some better playback options.
---
9. Camera app Improvements:
Some features are added to improve the camera such as double tap feature lets you quickly zoom. It also comes with added button camera recording. This time user doesn't have to swipe for camcorder option.
Pre-Requisites:
Follow this guide carefully or else it may lead to brick your device.
Maintain at least 50-60% of charging to prevent accidental shutdown.
Unlock Bootloader of ZTE Axon 7
How To Unlock Bootloader of ZTE Axon 7
Install TWRP Recovery on ZTE Axon 7
How To Install TWRP Recovery on ZTE Axon 7
Downloads
AospExtended for ZTE Axon 7 (Android 8.1 Oreo)
Steps to install Android 8.1 Oreo on ZTE Axon 7
Download  Android 8.1 Oreo ROM for ZTE Axon 7 and Transfer both files to your device
Reboot your device into TWRP Recovery.

Switch off your device.
Press and hold "Volume down + Power" buttons until you see anything on the screen.

Backup your device via nandroid backup (Follow the guide in the link below)
How To Create & Restore Nandroid Backup On Android Devices
Follow the below guide to install Android 8.1 Oreo on ZTE Axon 7
Install AospExtended on ZTE Axon 7
After Flashing the ROM, flash the GApps
Install Android 8.1 Oreo GApps on ZTE Axon 7
Android 8.1 Oreo as whole thereby, is complete package and even more. It provides the users to enjoy the features of Android 8.1 Oreo. The best part is, it has additional features besides the ones similar to that of Android 8.1 Oreo. So, install and enjoy the Android 8.1 Oreo on ZTE Axon 7.
Hope you found this article helpful. Let us your feedback on Android 8.1 Oreo on ZTE Axon 7 in the comment section below.