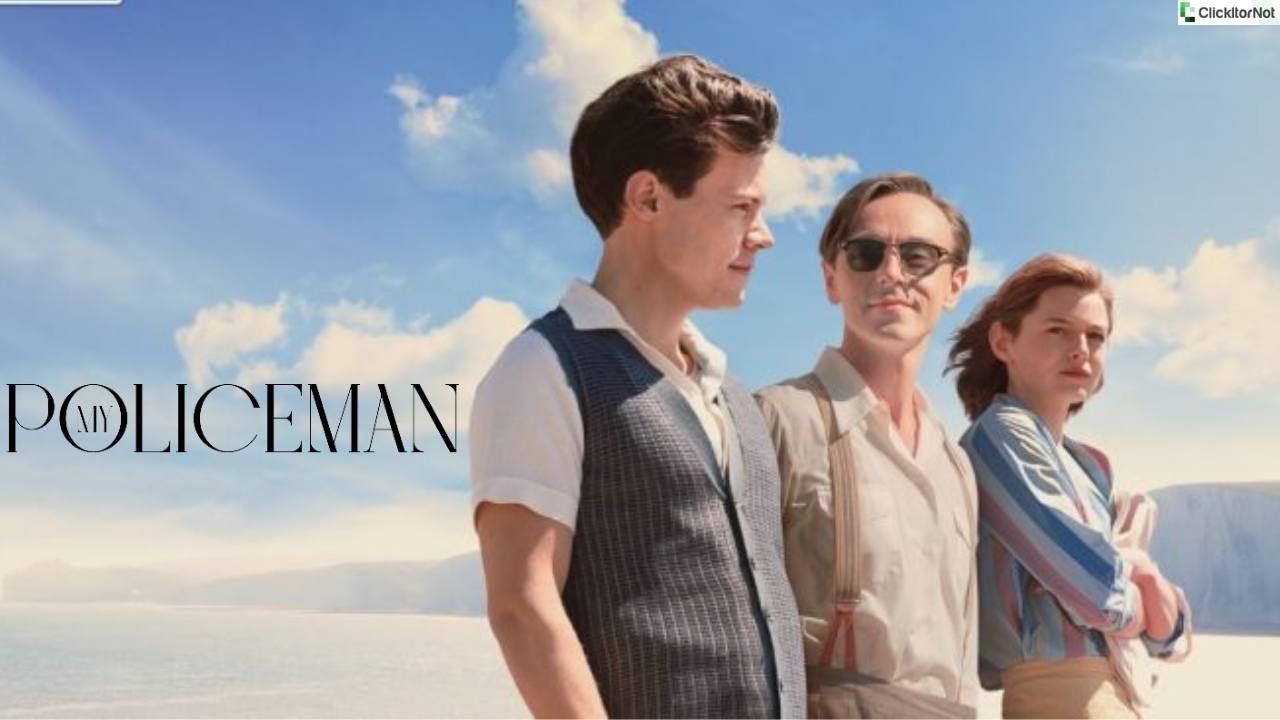 My Policeman
My Policeman premiered on 11th September 2022 at the Toronto International Film Festival. The film featuring Harry Styles received a standing ovation during its premiere.
For those unversed, the movie is based on a 2012 romance novel of the same name by Bethan Roberts. It follows the story of a closeted gay police officer Tom in 1957, as he moves through life in a time when being homosexual was illegal.
To put it in simple words "My Policeman" is a tale of forbidden romance following policeman Tom, museum curator Patrick, and teacher Marion. The interesting thing about the movie is that each of the three lead characters is played by two actors. Tom is played by Harry Styles and Linus Roache, Patrick by Rupert Everett and David Dawson, and Marion by Gina McKee and Emma Corrin.
To know more about My Policeman Movie, you should read this post till the end.
My Policeman Movie Release Date
My Policeman Movie received mixed reviews after its official premiere at the Toronto International Film Festival. However, the audience is eagerly waiting for the movie as they are excited about seeing Harry Styles in the lead role.
According to reports, My Policeman Movie release date is 21st October 2022. The movie will be first released in theatres in the United States and then on Amazon Prime on 4th November for a global audience. It is an R-rated movie with duration of 113 minutes.
My Policeman Movie Cast
My Policeman Movie cast is confirmed. Check out the details below.
Harry Styles as Tom Burgess
Linus Roache as old Tom Burgess
David Dawson as Patrick Hazlewood
Rupert Everett as old Patrick Hazlewood
Emma Corrin as Marion Taylor
Gina McKee as old Marion Taylor
Kadiff Kirwan as Nigel
My Policeman Movie Trailer
My Policeman movie trailer was released on 7th September 2022. It showcases the blossoming romance between Marion and Tom before their married life is wrecked by Patrick.
You can see the trailer here:
My Policeman movie teaser came out on 15th June 2022. It revealed the first look of the film and the characters.
Here's the teaser link:
My Policeman Movie Plot & Expected Storyline
My Policeman Movie plot revolves around Tom and his wife Marion, as they meet on Brighton beach. However, they end up getting married due to societal pressure.
Meanwhile, Tom falls in love with museum curator Patrick. The two have a decades-long affair, which later wreaked havoc in their lives.
The story is set in 1957 when homosexuality is considered to be illegal. Things take a wild turn when Marion realizes that Tom wants to stay with Patrick.
For more details, you should read My Policeman Movie wiki guide.
Where to watch My Policeman Movie?
My Policeman Movie where to watch? It will first release in the United States on the 21st of October 2022. After that, the movie will be made available for a global audience on Amazon Prime on 4th November. To stream it online, you will have to subscribe to the streaming platform.
My Policeman Movie Countdown
My Policeman Movie countdown is on! The film is set to release on the 21st of October 2022. This means we are just a month away from the release date. For fans outside the United States, they will have to wait till 4th November, when the movie will be released on Amazon Prime.
My Policeman Movie Spoilers & Leaks
We have already shared a lot of information about the plot. If we give out any more My Policeman Movie spoilers, it will spoil the excitement. So it would be better if you wait for the film to release.
My Policeman Movie News Update
According to My Policeman movie news, principal photography began in April 2021. Filming took place across Brighton, London, and Hove. In Hove, the team was spotted shooting at The Regency Town House in Brunswick Square.
For more updates, you should follow My Policeman movie Twitter page.
My Policeman Movie Poster
My Policeman movie poster is out. You can check it out here:
https://www.imdb.com/title/tt13139228/mediaviewer/rm3615823617/
Final Thoughts on My Policeman Movie
My Policeman movie release date is 21st October in the United States and 4th November for global viewers. If there are any changes in the release schedule, we will notify you about them in this post.
My Policeman Movie FAQs
How can I watch My Policeman?
My Policeman will get a limited theatre release in the United States on the 21st October. But you can watch the movie on amazon Prime, after it releases on 4th November on the streaming platform.
Is My Policeman going to be a movie?
Yes, My Policeman is a period drama movie.
What is My Policeman film about?
My Policeman is a movie about forbidden gay romance. The story is set in 1957.
Who does Tom end up with in My Policeman?
Tom gets married to Marion in My Policeman.
MUST SEE: